Interested in running in the 5000meals program in your school? This is your essential training opportunity in package requirements and tasks
About this event
Thank you for your interest in participating in the 5000meals program. This resource has been developed to assist the successful delivery of the program to students in the areas of Food Science, Certificate I and II in Kitchen Operations, Hospitality, Community Services and others.
5000meals is one of several community engagement programs coordinated by not-for-profit organisation Prepare Produce Provide. The program is operated by Home Economics teachers and aims to build links between students and the Hospitality Industry to develop skills, reduce food wastage and assist people in need within the Perth community.
Please bring own cups, pens and aprons and wear closed shoes.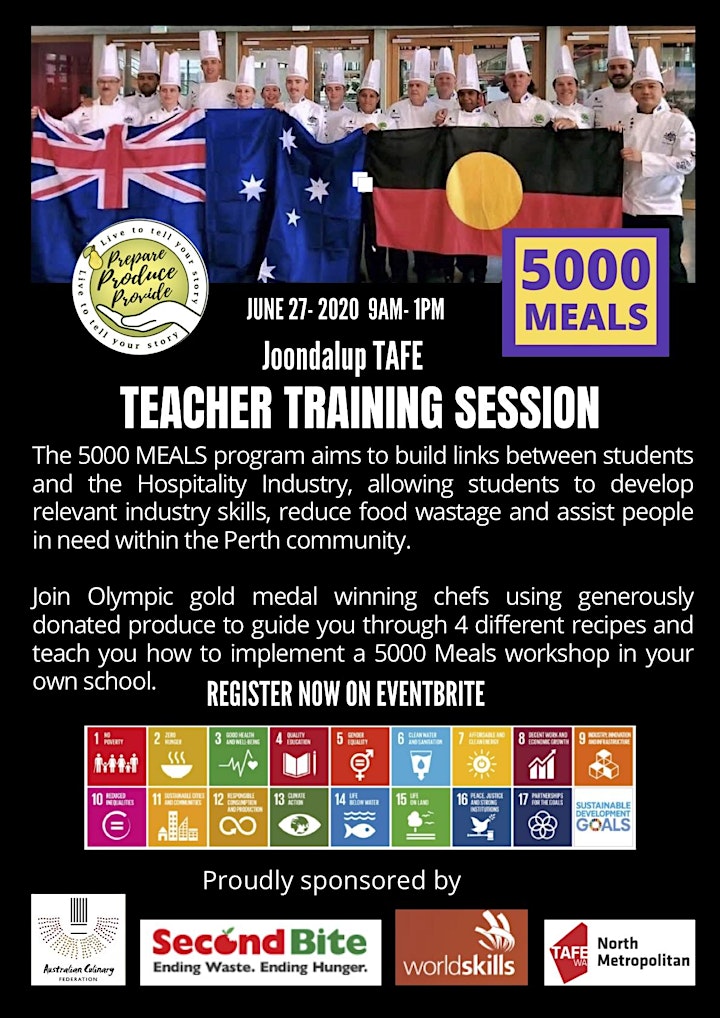 Organiser of 5000meals Training Workshop
Prepare Produce Provide (PPP) is the trading name for Live To Tell Your Story Inc, a not for profit organisation established in 2013 by a group of passionate educators in Western Australia. Our aim is to use food and cooking as a vehicle to help meet the needs young people in our community while providing training and support for them to develop future career pathways. Our programs create opportunities for the youth of WA to work with top chefs, local producers and other leaders within the education, hospitality, tourism and agricultural industries, to inspire and educate through programs that support and benefit a wide range of social and community causes.
Prepare Produce Provide (PPP) is a celebration of education, training and connection to each other and the land we live on.