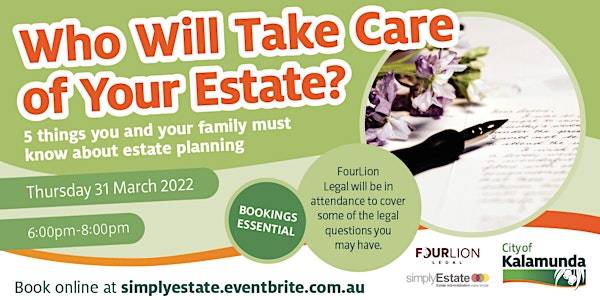 5 things you and your family must know about Estate Planning
Location
Woodlupine Community Centre
88 Hale Road
Forrestfield, WA 6058
Australia
Find out what simple arrangements you can make to prepare for taking care of your estate.
About this event
In partnership with City of Kalamunda, simplyEstate and FourLion Legal.
Join us for this free workshop to learn and discuss about simple arrangements you can make to take care of your estate.
Make use of this great opportunity to learn about five simple things you can prepare:
1. What does estate administration involve after someone passes away?
2. How does asset ownership determine who inherits what?
3. What are the three elements to a complete Estate Plan?
4. What critical information and decisions I can make now and how can I store these carefully?
5. Is my superannuation and insurance set-up correctly to benefit me and my family?
Do you have any accessibility requirements? Please contact Ruth from City of Kalamunda on 9257 9958 to discuss .