Description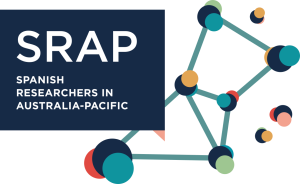 4TH AUSTRALIA-SPAIN RESEARCH FORUM - EARTH
Conference of the Association of Spanish Researchers in Australia-Pacific
---
INVITATION
You are invited to the 4th Australia-Spain Research Forum, hosted by the ANU Centre for Mental Health Research on behalf of the Association of Spanish Researchers in Australia-Pacific (SRAP).
Research links between Spain and Australia/The Pacific are strong. They cover many areas; from health to space, and agriculture to architecture. This year's forum has been designed to showcase the depth and quality of these links; focusing on the theme: 'Earth'.
Places are limited, and so we encourage you to book now.
PROGRAM*
(*Subject to change, last updated 13/11/2018)
08.30 - 09.00 REGISTRATION
09.00 - 09.15 OPENING
- Prof Jane Dahlstrom, Interim Dean, ANU College of Health and Medicine
- Prof Mike Calford, Provost, ANU
- Mr Manuel Cacho, Ambassador of Spain in Australia
09.15 - 10.00 OPENING LECTURE: (Chair: Prof Luis Salvador-Carulla)
"Finnis Terrae": Australia and Spain as case studies of human migrations in the Pleistocene
(Prof Claudio Tuniz, Coordinator ICTP Multidisciplinary Laboratory, Trieste Italy, Visiting Professorial Fellow, Centre for Archaeological Science, University of Wollongong)
10.00 - 11.20 PLANETARY HEALTH (Chair: Prof Carola Vinuesa)
Planetary Health: A driver of the UN strategy for enhancing environmental safety, sustainability and development
(Prof Robyn Lucas, National Centre for Epidemiology and Population Health, ANU Research School of Population Health)
Collaborative research for Planetary Health: Methodological challenges and future directions
(Dr Katherine Daniell, Senior Lecturer, ANU Fenner School of Environment and Society, President of the Australian-French Association for Research and Innovation (AFRAN))
New Visualisation and modelling strategies for global mental health care
(Prof Carlos Garcia-Alonso, Professor of Operational Research and Information Systems, Deputy Vice-Chancellor of Research, Universidad Loyola Andalucia, Spain)
Big data for evidence-informed global health policy
(Prof Karine Chevreul, Professor of Public Health and Health Economics, URC Eco Paris, Deputy Director ECEVE, INSERM, Paris (France))
11.20 – 11.40 COFFEE BREAK
11.40 – 12.55 EARTH SCIENCES (Chair: Dr Sergio Leon-Saval)
Genome editing and the new food revolution
(Prof Jimmy Botella, School of Agriculture and Food Sciences, University of Queensland Centre for Crop Science, Queensland Alliance for Agriculture and Food Innovation)
Bees as sentinels of global agricultural pollution
(Dr Francisco Sanchez-Bayo, School of Life & Environmental Sciences, University of Sydney)
Flammability warning from Space
(Dr Marta Yebra, Senior Scientist at the Water and Landscape Dynamics Group, ANU Fenner School of Environment and Society)
Watching the grass grow – from Space
(Dr Juan Pablo Guerschman, Senior Research Scientist, Land and Water, CSIRO Canberra)
12.55 - 13.40 LUNCH
13.40 - 14.45 CULTURE AND EARTH (Chair: Dr Paula Llull)
A new language to Escape the Anthropocene crisis: From Solastalgia to the Symbiocene
(Prof Glenn A Albrecht, Honorary Associate, School of Geosciences, The University of Sydney)
A Garden for the Symbiocene
(Ms Janet Laurence, Visual artist, Sydney)
Australia vs. Spain: Different approaches to Landscape Architecture
(Mr Eladio Hernando, Landscape architect, Spackman Mossop Michaels, Sydney)
14.45 – 15.05 COFFEE BREAK
15.05 – 16.20 THE SOCIAL EARTH (Chair: A/Prof Maria Racionero)

The New Demography of Life Span and Death
(A/Prof Vladimir Canudas, ANU School of Demography)
Occupation, life expectancy and social security
(A/Prof Maria Racionero Associate Professor, ANU Research School of Economics and Associate Dean (HDR), ANU College of Business and Economics)
Mapping complex social demographic factors: Joint Experiences in Australia and Spain
(Dr Nasser Bagheri, ANU Centre for Mental Health Research; and José Alberto Salinas, Universidad Loyola Andalucia, Spain)
16.20 – 16.35 CLOSURE CEREMONY


INFORMATION FOR DELEGATES
What are my transport/parking options for getting to and from the event?
Parking on the ANU campus is very limited. Public transport is recommended. Details about parking on campus can be found here: https://services.anu.edu.au/campus-environment/transport-parking/parking-options-on-acton-campus
How can I contact the organiser with any questions?

Organiser of 4TH AUSTRALIA-SPAIN RESEARCH FORUM - EARTH