Opening: exhibition and launch of book: "40 Days hath November" - Wendy Manzo's story of creating 40 personal prophetic paintings
About this event
Official opening event of the exhibition and launch of the book: "40 Days hath November" - Wendy Manzo's story of creating 40 personal prophetic paintings.
This is an in-person champagne celebration AND a Facebook live online event. We will link to FB live on the day for our interstate and international friends - check for details in your email / or check Facebook / for your connection to the live stream commencing 12-noon on the day.
In-person numbers are restricted - please register for this free event.
Location: Creative Hearts Art gallery - Australia Fair, shop 1050 level 1, 42 Marine Parade Southport, Gold Coast Queensland Australia. The gallery is between Aust Post and Hotel Pacific opposite Best&Less. Free parking available in Australia Fair.
International time conversion: See image (* indicates observing Daylight Savings)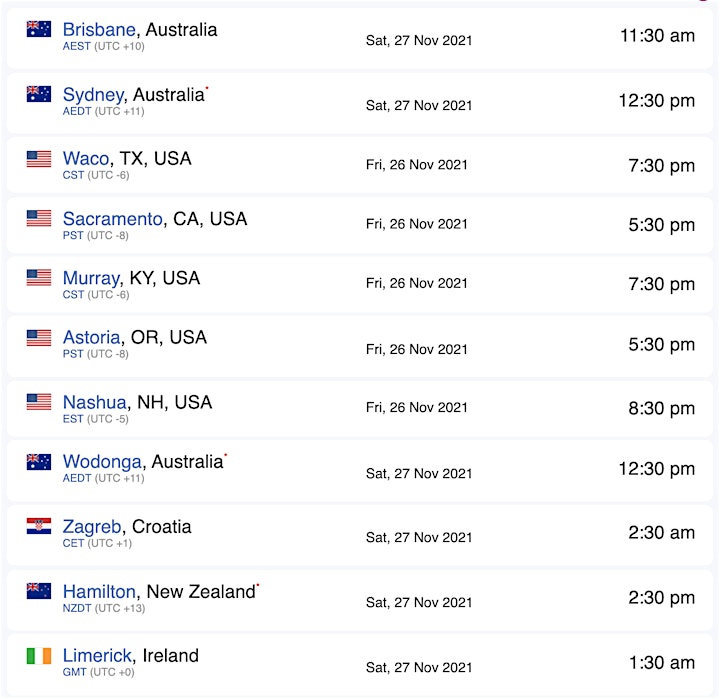 Organiser of "40 Days hath November" Opening & Book Launch
Wendy Manzo is an Australian abstract expressionist and a live speed-painter.  Wendy paints intuitively and spontaneously in live performance worship painting with perceptive, powerful and often prophetic images. Her works are vibrant statements of colour and emotion.
In her 25+ year career, Wendy has painted and exhibited around the world, including New York, San Francisco, Florence, Indonesia, New Zealand, and Parliament House, Canberra. Wendy is a featured artist on the Australian television program 'Colour In Your Life' (2013). Wendy painted live at the Gold Coast's Commonwealth Games Easter United celebrations (2018) and Easter United (2019). Wendy's work is held in public collections by DeLonghi Australia, Voice Lawyers, City of Gold Coast, and Churches across Australia. Her private collectors are in New York, Singapore, San Francisco, Indonesia, Falkland Is. and all throughout Australia.