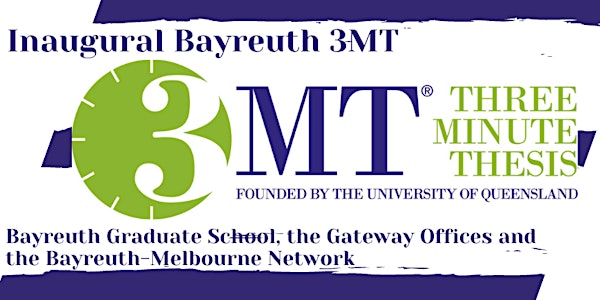 3MT - Your Thesis in Three Minutes
Learn about science communication and present your thesis in three minute in the semi-finals to qualify for the finals and win some prices!
About this event
The Three Minute Thesis competition celebrates the exciting research conducted by PhD candidates. Developed by The University of Queensland, 3MT cultivates students' academic, presentation, and research communication skills. The competition supports their capacity to effectively explain their research in three minutes, in a language appropriate to a non-specialist audience.
Workshop 1 (1st June 2022): Science Communication and Public Speaking
Workshop 2 (8th June 2022): 3MT...where do I start?
Workshop 3 (15th June 2022): Semi-Finals to qualify to go into the University Finals
University Finals (11th July 2022): At Bayreuth as part of Bayreuth International Summer School and the Junior Researcher Week (video entries permitted)