3e édition conférence Women Leadership- 2 Conference (10 a.m-1 p.m) and (4...
Description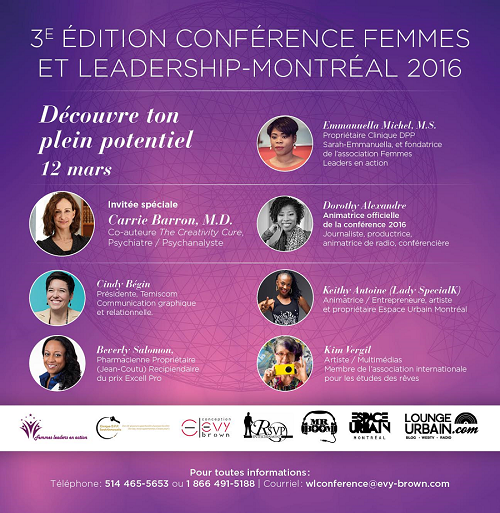 ---
Le 12 mars 2016 se tiendra la conférence de la femme et du leadership de L'Association Femmes leaders en action. Les éditions précédentes furent un vrai succès et c'est avec une immense joie que nous entamons une 3e édition. Comme vous le savez, nous tenons à offrir un événement de qualité et mémorable. Notre thème sera «Découvre ton plein potentiel ».

Extra : Nous aurons pour notre 3e édition une petite touche jeunesse avec un déjeuner/ conférence dès (10:00am jusqu'à 13:00pm) pour les jeunes femmes par des jeunes femmes rendra cette conférence aussi enrichissante que les précédentes. Nous croyons que cette touche spéciale vous sera bénéfique et enrichissante aujourd'hui et pour le futur. Plusieurs sujets seront à l'honneur. Nous pouvons penser aux jeunes et le développement des affaires, le leadership de jeunes femmes, la connaissance de soi et bien plus. Et une DJ jeune femme pour électriser la salle durant la période de réseautage.

ATELIERS: Plusieurs ateliers seront à votre disposition pour développer votre plein potentiel de (13H00-15H00pm) et l'ouverture de la conférence à 16H00. Nous compterons parmi nous des leaders exemplaires, nommons Dr Carrie Barron, psychiatre et psychanalyste, Beverly Salomon, pharmacienne propriétaire d'un Jean-Coutu, Kim Vergil, artiste et Keithy Antoine alias Lady Special K (qui sera aussi l'animatrice le 11 mars) est entrepreneure multitâche et le 12 mars, Dorothy Alexandre, Journaliste/recherchiste, sera l'animatrice de la conférence! Plusieurs autres surprises à venir…


Opportunités d'affaires: Souhaitez-vous participer en tant que jeune exposant, exposant expérimenté ou simplement commanditaire? N'hésitez pas à communiquer avec nous pour plus de détails à l'adresse suivante : wlconference@evy-brown.com. Notre équipe se fera un plaisir de vous servir.
Une association où l'inspiration sème l'action!
***L'Association Femmes leaders en action est un organisme à but non lucratif créé en 2013 dans le but de regrouper des femmes leaders et entrepreneurs au niveau local, national et international. L'objectif est d'amener celles-ci à célébrer la journée internationale de la femme, au mois de mars de chaque année durant la conférence femmes et leadership et durant un évènement de collecte de fonds: Jouer au golfe pour les femmes et leadership durant l'été. L'association offre une plateforme permettant de célébrer la gente féminine afin que celle-ci partage leurs acquis et expertise durant les deux évènements, qu'elles mettent en commun leurs ressources, leur bagage professionnel dans le but d'inspirer d'autres femmes et jeunes femmes à suivre leur propre chemin vers la réussite.
ENGLISH VERSION*******
Great Leadership Conference 3rd edition "DISCOVER YOUR FULL POTENTIAL" Presented by the Association of Women Leaders in Action on March 12, 2016. Due to the enormous success of our previous events and an ongoing motivation to meet the requests of Women seeking success. We are excited to invite you to our third edition conference which will expose you to a variety of exceptional Women leaders. We pride ourselves in offering high quality memorable events.
Extra: This year we will be adding a special touch to the event: Young Women and Leadership, with a Breakfast- Conference for and by "young women". We believe this will be very rewarding and beneficial for us today and for the future generations. Several topics will be featured. We can think of youth and business development, leadership of young women, self-awareness and more with a young woman DJ, SWeet La Rock that will electrify the room during the networking hour.
Workshops:
Exemplary leaders like: Dr. Carrie Barron, psychiatrist and psychoanalyst, Beverly Salomon, pharmacist owner of a Jean- Coutu, Kim Vergil, artist and Keithy Antoine aka Lady Special K (host for young women conference) multitasking entrepreneur and Dorothy Alexandre, Journaliste/research will host the Conference on march 12 will be amoung us. And Many more surprises to come.
Business opportunity: Would you like to participate as a young exhibitor, sponsor or simply experienced exhibitor? Do not hesitate to contact us for more details at wlconference@evy-brown.com. Our team will be happy to serve you.
An association for ''Avant-Garde'' Women!
****The Association of Women Leaders in Action is a non -profit organization created in 2013 in order to bring together women leaders at the local, national and international level, to celebrate International Women's Day, in March of each year at the Women and Leadership Conference and at a fundraising event: Swinging for Women and Leadership during the summer season (Golf Clinic). It provides a platform to celebrate the female so that they share their achievements and expertise together, pool their resources, their professional background, to inspire other women and young women to follow their own path to success.
Keithy Antoine A.K.A Lady Special K

Owner Espace Urbain Montreal

Entrepreneur/Artist

Founder Women Leaders In Action Association

Clinic DPP Sarah-Emmanuella

Discover your full potential

Dr Carrie Barron

Dr Barron

The Creativity Cure
Beverly Salomon

Owner Jean-Coutu Pharmacy

Excell Pro Tropee Winner for Best Pharmacy

Kim Virgil

Artist- Multi media

International Association for The Study of Dream

Dorothy Alexandre

Journalist Research-Radio Host

Conference Host March 12

Founder Women Leaders In Action Association

Clinic DPP Sarah-Emmanuella

Discover your full potential

Dr Carrie Barron

Dr Barron-Psychiatry

Special Guess- Co-Writer of The Creativity Cure

Keithy Antoine A.K.A Lady Special K

Owner Espace Urbain Montreal

Entrepreneur/Artist
Dorothy Alexandre

Journalist Research-Radio Host

Conference Host March 12

Founder Women Leaders In Action Association

Clinic DPP Sarah-Emmanuella

Discover your full potential

Dr Carrie Barron

Dr Barron-Psychiatry

Special Guess- Co-Writer of The Creativity Cure

Keithy Antoine A.K.A Lady Special K

Owner Espace Urbain Montreal

Entrepreneur/Artist

Beverly Salomon

Owner Jean-Coutu Pharmacy

Excell Pro Tropee Winner for Best Pharmacy

Kim Virgil

Artist- Multi media

International Association for The Study of Dream