Description
A fun, full-day workshop where you and your child discover an exciting future technology!
Watch the below video to see the benefits of 3D printing for kids as me3D is working to install 3D printers into primary and high schools across the country.
About the Workshop
Working as a team you and your child will discover the endless possibilities of 3D printing. We start the day by learning about 3D printing - what the technology is, how it's evolving, the incredible applications it has and how it is solving real world problems.
Then we get on the tools and start using some basic design programs and methods to develop your very own unique object! Finally you get to print out your object to take home and show your family and friends.

Age Group
For children 6 years and up
Workshop Dates
If workshops fill up we will try and offer additional dates.
Sydney
Lunch is provided
Thursday 4th January 2018 - 9:30AM to 4:30PM (SOLD OUT)!!!
Friday 5th January 2018 - 9:30AM to 4:30PM
Monday 8th January 2018 - 9:30AM to 4:30PM
Tuesday 9th January 2018 - 9:30AM to 4:30PM (Only a few tickets left!!! Hurry)!!!
Thursday 18th January 2018 - 9:30AM to 4:40PM
Friday 19th January 2018 - 9:30AM to 4:40PM (Only a few tickets left!!! Hurry)!!!
To book the workshop in Wollongong, please click here.


What to Bring and Pre-requisites
A laptop for internet browsing (necessary) and mouse (optional)
Basic internet navigation skills
Workshop Size
The workshop is designed around a parent/child team. Each workshop has five 3D printer stations. Each station is intended for 1 adult with 1 to 2 children each.
Please Note
Terms and Conditions
You agree to the Famly terms and conditions
Not valid with any other offer.

To qualify for the free ticket you must be a primary or high school teacher in Australia. You must provide your valid work email when you book. The ticket allows you and up to two children to atten the workshop.
Refund Policy
Attendees can receive refunds up to 7 days before your event start date.
Minimum Number of Participants Required
Workshops require a minimum number of participants to go ahead. If the minimum has not been met, prior to the workshop we will issue a full refund or try and offer alternate dates.
Dietary Requirements for Lunch
When purchasing your tickets, there will be a place for you to inform us of any dietary requirements you and/or your children may have.
Special Offer
After the workshop you have the opportunity to purchase a 3D printer for 20% off.
More information about 3D printing
There's little doubt that 3D printing is already changing the world in ways that the average person may not have even noticed. Let's walk through a quick introduction to what 3D printing (additive manufacturing is the fancy term) actually is, the most common technology used (FDM), what are the benefits to the world and what kind of things you can create with it.
What is 3D printing?
3D Printing is the process of continually adding layers of material with a computer controlled device to create a three-dimensional object. It's more broadly known as additive manufacturing because you add material to make a part, rather than cut it away from a piece of stock. 3D printers have been around since the late 70's and have mostly been used for rapid prototyping. Modern printers are becoming more versatile though, producing finished products, prostheses, biomaterials, even jet engines and rockets. The impact and applications of 3D printing are rapidly growing as more people are exposed to the technology.
How do I get started?
With a 3D printer you can let your imagination run wild! Design and print replacement parts, wild and wonderful characters, puzzle parts, game tokens... Whatever you can think of! You'll need to do some 3D modelling to get exactly what you want though. Fortunately there's loads of great (and free!) 3D modelling programs available for anyone to get started with. If you're struggling with ideas you can check out some of the cool stuff artists and engineers have shared on My Mini Factory for inspiration.
This offer is brought to you by Me3D and Famly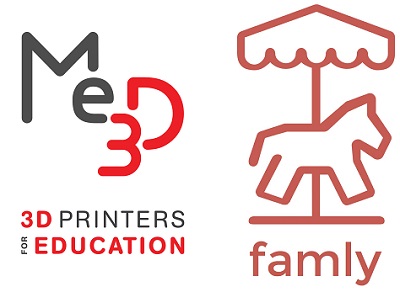 Contact Details
For any questions, please contact us via email at hello@famly.com.au