Description
In this talk Nicholas Jose reflects on the transformation of art in China across the last 30 years. In parallel with the political and social changes that saw China become a global economic powerhouse, a new kind of art emerged, mixing self-reflection, celebration and critique. In the same period the profile of Chinese art transformed internationally too—nowhere more so than in Australia.
The conversation explores this phenomenon from the perspective of someone who was closely involved from the beginning, including through the key year, 1989. The question now is: has contemporary Chinese art come full circle, returning home for recognition and support? From an Australian perspective, what is the legacy? How do earlier artistic flows between Australia and China, in the work of Ian Fairweather or Fred Williams, for example, connect with more recent developments, such as Yang Zhichao's Chinese Bible at the Art Gallery of Western Australia or the Unworldly Encounters collaboration at the Australian Experimental Art Foundation, Adelaide, both last year, or the continuing success of Sydney's White Rabbit Gallery? What new kinds of curatorship and research are required to keep the dialogue alive?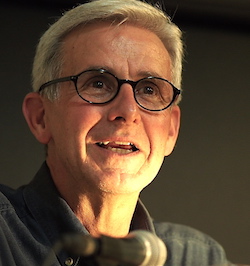 Nicholas Jose was on the ground in China in the 1980s when the new art emerged. He was Cultural Counsellor at the Australian Embassy, Beijing, 1987-90, and Curatorial Advisor to the Museum of Contemporary Art, Sydney, for Mao Goes Pop (1993). He has published seven novels, three collections of short stories, a memoir and essays, mostly on Australian and Asian culture. He was Visiting Chair of Australian Studies at Harvard University, 2009-10, and is currently Professor of English and Creative Writing at The University of Adelaide, where he is a member of the J M Coetzee Centre for Creative Practice.
This event is co-presented by the Institute of Advanced Studies and the UWA Cultural Precinct.
Image:

Yang Zhichao
Chinese Bible (detail), 2009
3000 found books, installation dimensions variable
Art Gallery of New South Wales
Gift of Gene and Brian Sherman 2015. Donated through the Australian Government's Cultural Gifts Program
© Yang Zhichao
Photo: Jenni Carter, AGNSW