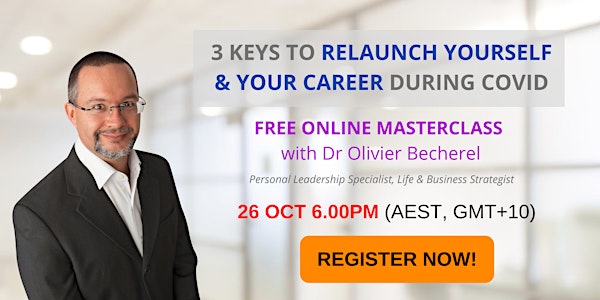 3 Keys to Relaunch Yourself And Your Career During COVID
This session will empower you to take control of your future and help you build a solid foundation to relaunch yourself and your career.
About this event
Do you feel stuck in your job?
Still unclear about your future?
Considering a career change?
Lost and at a crossroads in life?
If you answered YES to any of those questions, then this masterclass is for YOU.
Deep down, you wish to get clarity on how to move forward.
Perhaps you thought about starting your own business, but you're not sure WHAT and HOW
You wish you could find a clear plan to work out what you want and clarify a path that is truly aligned with your heart's calling.
Ideas are rushing through your head, but you're afraid of making a mistake if you don't find the right idea to pursue.
You don't want to waste more time going into a dead-end...
You want strategies to:
Remove the overwhelm of so many things you think you should do...
Home in on what is truly aligned with YOU and your calling
Regain confidence and trust in yourself to make the right choice for your next step
Have a clear plan of action on what to do to move forward with your career
In this free masterclass, I will show you what you need to focus on right now to successfully move forward!
What you'll learn:
The mindset shift you need to make now to own your future (and why it matters more than ever).
How to become agile, resilient, and adaptable in Covid times and stay cool under stress and pressure.
Simple strategy and proven principles that guarantee results so you don't have to reinvent the wheel which means you're not wasting your time and energy going around in circles.
Limited seats available => Secure yours now!
FAQ
Should I bring anything?
Bring an open mind, a pen, and some paper to take plenty of notes. That's how you'll get the most out of this training.
Can I ask questions during the webinar?
One of the benefits of attending LIVE is that you can ask me directly your most burning questions and get a specific answer for your situation. We'll have a Q&A section at the end.
Why is this FREE?
I love sharing ideas to help people create new perspectives that can transform their life. I believe perspective is the key to get unstuck and move forward. If you like what I share, you may consider enrolling in my program or doing coaching with me 1:1 to fast track your results.
Can I tell my friends to join?
For sure! This training will assist anyone who is at a crossroads and is trying to figure out their next step in their career and life. Feel free to forward them the details so they can register for the event.
Think about it...
If nothing changes, where will you be one year from today!
I let you choose the answer to that one...
Olivier's Mission
I'M HERE TO TO HELP YOU ACTIVATE YOUR PERSONAL LEADERSHIP AND TAP INTO YOUR UNIQUE DESIGN SO YOU CAN CREATE A CLEAR PATH FORWARD AND ENJOY A REWARDING, FULFILLING, AND MEANINGFUL CAREER & LIFE
I want to personally guide you to clarity and certainty about your career and give you a simple and effective 3-step strategy so you can own your future‼️
This is FREE so don't miss it.
Mark your calendar and register today!
Speaker
Dr. Olivier Becherel, PhD
Human Potential Activator, Personal Leadership Specialist, Life & Business Strategist
I help high-achievers, driven professionals, and entrepreneurs to formulate a clear path forward so they know exactly what to do to live a more successful and rewarding career and life!
I help them simplify, align and integrate life & business priorities and map out a step-by-step plan so they are able to reclaim their time, energy & focus to thrive, succeed and live their life on purpose.
Over the past 10 years, I've been fortunate to work with people in a range of industries at various stages of their lives across 20 countries. I've been able to assist, support, and guide them to create a clear path forward in their career and in life.
Organiser of 3 Keys to Relaunch Yourself And Your Career During COVID
At Mastery to Success, we firmly believe that we are here to make a contribution that goes beyond ourselves. And that is why we love working with driven professionals, executives, small business owners, and entrepreneurs because they are agents of change, the pioneers who want to make a broad contribution to society, and they have the influence and resources to make it happen.
Our mission is to educate and empower entrepreneurs and small business owners to activate their personal leadership.
By aligning mind, body and behaviours through science-based practical tools, we help them achieve greater levels of success, purpose, and fulfilment every day.