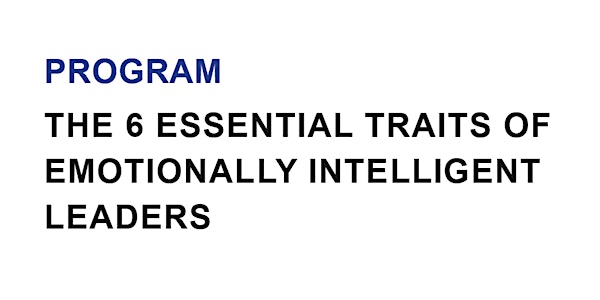 2nd THE 6 ESSENTIAL TRAITS OF EMOTIONALLY INTELLIGENT LEADERS EUROPE & UAE
2nd The 6 Essential Traits of Emotionally Intelligent Leaders | January 26-27, 2021| via Zoom
About this event
Emotions are the background of almost everything we do. They drive our responses, thoughts, and performance. You may experience up to 34000 emotions in life that somehow impact your decisions and relationships personally and professionally. Developing the intelligence required to manage own emotions and those of others is a critical skill for leaders. Leaders face various challenges and obstacles, not only in their mission to bring better outcomes, standards, and performance but also in managing competing priorities and diversity of the people involved. Research showed that emotionally intelligent leaders have at least 6 essential traits in common. Increasing EI level helps significantly lead diverse teams, influence others, empower high performance, and bring a creative approach to enhancing productivity, employee engagement, and retention. With the uncertainty we all face now, Improving EI will help you navigate through an ever-changing world and even become a successful leader in it.
Key takeaways:
The program will cover practical strategies to help you:
Develop stronger emotional awareness- the mindful and empathetic leader
Increase self-regulation and often maintain emotional balance in facing challenges
Develop trust and build an effective relationship with internal and external stakeholders
Inspire and influence others while building stronger negotiation and decision-making abilities
Develop personal balance-sheet and self-development plan
Due to strong public demand and outstanding success in Europe and Middle East, THE 6 ESSENTIAL TRAITS OF EMOTIONALLY INTELLIGENT LEADERS will be re-run through Zoom on January 26-27, 2022.
For more information and to get the brochure please contact us via email.
info@eruditets.com
We look forward to seeing you there!