Sisters in Crime 27th Scarlet Stiletto Awards, proudly supported by Swinburne University of Technology, Department of Media & Communication
About this event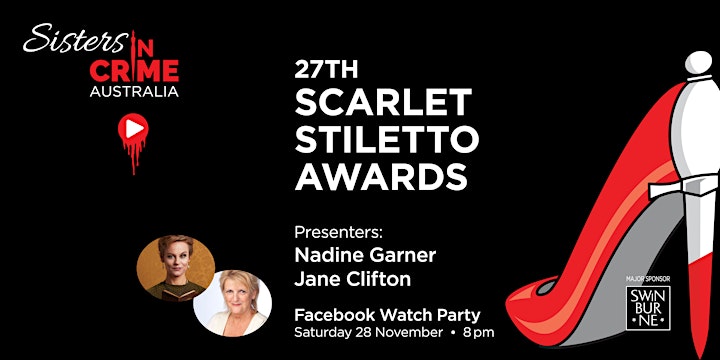 Women's crime and mystery short story competition
We're excited to announce that the 27th Sisters in Crime Scarlet Stiletto Awards will be held online this year, so you can join us from anywhere in the world! Nadine Garner (star of City Homicide, The Doctor Blake Mysteries and, most recently, The Forgotten Mysteries podcasts), will chat to crime author and performer, Jane Clifton about her life in crime, before announcing the winners.
*** The ceremony will be available for free viewing worldwide on Saturday 28 November from 8pm via the Sisters in Crime YouTube channel, however if you would like to support Sisters in Crime and the work it does for Australian women crime writers, you can make a $10 donation before Wednesday 25 November, 4pm.
Three lucky donors will win a $300 pack of crime books, kindly donated by the publishers. Unfortunately, this bonus is restricted to Australian residents – international postage is just too expensive!
A video link will be posted on the Sisters in Crime website and Facebook Page, and sent out via our e-newsletter, A Stab in the Dark. Subscribe here to make sure you don't miss a thing!
Please join us and other crime fans at a Watch Party on Facebook for an interactive experience on the night. Make sure you like our Facebook Page to stay updated - see you then!
Additional information
Carmel Shute
0412 569 356
admin@sistersincrime.org.au