Walk, Run, Swim or Ride during the month of March 2022 to support Code Read Dyslexia Network in raising awareness for Dyslexia.
About this event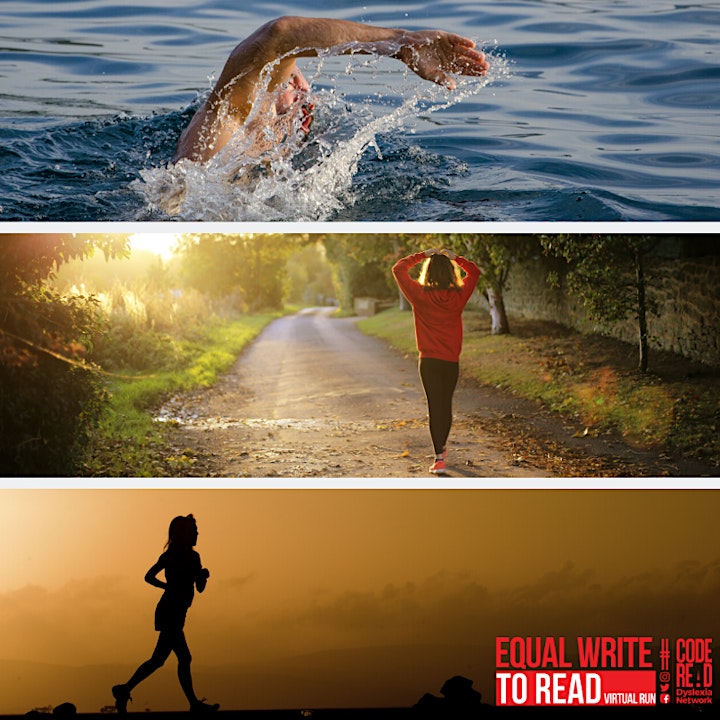 Every child and adult deserves an "Equal Write to Read". Join Code Read Dyslexia Network to raise funds and awareness for dyslexia, all while increasing your fitness and health!
Run, jog, walk, ride or swim - it doesn't matter, just get involved! This virtual event takes place over the whole month of March 2022 in a location of your choice - around your suburb, on a treadmill, your local bush trails, at the gym, or on the track - the possibilities are endless.
Form a team with the kids, your neighbours or your besties or pound that pavement on your own with your favourite beats.
Each registration includes delivery of a special participation medal which will be posted to you at the end of the event.
You need to complete your chosen distance during the month.
Runners, Walkers & Swimmers: 10km, 21km or 42km or 100km
Cyclists: 42km, 100km or 1000km.
Want to spread the word while completing your kilometres? Check out our caps (order now as an add-on on the Eventbrite page ) or a range of T-shirts and singlets to keep you cool from these suppliers.
https://www.redbubble.com/people/coderead
http://codereaddyslexianetwork.theprintbar.com/shop
Terms and Conditions and FAQ are listed below.
Have any questions? Email us at virtualrun@codereadnetwork.org or send us a messenger message from the Equal Write to Read Virtual Run Facebook Page.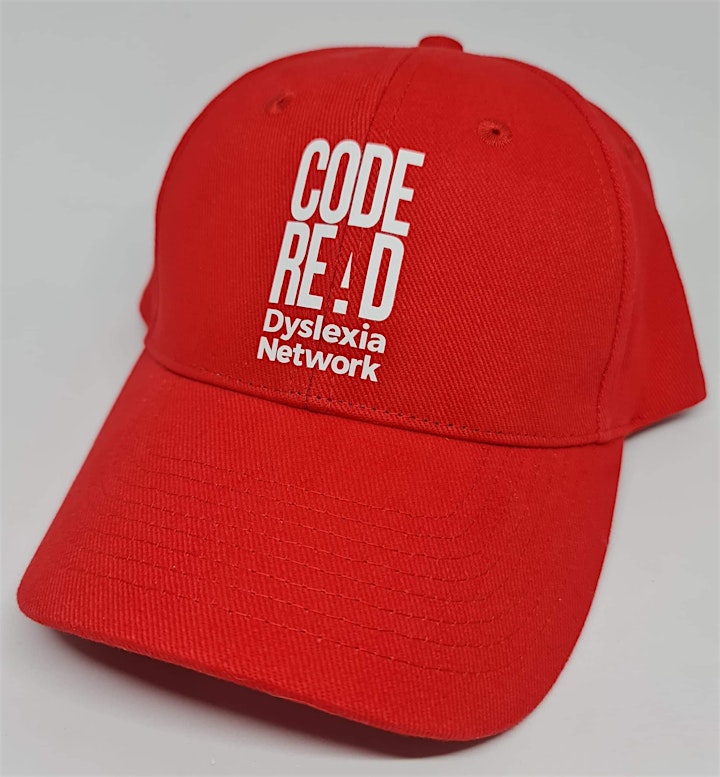 FREQUENTLY ASKED QUESTIONS
What is a Virtual Run?
A virtual run is an event that can be run or walked from any location you choose. You can run, jog, swim , ride or walk . You choose where you run, the pace you run, and you record your time and distance. Each registration includes a medal at the end of the event which will be posted out directly to you. The chosen distance needs to be completed within the timeframe allocated by Code Read Dyslexia Network. Equal Write to Read runs for the month of March 2022. You can choose from a range of distances for this event and you can break up the total distance in any way that suits you.
How do I register?
To register for Equal Write to Read, click on the race link to get all the details, including the distances you can choose from. Once you have registered, we would love you to like and follow our Facebook page & Instagram page to get ready for your challenge. Once you have completed your chosen distance please share your results on the Facebook page as this helps to motivate others who might be struggling to complete the event. Share photos of you and your friends, family or colleagues participating. Don't forget to add #EqualWriteToRead #CodeReadDyslexiaNetwork #CodeRead to your posts.
Do I have to complete my distance in one go?
No. The best part about participating in virtual exercise events is that you can complete the pledged distance however you like during a set timeframe. The Equal Write to Read Virtual Run, Walk or Ride runs from the 1st – 31st March 2022. This means that you have an entire month to complete your kilometres. You can split up the distance or you can do the total kilometres in one session. Daily steps do NOT count towards the total. Keep an eye out in the Facebook event group for organized group runs in some locations.
I'd like to do this with friends/family - how do I create a Team?
- Go to the event registration page
- Select "Team".
- Choose "Create Team" and enter your group name. If you create a team, you'll be the group manager.
- Select "Register" and fill out the registration form.
- Complete your order.
- Send your unique link to friends and families to join!
Create or join a group after registering individually
Login and go to "Tickets" in your Eventbrite account.
Select "Join a team" or "Transfer".
Choose "Change team".
Join a team or create a new team. If you create a team, you'll be the group manager.
Select "Continue".
Review your transfer summary.
Complete your transfer by clicking "Continue transfer".
What is the best method to record my distance?
There are several apps like Strava that you can use to track your run activity, or use your smart watch or phone to track results through GPS. Remember, daily step counts do NOT contribute to your activity total.
Do I have to provide my results to get my medal?
Equal Write to Read is being run on an honour system. You will receive your medal whether or not you post your results. Code Read Dyslexia Network would love you to share your event results and any photos you take during the virtual run on Social Media. The more posts and photos that you share, the more awareness about dyslexia we can raise together. We also want you to feel proud of your achievement and we love to see people achieve their goal. Let us cheer you on! Please use the hashtags #EqualWriteToRead #CodeReadDyslexiaNetwork #CodeRead
When will I receive my Equal Write to Read Finishers medal?
At the end of the event timeframe, the medals will arrive from our supplier and they will be posted out as soon as possible. Be aware that shipping delays are a possibility but we will send them to the address you registered as soon as we can .
TERMS AND CONDITIONS OF ENTRY
1. Entrants take part in Equal Write to Read virtual events entirely at their own risk and are 100% responsible for selecting a safe route to run , walk, swim, or ride.
2. Equal Write to Read and Code Read Dyslexia Network accept no responsibility for any accidents or injuries sustained whilst taking part in this virtual event. Please follow all relevant public health directives.
3. Children are welcome to take part in Equal Write to Read however they should always be accompanied and closely supervised by a responsible adult.
4. Equal Write to Read is not a competitive event and as such, there will be no winner of each event.
5. Entrants acknowledge that the entry fee is non-refundable.
6. Participation in this event is deemed acceptance of these Terms and Conditions of Entry. The promoters of this event are Code Read Dyslexia Network Australia (the 'Promoters' herein called Code Read). PO Box 493, Curtin ACT 2605. Code Read Dyslexia Network Australia is registered as a charity with the Australian Charities and Not-for-profits Commission ABN 69 621 888 122 2.
7. Entry is open to participants within Australia only. If overseas people do register, we are unable to send medals overseas.
8. The event commences on the 1st of March and runs until the 31st of March 2022. Your chosen distance needs to be completed during the month of March. Any personal information collected on the entry form can be used by Code Read for marketing purposes. Entrants have the option to unsubscribe from any electronic information. Code Read and participating businesses will not be liable for any loss or damage whatsoever or personal injury suffered or sustained, in connection with the virtual running event.
9. Entrants acknowledge they will participate and complete their nominated kilometres in a manner chosen by them, at locations chosen by them and at their own risk. Entrants declare that they are physically fit and capable of participating in this event and completing the kilometres which they have nominated. They are not aware of any medical condition or impairment which may prevent participation in this event or will affect their health by participation.
10. To maintain COVID safety, all participants should maintain physical distancing when possible, wear a mask when distancing is not possible (unless engaged in strenuous physical activity), maintain good hand hygiene, stay home if sick or you've been to a declared hot-spot or are subject to a quarantine order.
10. All entries images, videos or written text become the property of Code Read and may be used on social media, web site or in another public manner.
ENTRY DETAILS
1. To enter, users must complete the requested details through the official Entry Portal at https://www.eventbrite.com.au/e/virtual-run-equal-write-to-read-dyslexia-awareness-march-2022-registration-224960271227.
2. Entries are limited to one entry per person.
3. The Promoter reserves the right to verify the validity of entries and entrants (including entrant's identity, age and place of residence) and to disqualify any entrants for tampering with the entry process or for submitting an entry not in accordance with these Terms and Conditions of Entry.
4. No responsibility is accepted for late, lost, delayed or misdirected entries.
DECLARATION
For entrants 18 years and over:
By completing and submitting the online entry form, I certify that I have read and accept the terms and conditions for participation in this event.
For entrants under 18 years:
By completing and submitting the online entry form, I certify that I am the parent/guardian of this entrant who is under 18 years and I give my consent for them to participate in this event. I accept the terms and conditions for participation in this event on behalf of the entrant and declare them as capable of completing the distance they have nominated.
Date and time
Location
Refund policy