20th Anniversary of Paramedic Science Lecture: RESILIENCE AND TEAMWORK
POSTPONED Celebrating 20 Years of Paramedic Science at Flinders
About this Event
Keynote Speaker: Chris Howie ASM
Join us for this special 20th Anniversary Paramedic Science Lecture with Chris Howie ASM, COVID-19 Incident Commander at SA Ambulance Service, who will present perspectives on resilience and peer support from his distinguished career of service as a paramedic and a leader.
Australia's paramedics attend more than 1.3 million callouts each year. Not only do they witness trauma, but it's often in uncontrolled and unpredictable environments. Yet many say they chose the profession because it's a chance to be there for people, as one paramedic put it, in "intimate moments of crisis". The culture of teamwork, of looking out for each other, is a trait of emergency service workers. For Flinders-trained paramedics, this starts early in their undergraduate student journey, and the expression, 'Flinders Family' is often heard.
The lecture will be followed by audience Q&A and accompanied by the presentation of the inaugural Tom Sutherland Engagement Prize and launching the Stafford Wulff Opportunity Scholarship. This livestreamed event is hosted by Professor Jonathan Craig, Vice President and Executive Dean, College of Medicine and Public Health at Flinders University.
About the speaker
Chris Howie ASM has worked for SA Ambulance Service (SAAS) since 1998, holding various operational roles before moving into the Operations Manager role in the Executive Operations Support unit, reporting directly to the Chief Executive Officer. He was appointed SAAS COVID-19 Incident Commander earlier this year.
Since 2013 Chris has been managing the SAAS Wellness and Assistance Programs, including the well-respected Peer Support program. Chris' team provides an interface between SAAS and SA Health, the emergency services in SA and other government and non-government agencies in a range of areas. He provides the operational interface into WH&S within SAAS. Chris and his team are entrusted to deliver major organisation-wide projects and play a significant role in the operational elements of emergency management within SAAS. In 2018 Chris was awarded the Ambulance Service Medal in the Australia Day Honours list. He has a Graduate Certificate in Public Sector Management from Flinders University.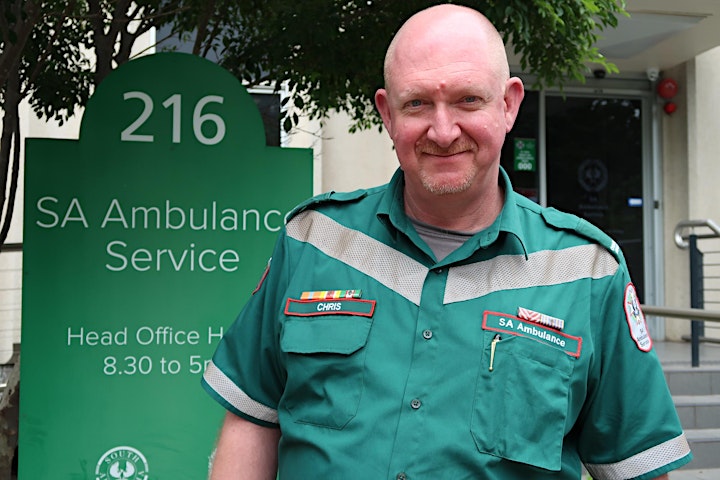 Celebrating 20 Years of Paramedic Science at Flinders
Flinders University has been educating and training career-ready paramedics for more than 20 years. At this lecture we will celebrate the work and achievements of the 1,300 Flinders University Paramedic Science graduates since 2000, along with our current paramedic science students.