Come and join the Brotherhood When: Friday the 28th – Sun 30th Jan 2022 Where: Point Wolsoncroft Address: Kanangra Dr, Gwandalan NSW 22
About this event
2022 UMA SUMMER BROTHERHOOD CAMP 
Come and join the Brotherhood
When: Friday the 28th – Sun 30th Jan 2022
Where: Point Wolsoncroft
Address: Kanangra Dr, Gwandalan NSW 2259 (1Hr Drive from North Sydney)
Campsite Website: https://sport.nsw.gov.au/facilities/pointwolstoncroft
Cost: $190 per person incl accommodation and food
Transport: Make your own way there.
Three days and two nights full of Religious Inspiration, Motivation, Brotherhood, Sports and Fun. Islamic Reminders, Great Brotherhood and Social Environment, Tennis, Beach volleyball, Basketball, Football and much more. Brothers ONLY
STRICTLY 18 years and over (16 years if accompanied by adult)To purchase your ticket online please visit the link http:/www.uma.org.au/camptickets
PLACES ARE LIMITED
For more info contact M: 0416 000 862  E: info@uma.org.au.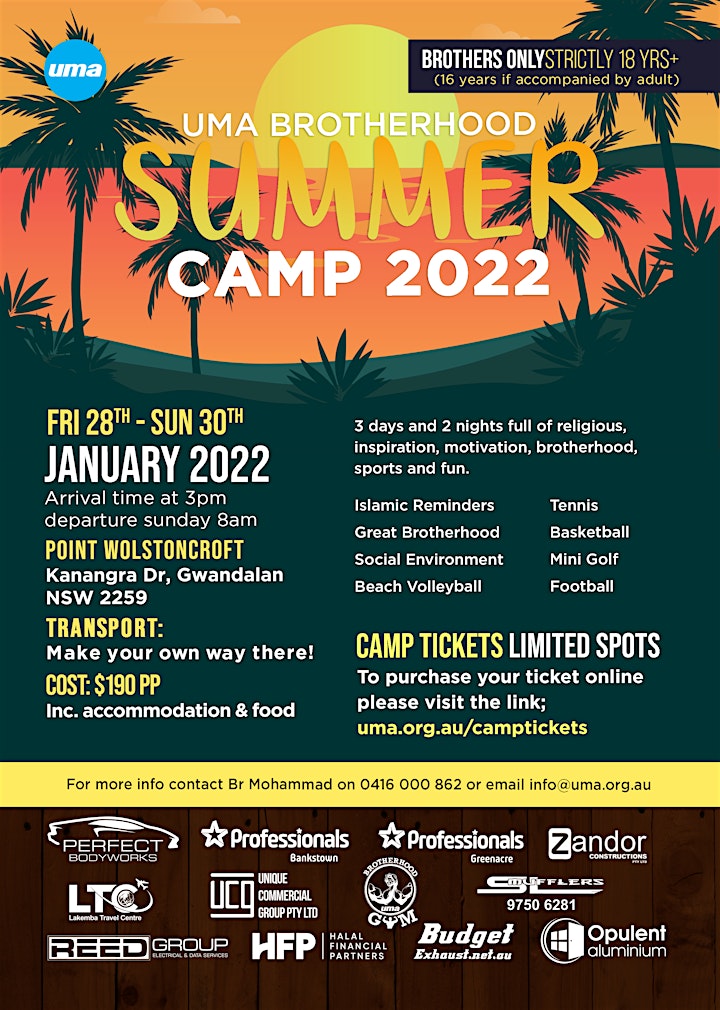 Organiser of 2022 UMA SUMMER BROTHERHOOD CAMP
UMA Centre was established in 2002 as an alternative venue for the Muslim youth to socialize and to take part in many educational, recreational and religious activities. It is currently Australia's largest Islamic youth centre that caters for the growing needs of the growing Islamic community within the country.
Over the years the UMA centre has provided and continues to provide many services and products to ensure today's youth are equipped with the skills to be well educated, confident and outstanding members of the Australian community. Some of the main community initiatives that have been developed over the years UMA include:
The UMA has recognised the need to ensure that young people have a secure, well-run and self-sustaining venue for healthy and constructive sport, leisure and recreational activities. It has also provided Muslim youth with specific services to ensure they are exposed to a setting that is Islamicly friendly and an environment that is conducive to the sunnah of the Prophet Muhammad (pbuh).
The centre offers its members and the wider community with a range of quality services that includes but is not restricted to the following:
Professional Men's Gym: Offers a range of training equipments at minimal price to attract the youth to a friendly Islamic environment.

Indoor and Outdoor Sport Activities

Martial Arts and Boxing

Educational Classrooms

Counseling and Career Advice

Lecture theaters

Function Hall

Offices