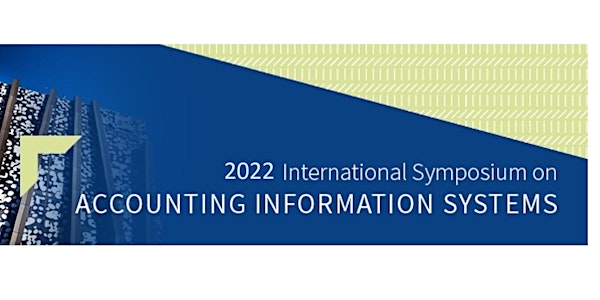 2022 International Symposium on Accounting Information Systems (ISAIS)
The International Symposium on Accounting Information Systems, hosted by the University of Melbourne
About this event
We are pleased to announce the ninth International Symposium on Accounting Information Systems (ISAIS). ISAIS is rotated annually between the USA (Michigan State University), Europe (Hasselt University, Belgium) and Australia (University of Melbourne). In 2022 it is hosted by the Centre for Accounting and Industry Partnerships at the University of Melbourne.
For paper submission details, please click here.
ISAIS 2022 will be online/virtual for all participants and will be accessed through Zoom.
The 2022 Symposium will be conducted over three consecutive mornings on Wednesday through Friday 6-8 July to accommodate as best as possible different time zones.
Sessions will be organized from 8:00 to 12:00 Melbourne time (15:00 to 19:00 Pacific Time USA; 18:00 to 22:00 Eastern Time USA; GMT 23:00 to 03:00). As far as possible, session times will be organized to suit presenters depending on their time zone.
The Symposium is positioned to follow the annual Accounting and Finance Association of Australia and New Zealand conference in Melbourne July 2-5, 2022 (http://www.afaanz.org/conferences).
The objective of ISAIS is to provide a global forum for Accounting Information Systems (AIS) researchers to discuss and critique leading edge research in the field.Topics of interest include but are not limited to: AIS and internal controls, AIS development, Big Data in accounting and assurance, blockchain, data analytics, business intelligence, business process modelling, continuous auditing and reporting, decision aids, artificial intelligence, knowledge-based systems, RPA, ERP systems, strategic information systems and XBRL.
ISAIS is particularly interested in interdisciplinary papers that focus on the intersection of accounting and information systems drawing from accounting, psychology, cognitive science, behavioral science, economics, computer science, and/or information technology. High-quality, insightful, and theoretically sound studies of any type (action research, archival analysis, behavioral/experimental, design science, surveys, theory development, etc.) are encouraged.
The 2022 Symposium will include keynote addresses and research paper presentations. All sessions at ISAIS 2022 will be live, online/virtual. Every effort will be made to ensure that there is a high level of interaction, discussion and debate in a friendly and supportive live online atmosphere.
Submission deadline: April 15, 2022
Notification of decision: June 1, 2022
For more information, please contact the Program Chair, Stewart Leech, at saleech@unimelb.edu.au or the Symposium Coordinator, Abbey Treloar, at abbey.treloar@unimelb.edu.au.