Location
Coomera Indoor Sports Centre
35 Beattie Road
Coomera, QLD 4209
Australia
1000 local businesses. 280 expo stands. Find new Partners, Customers, Products and Services, NETWORK. One stop info shop. Buy Local.
About this event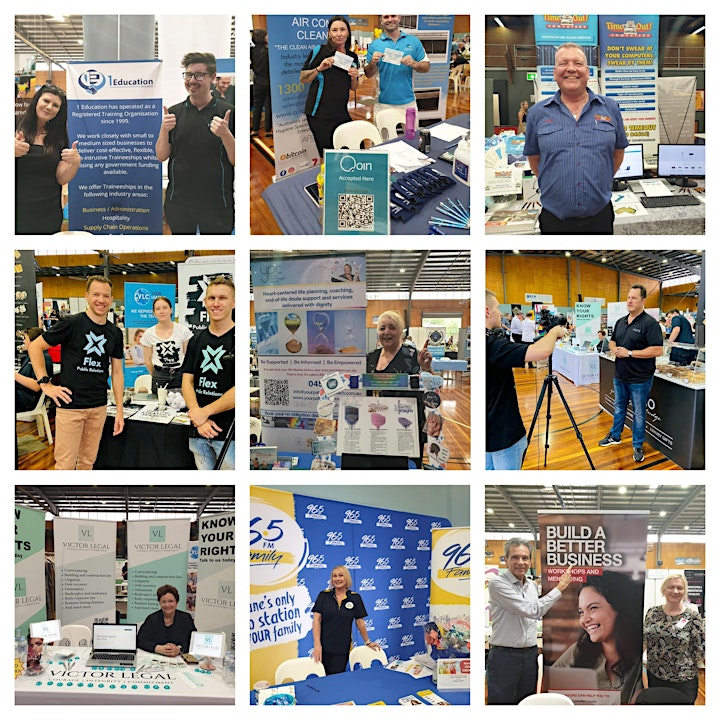 GOLD COAST'S HERO EVENT FOR LOCAL BUSINESS
THE BEST PLACE TO SUPPORT LOCAL BUSINESS, IS RIGHT HERE
2022 Gold Coast Business and Jobs Expo
SELL YOUR PRODUCTS AND SERVICES
BOOK AN EXHIBITION STAND NOW - www.smallbusinessexpos.com.au
Exhibitors for : Home, entertainment, health and well being, technology, business services, personal products, jobs, careers.... and so much more. All kinds of businesses - big and small.
GET AN EXHIBITOR INFO PACK - Click here : www.smallbusinessexpos.com.au
ASK US ABOUT OUR FREE EXPO STANDS, TCs&Cs apply - www.smallbusinessexpos.com.au
EVENT DETAILS
Thursday 16 June, 10am to 3.30pm
Coomera Indoor Sports Centre Beattie Road, Coomera
This venue is huge, 7 basketball courts in size.
ATTEND AS A VISITOR
Business Owners, General Public, Government Agencies, Job related Agencies - everyone will be there.
OPEN TO THE GENERAL PUBLIC AND ALL BUSINESSES BIG OR SMALL
ENTRY FEE $5
50% goes to Rotary for their community programs. You must register to attend.
Entry fee is a tax deductible business expense .
Payment can be made prior to the expo or at the door by EFTPOS or CASH or Qoin.
IT IS A FANTASTIC DAY for buying, promoting, networking, selling.
- Business workshops to attend - speaker program is sent to all registered attendees, 3 weeks prior to the event.
- Job related businesses to talk to - with hundreds of jobs available
- 280+ Exhibitors
- Food Trucks and Coffee Cart
- Live Entertainment by PASH 1pm - 3pm
- Comedy at the Food Trucks
- FREE Headshot Hub
- FREE Massage Hub
- FREE Coaching Hub
- FREE Accounting Hub
- FREE Beauty Hub
- Speakers Program from 10.30am - program provided 4 weeks from the expo
- Speed Networking for Women in Business at 10.30am to 12noon
- Tina X Talks Panel Session - 12noon - 1pm - open to all
- General Speed Networking Hour at 2.30pm - 3.30pm - mixed crowd
- FREE Parking at the venue and roadside
PROUDLY SPONSORED AND SUPPORTED BY
Qoin ICT Marketing The Corporate Travel Club The Brand Makers Optus Business Centre Gold Coast TAFE Queensland Small Business Solutions International Coaching Federation Qld Aero Accounting Group Visual Marketing Australia The Car Place Agape Outreach Inc Quantum Coaching & Healing Vie Beauty Purify Air.
Business Industry Supporters
BX Networking
Brisbane Small Business
Rotary Sunshine
The Gold Coast Innovation Hub
BNI Gold Coast and Tweed Shire Region
Gold Coast Central Chamber of Commerce
Small Business Association of Australia
State Member for Bonney Sam O Connor
State Member for Broadwater, David Crisafulli
State Member for Theodore Mark Boothman
Federal Member for Fadden Stuart Robert
Federal Member for Forde Bert Van Manen
Hosts for Speed Networking for Women
in Biz and Tina X Talks
Secret Sizinbiz Society
Female Entrepreneurs
Women in Business and Beyond (WIBB)
GC Hub Brunch Like A Boss
COVID NOTICE
You do not need to be Covid Vaxxed to attend. This is a PRO CHOICE EVENT
Our expo format has been audited and approved by Queensland Health many times, and we have now run 30 expos over the past 7 years across South East Queensland, we have run 9 expos during Covid - we are 100% focused on keeping everyone safe.
This is a COVID Safe Event held in compliance with relevant Public Health Directions.
By purchasing a non-refundable ticket you agree to comply with relevant Public Health Directions.For more information please visit https://www.qld.gov.au/health/...Those attending must be COVID safe and at all times maintain physical distancing requirements (stay 1.5m from others), follow rules on social gatherings, wash hands, use hand sanitizer and stay at home if unwell or have a cough, fever, sore throat, fatigue or shortness of breath. For more info visit www.aus.gov.au
HAVE A QUESTION?
paulabrand@smallbusinessexpos.com.au or 0475 411 793