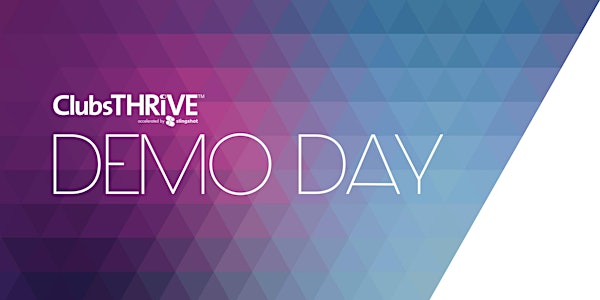 2022 ClubsTHRIVE Accelerator Demo Day - Virtual Registration
Event Information
Location
Canterbury League Club
26 Bridge Road
Belmore, NSW 2192
Australia
2022 ClubsTHRIVE Accelerator Demo Day Virtual registrations are now open!
About this event
ClubsNSW and Slingshot, Australia's leading corporate accelerator, invite you to join them at the 2022 ClubsTHRIVE Accelerator Demo Day.
Hosted by Slingshot founder Craig Lambert, you will hear presentations from high-growth Startup businesses that can potentially work with Clubs in three specific areas, Venue management, Food and beverage, and Community engagement.
2022 ClubsTHRIVE Demo Day offers the cohort the ultimate forum for promoting their business to Club industry stakeholders and potential future customers who, in turn, have a chance to see the latest in innovative thinking for high-quality entrepreneurs who want to help grow the Club industry.
The ClubsTHRIVE program forms an important part of ClubsNSW's purpose to put the interests of clubs and their communities first. The services offered by the businesses vary greatly and are relevant to clubs.
2022 ClubsTHRIVE Demo Day live stream option is available for clubs who are unable to join in person via Slingshot YouTube station. https://www.youtube.com/channel/UCpGYTSP2DCRp1tbM9L7SHwg
Whether you are an investor, business executive, startup founder, researcher, or policymaker, don't miss your chance to be part of Demo Day and learn how ClubsNSW is innovating for the future.
Reserve your free Virtual ticket today!
2022 Club THRIVES DEMO DAY
Date: Wednesday, 4 May 
Time: 4pm
Live Stream - Slingshot You Tube station to stream LIVE from 4pm.
https://www.youtube.com/channel/UCpGYTSP2DCRp1tbM9L7SHwg
Make sure to subscribe to Slingshot Youtube station and tune in 4pm, Wednesday May 4 for the 2022 ClubsTHRIVE Demo Day event.
Take part in our SLIDO interactive event poll via accessing the QR Code or via
https://www.sli.do/ enter code clubsthrive2022
For any inquiries please contact Selina@slingshotters.com

Date and time
Location
Canterbury League Club
26 Bridge Road
Belmore, NSW 2192
Australia