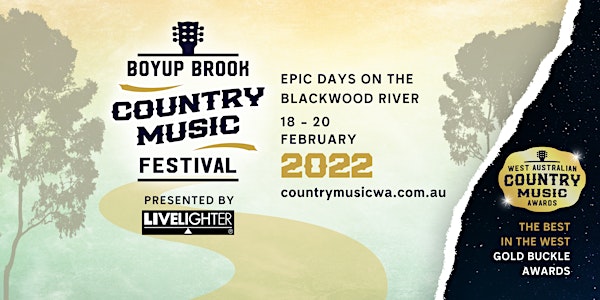 2022 Boyup Brook Country Music Festival presented by LiveLighter
Location
Music Park
Jackson Street
Boyup Brook, WA 6244
Australia
Sales Have Ended
Ticket sales have ended
Gosh Darn! You didn't have the quickest draw in the West, but you can still email us at the office for any other festival information you might require. Email: hello@wacountrymusic.com.au
The Boyup Brook Country Music Festival is presented by Livelighter and hosted by the Country Music Club of Boyup Brook WA Incorporated.
About this event
The Boyup Brook Country Music Festival is on again in 2022 and will be the BIGGEST line up of West Australian Country Music talent ever!
Our 36th Festival will start at 5pm Friday 18 February, and run through to Sunday afternoon, 20 February 2022. The Festival encompasses more than 25 hours of diverse musical acts on the main Music Park stage, and will again include the Boyup Brook Street Carnival on Saturday, featuring markets with local and emerging musicians and artists busking in the town streets, with entertainment galore.
Saturday will also feature the Ute and Truck Muster, and Sunday morning will start the day at a more leisurely pace with WA's biggest Bush Poets Breakfast.
We are one of the best and longest running Country Music Festivals in Australia. Small group workshops with the artists will also be available- details and invitations to attend will be emailed to ticket holders.
Bring a group of friends, or bring the family and kids to enjoy the relaxed country atmosphere on the banks of the Blackwood River.
Full line up to be announced soon- but get your early bird tickets quick before they sell out.
**CAMPING IS PER SITE PER NIGHT**
Program:
Friday from 5:00pm - 11:00pm: Live Music at the Music Park Main Stage.
Saturday from 8:--am -12:00 midnight: Street Carnival, Ute and Truck Muster, Live Music at the Music Park.
Sunday from 7:00am – 4.30pm: Bush Poet's Breakfast, Live Music at the Music Park.
FAQ's:
What are the COVID related conditions?
Following the announcement by the WA Government on 5th November 2021, we are now required to ask for proof of double vaccination for all attendees over the age of 12 to the festival. Your health, and the health of all our festival goers is the most important thing.
Should I bring the little ankle biters?
ABSOLUTELY YES! We love having families here; they make the atmosphere even more cheerful every year. As this is a licensed venue, we do ask that all minors be accompanied by a Parent or Guardian and supervised.
Can I throw a swag down and camp?
A variety of temporary community campground are available for festival goers and can be purchased the same time as your festival tickets. Toilets and showers are available at each site. There is also a Shire operated Caravan Park - call the Shire of Boyup Brook to book (Ph:97651200).
Will there be food and drinks at the Festival?
A wide variety of food and drinks are available in the town and at the Music Park. Most food vendor offer delicious, healthy choice options. Please note: the Music Park is not a BYO drinks venue, but water will be permitted.
Is ID required for the event?
Yes - the event is a licensed venue and all 18+ patrons are required to have valid photo ID (a current Australian drivers licence, current passport or proof of age card)
How do I get my bootscootin' body in and out of the event?
Entry is via the main gate which is located on Jackson Street. Most of the camping sites are within easy walking distance to the venue (the Music Park). If however, you need to drive, there is ample parking close to the venue.
Should I bring a hard copy ticket?
You don't necessarily need a hard copy of your ticket, but we do need you to bring a copy of your ticket in soft or hard format so that it can be scanned and exchanged for an arm band at the gate.
Can my four-legged friend come with me?
Guide and Assistance Dogs are permitted. NO ANIMALS in the Music Park and NO dogs on utes.
Tickets?
We don't offer concession tickets, but we do offer pre-release tickets, so jump in early to avoid disappointment. Tickets are non-refundable but if your circumstances change and you can no longer attend the festival, you can resell your ticket. Non ticket holders can enjoy the street carnival.
Companion Cards?
We accept Companion Cards. Please email hello@wacountrymusic.com.au for more information.
For full Terms & Conditions visit the website
Refund Policy:
If the Country Music Club of Boyup Brook WA Inc. (CMCBB) is unable to present the 2022 Boyup Brook Country Music Festival as planned in February due to COVID-19 restrictions or Health Department directives or requirements, CMCBB will consider if the event can be rescheduled and offer consumers an event credit to the rescheduled date.
If ticket holders are unable to attend the 2022 Boyup Brook Country Music Festival due to border restrictions or closures, self-isolating requirements or any other health or medical reasons, then an event credit or full refund will also be offered upon provision of proof of reason for refund request. Other reasons for a refund will be considered depending upon the circumstances.
If ticket holders are refused entry because they cannot provide proof of double vaccination at the event prior to entry, then those patrons will only be offered an event credit to the following years event. A full refund of ticket purchased will not be offered.
Note: All patrons who wish to receive an event credit or refund for tickets will be required to submit a request in writing to CMCBB detailing their circumstances surrounding their request. Please ensure any request for refund or event credit are made in writing and addressed to Country Music Club of Boyup Brook Email: hello@wacountrymusic.com.au Subject: Request for a Refund; or
Mailed to: Country Music Club of Boyup Brook72 Abel StreetBoyup Brook WA 6244
Written requests must be received by CMCBB within 30 days from date of the event.