This commemoration honours the service of Aboriginal service men and women, past and present.
About this event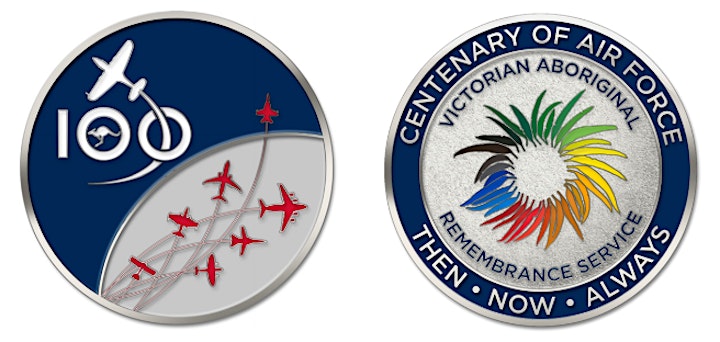 Aboriginal people have served in every conflict and peacekeeping mission involving Australia for more than a century. This is despite the fact that Aboriginal people were not allowed to enlist until the Second World War and for many years their service was not recognised.
In 2006, Aunty Dorothy 'Dot' Peters AM (1930–2019), together with retired Royal Australian Air Force (RAAF) FSGT Sam Halim (then Healesville RSL President), sought to change this with a Service that occurred late that year in Healesville, and then, in 2007 the first Victorian Aboriginal Remembrance Service took place. For 15 years a large Service has now been held every year at the Shrine, in Reconciliation Week, to honour the service and sacrifice of all Aboriginal and Torres Strait Islander servicemen and women.
In 2021 the online Service will recognise the contribution of Indigenous service men and women to the RAAF in the Centenary of Air Force. A special limited edition medallion has been struct for the occasion and is available for purchase in the Shrine Shop.
Please note: By submitting your email address, you are agreeing to receive further information about this and other VARC events and activities. If you wish to view the Service without providing your email address, you can view directly at the Shrine website (shrine.org.au)
Organiser of 2021 Victorian Aboriginal Remembrance Virtual Service