2021 SHINING DIAMONDS - Hobart's Diamond in-house pole dance student comp
2021 SHINING DIAMONDS - Diamond Class In-house Student Pole Competition General InformationSparkle and Slay is one of Diamond
About this event
2021 SHINING DIAMONDS - Diamond Class In-house Student Pole Competition
TICKETS $30 - only 17 tickets available due to covid restrictions
SHINING DIAMONDS is one of Diamond Class Pole and Fitness Studio's very own annual in house competitions for Diamond Class Students. This is an amazing opportunity and motivator for our students to progress and showcase their individual styles and dedication to the style of pole dance .
Designed to give everyone at Diamond Class a performance platform and a stepping stone for those wishing to compete in the National Pole competitions .
Titles in each division plus very pretty Sashes for the winners!
By purchasing tickets you are supporting the studio to be able to offer opportunities to all our amazing students and also securing a spot in the audience of an extremely entertaining show!
TICKETS
PURCHASE Online -  PLEASE NOTE - All bookings online do incur a small online booking fee.
OR Directly from reception 61 Molle St , between reception hours Mon - thurs 5.30pm - 7.30pm or Sat 12 - 3pm 
VENUE Diamond Class Pole and Fitness Studio, open to the public and of course friends and family 61 Molle Street, Hobart, Tasmania
SOFT DRINKS/ENERGY DRINKS AND WATER AVAILABLE TO PURCHASE + SNACKS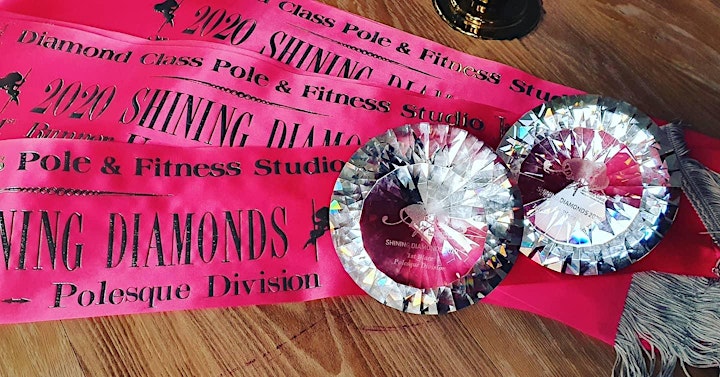 Organiser of 2021 SHINING DIAMONDS - Hobart's Diamond in-house pole dance student comp
All about our sparkly studio
Diamond Class Pole and Fitness Studio - You have found your happy place! The most fun, motivating and unique Pole and Fitness classes changing peoples lives in the Hobart and surrounding areas since 2007.
Classes for any shape/size, 12 yrs to 60+ yrs no prior strength level required. You will feel instantly at home as you walk through our sparkly doors and are greeted by our amazingly supportive staff and instructors.
Diamond Class is the only place in Tasmania that you can learn from internationally accredited qualified pole instructors offering loads of performance opportunities (not compulsory) , a studio performance troop, an awesomely sparkly community waiting for you to join it!
Find A Pole new sparkly YOU at Diamond Class Pole and Fitness Studio today! For more information please see our Website
www.dcpolefitness.com.au
Reception Phone : 0439481959 Email: reception@dcpolefitness.com.au
Hobart Studio: 61 Molle St, Hobart, 7000
Email:
reception@dcpolefitness.com.au
Instagram:
@diamondclasspoleandfitness