Event Information
Refund policy
Refunds up to 7 days before event
EMUGs POCUS Management Course Level 2 is delivered by industry experts to you in the comfort of your home or workplace.
About this event
POCUS Management Course Level 2 - 2021
Conducting POCUS Research within your Department or Ultrasound Program
Subscribe and Save: POCUS Management Courses Level 1 and 2 are included in the EMUGs POCUS Development Subscription.
Purchase the subscription to save.
Overview
Level 2 of the Online POCUS Management Course Series comprises 2 x 90min sessions and is aimed at those in senior and/or Ultrasound Leadership roles or those keen to take on these roles.
Level 1 of the Online POCUS Management Course Series is a prerequisite.
Delivered By
Dr Michael Blaivas MD, MBA, FACEP, FAIUM, an international leader in the field, who will join us from Atlanta, USA and Dr Gabriel Blecher MBBS (Hons) PDM CCPU FACEM MSc(Epi), a Melbourne Based FACEM, Deputy Director Emergency Medicine at Monash Medical Centre and Emergency Specialist at Cabrini Hospital.
Course Registration includes 2 sessions.
Session 1: October 12th 2021
Getting the structure right to support research in your POCUS program
Session 2: October 28th 2021
What is your POCUS Research Target?
NOTE: Both sessions will be recorded for later listening if you are unable to attend the live event.
What Does the Course Cover?
CONDUCTING POCUS RESEARCH WITHIN YOUR ULTRASOUND PROGRAM OR DEPARTMENT – HOW TO GET STARTED
Session 1: Getting the structure right to support research in your POCUS program
October 12th 2021
* Leadership/Support/Staffing/Infrastructure
- Institutional research history, available resources, leadership, departmental, hospital or University support, does your medical (doctor) group support carrying out research? How will you record data? Will your patient load support research? How will you record and archive images? Unpaid time, dedicated office space, room to enrol patients
* University Affiliation/Support
- Setting up an academic department in emergency medicine with a university and a division of emergency medicine ultrasound, linking to a research centre in your or another hospital with an Office for Health & Medical Research or a Coordinating Office for Clinical Trial Research, linking to another hospital that already does EM Research, external funding, grants and charitable foundations
* Other Resources eg. Special Interest Groups, Research Foundations, Colleges
* What are the benefits to the ED and your POCUS program of doing POCUS research?
Session 2: What is your POCUS Research Target?
October 28th 2021
* What makes POCUS research different from other EM research?
* General principles of research study idea generation methodology
* Picking a POCUS Research Topic/Research Question:
- Diagnosis: speed, accuracy, novel applications, procedural, patient satisfaction, practitioner satisfaction, patient flow, cost savings, Education/Training/Competency, Change in Patient Outcomes – the evidence is still lacking/to come
* Quantitative vs Qualitative
* Local relevance vs Generalisable
* Single Centre vs Multi-Centre
* Achievable/Realistic within demands on ED and staff, patient demographics, numbers of patients presenting with the problem you wish to study
* Any other challenges/hurdles?
* Training in doing Research eg research methods, stats
* Presenting your results – conferences, getting published – which journals?
Faculty
Dr Michael Blaivas: Dr. Blaivas is currently an affiliate professor of medicine at the University of South Carolina, School of Medicine. Clinically, Dr. Blaivas works St Francis Hospital Emergency Department in Columbus, Georgia. Dr. Blaivas is a pioneer of point-of-care ultrasound. Along with his research interests Dr. Blaivas is a founding member of the World Interactive Network For Critical Ultrasound (WINFOCUS) and Society of Ultrasound in Medical Education (SUSME), having served as president of both. Dr. Blaivas has been the emergency ultrasound section chair for ACEP, SAEM and AIUM and third Vice President of the American Institute of Ultrasound in Medicine. Dr. Blaivas is active in building educational and policy-making relationships between societies in a variety of medical specialties throughout the world and works with specialty societies to help craft ultrasound educational and performance standards and guidelines. Most recently, he has helped create and direct, the American College of Physicians (ACP) pre-congress ultrasound course which is helping to expand ultrasound use by internal medicine physicians.
Dr Gabriel Blecher: Dr Blecher is an Emergency Physician and Deputy Director at Monash Medical Centre ED, where his main portfolio is Quality and Safety. He also has clinical appointments at both Cabrini Hospital and My Emergency Doctor and is an ex-member of the Ultrasound Committee of ACEM. He drives the Monash Health Emergency Department Ultrasound Education and Quality Committee. He has completed a Masters of Science in Epidemiology at the University of Ottawa in Canada and has an appointment with Monash University as a senior adjunct lecturer. His research interests include point-of-care ultrasound and efficient use of diagnostic testing in emergency medicine.
This is an ACEM Approved CPD Activity.
CPD Hours: 3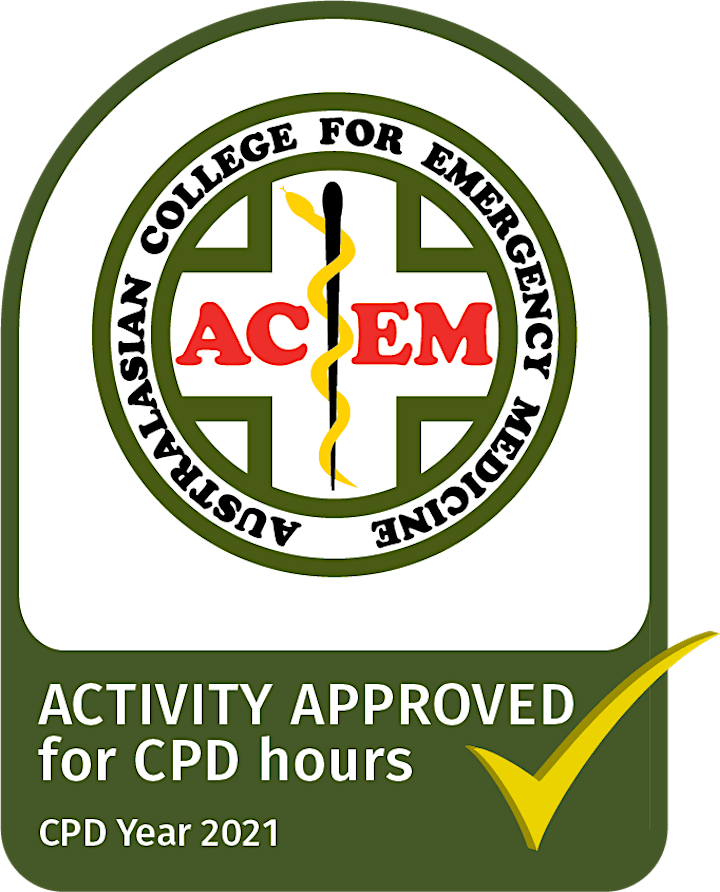 Tickets
EMUGs is a small not for profit organisation / special interest group supported by a small part time operations team funded by ticket sales and generous support from our sponsors.
Ticket sales enable EMUGs to continue our mission of advancing the use of POCUS in Emergency Medicine.
We aim to ensure ticket prices reflect the value our events.
Please purchase a ticket that reflects your qualification/funding category as the money received from those with funding makes it possible to provide more affordable tickets for those without.
You have the opportunity to make an optional donation to EMUGs during the ticket purchase process.
Thank you for your support.
This webinar is sponsored by EMUGs Annual Sponsors.
Date and time
Location
Refund policy
Refunds up to 7 days before event
Organiser of 2021 Online POCUS Management LEVEL 2 Course
EMUGs is a grassroots, not-for-profit special interest group with a vision to integrate and progress best practice focused ultrasound in acute care settings through collaboration between industry experts. 
Our community, throughout Australia, New Zealand and beyond are passionate about improving POCUS education and supervision, for medical students through to experienced clinicians.
 EMUGs advocates that POCUS be recognised as a core skill in Emergency Medicine, capable of improving patient care and outcomes and that POCUS training be available to all emergency and acute care clinicians.
Regular events, providing excellent clinical education, training, networking, collaboration and access to current innovation are some of the ways we aim to motivate, inspire, educate and support POCUS users.