Event Information
Refund policy
Refunds up to 7 days before event
EMUGs POCUS Management Course - Level 1: Delivered by industry experts to you in the comfort of your home or workplace.
About this event
POCUS Management Course: Level 1 - 2021
Subscribe and Save
POCUS Management Courses Level 1 and Level 2 are included in the EMUGs POCUS Development Subscription. Purchase the subscription to save.
COURSE OVERVIEW
Level 1 of the Online POCUS Management Course Series comprises 5 x 90min sessions aimed at those in senior and/or Ultrasound Leadership roles or those keen to take on these roles.
The course provides guidance for establishing and/or enriching POCUS management in your department.
This course is delivered by a panel of local experts in conjunction with and guided by Dr Michael Blaivas MD, MBA, FACEP, FAIUM, an international leader in the field, who will join us from Atlanta, USA and is overseen by Victorian FACEM and EMUGs Central Council member; Dr Allan Whitehead.
This course is a prerequisite for Level 2 of the POCUS Management Course to be delivered in October 2021.
COURSE OUTLINE
Regular Time of 10am AEST | 12.00pm NZST
Course registration includes all 5 sessions
All sessions will be recorded for later listening if you're unable to attend live
Wednesday May 12th
Tuesday May 18th
Tuesday May 25th
Wednesday June 2nd
Thursday June 10th
Session 1: Governance - Wed May 12th
Presented By: Michael Blaivas & Cris Zollo
Covers: Leadership, Clinical Lead/Director requirements and departmental support, institutional support and processes including credentialing, budget including funding sources, policies and guidelines
Session 2: Education - Who, Why and How? - Tue May 18th
Presented By: Cris Zollo, Martin Necas & Carolynne Cormack (120 mins)
Covers: Structure/Program plan, scope of practice, extent eg Specialists, Trainees/Registrars, PGY1-2, medical students, nursing staff including nurse practitioners, training/teaching methods eg simulation, bedside, workshops
Session 3: Competency - What? - Tue May 25th
Presented By: Allan Whitehead & Vijay Manivel
Covers: College curriculum, accreditation, certification/qualification eg from professional bodies/universities, skill maintenance/continuing medical education, special skills terms, fellowships, research (will elaborate in Level 2 Course)
Session 4: Machines and Equipment - Wed June 2nd
Presented By: Anthony Wald & Allan Whitehead
Covers: Equipment including hand-held devices, maintenance, supplies/consumables, safety and infection control
Session 5. Workflow - Thu June 10th
Presented By: Carolynne Cormack, Vijay Manivel & Michael Blaivis (120 mins)
Covers: QI including Audit, Review, Feedback, Remediation, Compliance, Middleware, Image Storage options, EMR, Logbooks, Billing
FACULTY
Dr Michael Blaivas: Dr. Blaivas is currently an affiliate professor of medicine at the University of South Carolina, School of Medicine. Clinically, Dr. Blaivas works St Francis Hospital Emergency Department in Columbus, Georgia. Dr. Blaivas is a pioneer of point-of-care ultrasound. Along with his research interests Dr. Blaivas is a founding member of the World Interactive Network For Critical Ultrasound (WINFOCUS) and Society of Ultrasound in Medical Education (SUSME), having served as president of both. Dr. Blaivas has been the emergency ultrasound section chair for ACEP, SAEM and AIUM and third Vice President of the American Institute of Ultrasound in Medicine. Dr. Blaivas is active in building educational and policy-making relationships between societies in a variety of medical specialties throughout the world and works with specialty societies to help craft ultrasound educational and performance standards and guidelines. Most recently, he has helped create and direct, the American College of Physicians (ACP) pre-congress ultrasound course which is helping to expand ultrasound use by internal medicine physicians.
Dr Allan Whitehead: Dr Whitehead is a Melbourne based FACEM working at Wonthaggi Hospital with a passion for the utility of POCUS in smaller EDs with no critical care on-site and minimal radiology back-up after hours. Allan sees great scope to increase POCUS training to undergraduate medical students as well as prevocational doctors in Australia and New Zealand not forgetting assisting registrars and senior medical staff to learn and maintain this skill. Allan has completed his CCPU with Otago University and also CCPU with ASUM recently, and has done a sabbatical in ultrasound with Monash Health Radiology at Dandenong Hospital.
Dr Cris Zollo: Dr Zollo is aN Emergency Physician and Clinical Lead for Ultrasound at Waikato Hospital Emergency Department. Originally from England, Cris has experience working in emergency departments across New Zealand, Australia and the UK, but undertook most of her formal training at Waikato Hospital. She attained the ASUM DDU (Emergency Medicine) in 2018. Cris is a passionate advocate of increased POCUS availability, but acknowledges that this, like all other tests, should be used wisely, supported by appropriate training and credentialing. Cris is currently Co-chair of the New Zealand branch of the EMUGS network and is involved in tutoring DDU candidates.
Martin Necas: Martin works as a clinical specialist sonographer in Hamilton, New Zealand. Martin has practiced diagnostic ultrasound in the USA, New Zealand and Australia in a wide variety of clinical settings ranging from private centers to tertiary teaching hospitals. Martin is an ultrasound enthusiast, clinical instructor, university lecturer and a prolific conference speaker and a strong proponent of clinically targeted ultrasound and evidence-based practice, underpinned by clinical research.
Anthony Wald: Anthony is an accredited cardiac sonographer working in Point of Care Ultrasound education for the POCUS program at Monash Health, Victoria. He is completing his Masters in Clinical Education and Teaching through Melbourne University, with a research interest in the facilitators and barriers to echocardiography teaching and training. Anthony is also an elected director for the Australasian Sonographers Association.
Dr Vijay Manivel: Dr Manivel is an Emergency Physician & Director of Emergency Ultrasound Training at Nepean Hospital and Sydney Adventist Hospital, an ultrasound enthusiast and a firm believer in bedside ultrasound being a part of clinical examination. Vijay is also a Clinical Senior Lecturer at The University of Sydney, actively involved in teaching diagnostic & procedural ultrasound to clinicians and medical students. Also, been actively engaged in research activities in the field of Emergency Ultrasound.
Carolynne Cormack: Carolynne is a senior Sonographer and passionate POCUS Educator at Monash Health in Victoria. Carolynne has been instrumental to the growth of a large collaborative POCUS program at Monash Health. In 2016, Carolynne was awarded the Australasian Sonographers Association (ASA) Educator of the Year for excellence in ultrasound education. She also serves the wider ultrasound profession in a variety of chairing, committee & advisory roles.
This is an ACEM Approved CPD Activity.
CPD Hours: 7.5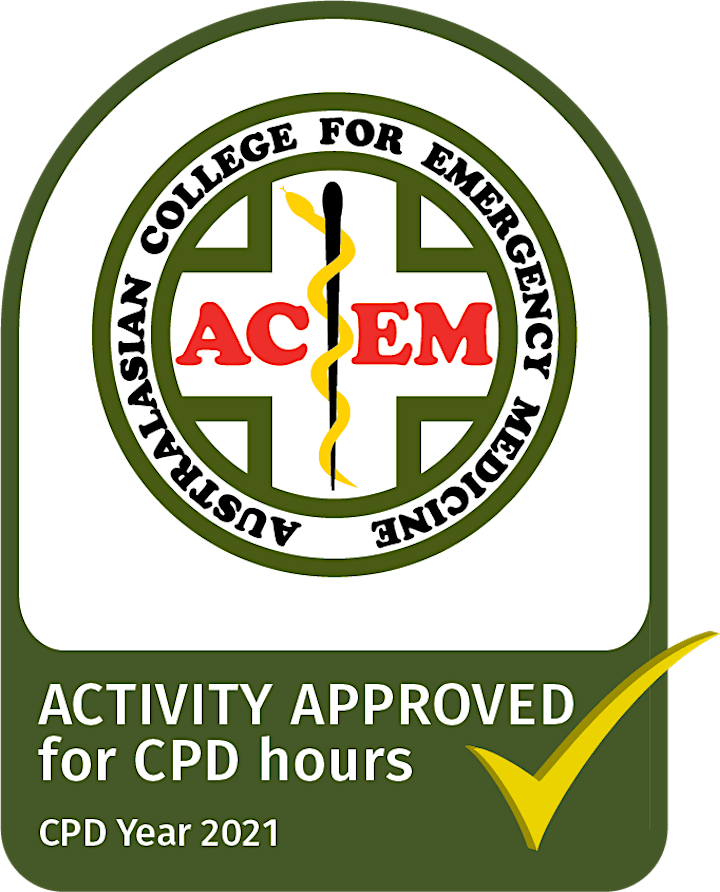 Tickets
EMUGs is a small not for profit organisation / special interest group supported by a small part time operations team funded by ticket sales and generous support from our sponsors.
Ticket sales enable EMUGs to continue our mission of advancing the use of POCUS in Emergency Medicine.
We aim to ensure ticket prices reflect the value our events.
Please purchase a ticket that reflects your qualification/funding category as the money received from those with funding makes it possible to provide more affordable tickets for those without.
You have the opportunity to make an optional donation to EMUGs during the ticket purchase process.
Thank you for your support.
This webinar is sponsored by EMUGs Annual Sponsors.
Date and time
Location
Refund policy
Refunds up to 7 days before event
Organiser of 2021 Online POCUS Management Course - Level 1
EMUGs is a grassroots, not-for-profit special interest group with a vision to integrate and progress best practice focused ultrasound in acute care settings through collaboration between industry experts. 
Our community, throughout Australia, New Zealand and beyond are passionate about improving POCUS education and supervision, for medical students through to experienced clinicians.
 EMUGs advocates that POCUS be recognised as a core skill in Emergency Medicine, capable of improving patient care and outcomes and that POCUS training be available to all emergency and acute care clinicians.
Regular events, providing excellent clinical education, training, networking, collaboration and access to current innovation are some of the ways we aim to motivate, inspire, educate and support POCUS users.