Hear the latest research and medical info on neuromuscular conditions, as well as lived experience stories from the MD community.
About this event
This event is being hosted by Muscular Dystrophy NSW and will include the following speakers and topics:
MDFA Update & The Loop: Ryan Talsma, CEO, Muscular Dystrophy Foundation Australia
Registry & Clinical Trials: Prof. Monique Ryan, Department of Neurology, Royal Children's Hospital, Melbourne & Robin Forbes, Coordinator, Australian Neuromuscular Disease Registry
Hearts & Lungs: Dr David Tanous, Cardiologist, Westmead Private, Westmead & Auburn Hospitals & Dr Amanda Piper, Senior Physiotherapist, Department of Respiratory & Sleep Medicine, Royal Prince Alfred Hospital
SMA Treatment Breakout Session: A/Prof Michelle Farrar, Paediatric Neurologist, Sydney Children's Hospital & Dr Christina Liang, Neurologist, Neuromuscular Clinic, Royal North Shore Hospital
DMD Update: Dr Michelle Lorentzos, Paediatric Neurologist , Staff Specialist in Neurogenetics (Clinical Trials Research), The Children's Hospital at Westmead (Sydney Children's Hospital Network)
What can a Neurologist do for you? Dr Lauren Sanders, Clinical Neurologist, St Vincent's Hospital (Melbourne)
Lived Experience Panel - Lived Experience - a panel of people with lived experience of neuromuscular conditions sharing their stories and knowledge. Panelists include Jack Wason, Lisa Brown, Abrahim D'arouiche, and James Dunstan
Who should attend?
Members, people and/or organisations interested in information on neuromuscular conditions
IMPORTANT REGISTRATION INFORMATION
When registering, please select one General Admission and one Add-On Breakout session. The Breakout sessions will be held concurrently, so only one may be selected per participant.
All participants will be emailed a separate unique link to the Zoom meeting with full log in details.
Contact
For any queries, please contact Alicia Ballesty on 02 9888 5711 ext 107 or at alicia.ballesty@mdnsw.org.au.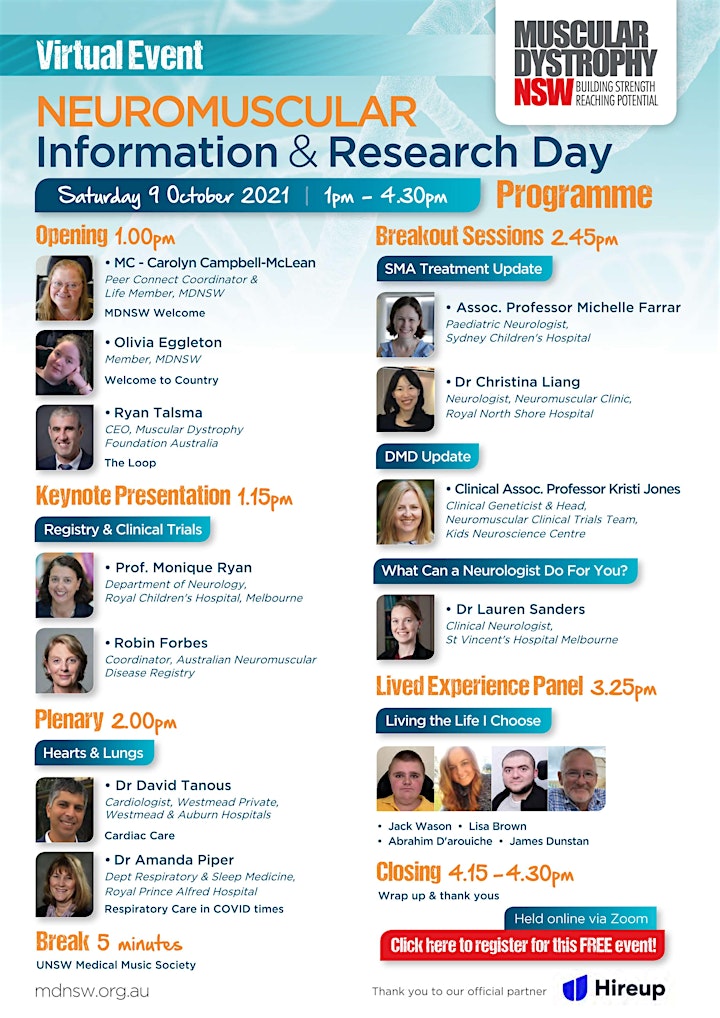 Organiser of 2021 MDNSW Neuromuscular Information & Research Day