2021 Livestock Advisor Update - Southern Australia
About this event
Livestock Advisor Update
Southern Australia
29th July 2021
Adelaide Hills Convention Centre 
Network with a wide range of livestock consultants, AWI, MLA, PIRSA and other industry stakeholders
A wide range of presentations will be available both in person or on line.
A dedicated session will allow perusal of 15 innovative technical displays including Internet Innovations, Cibo Labs, FarmO, Datamars/Trutest, Remscan , Neogen, SafeAg Systems, AWI,MLA, PIRSA and more.
Walk away with practical ready to apply information, tools and technology
Attend an optional pre networking dinner of fun and activities
The event is beneficial to anyone who has an interest in livestock research, development, tools, extension, technology and support and making industry connections.  
Attend in person or on line.
This event has a covid safe plan and will go fully virtual in the event of a lock down. If the event does go fully virtual, 65% of the ticket price will be refunded and a virtual ticket will be provided.
Sign up to our mailing list for updates on the event or view the program at https://www.salivestockconsultants.com.au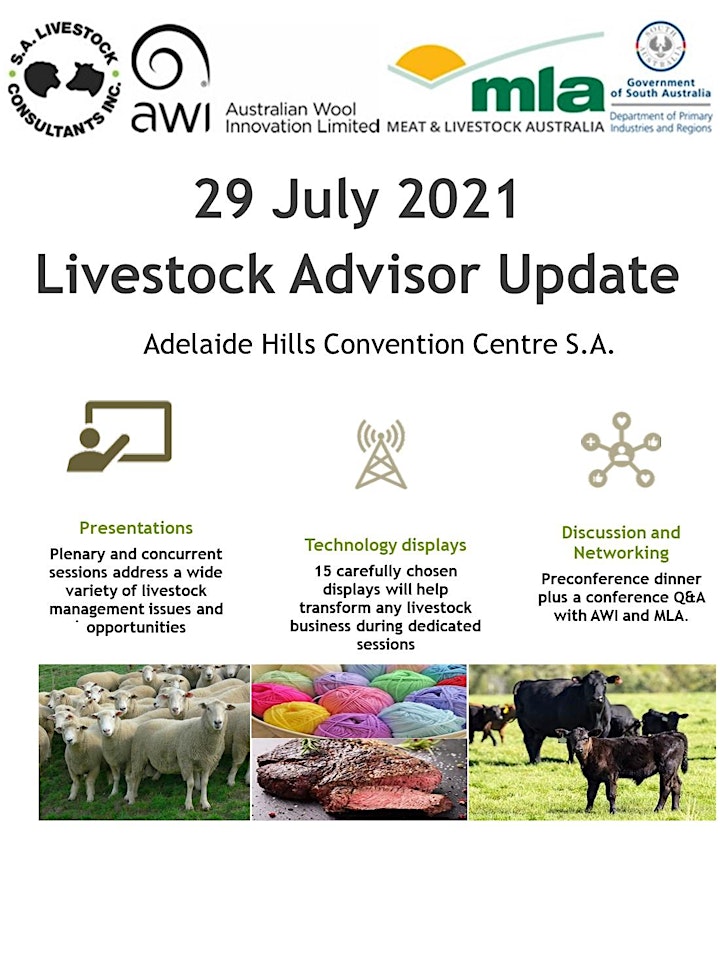 Organiser of 2021 Livestock Advisor Update - Southern Australia
SA Livestock Consultants is a group of independent consultants who provide services to the livestock industry across South Australia and interstate.   The group formed in 2010 to improve consulting services and build the capacity of the broadacre livestock industry. Currently, the group consists of 13 independent livestock and business consultants, representing 11 businesses.