The Friends of Grafton Gallery invite you to the 2021 Gala Dinner
About this event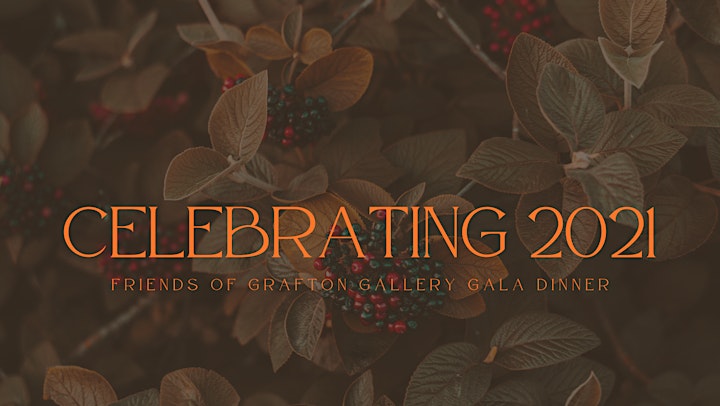 The Friends of Grafton Gallery invite you to the 2021 Gala Dinner
Guest Speakers; acclaimed artist Braddon Snape and David Fairbairn
Join the FoGG and artists Braddon Snape & David Fairbairn for an exclusive premier tour of their exhibition at Grafton Regional Gallery.
6pm Friday December 10th
Drinks + Canapés on arrival
Artist Tours
Mains
Petit Fours & Coffee
Catering by Vines @ 139
Tickets | $70 per person, includes a drink on arrival + Eventbrite Booking Fee
THINGS ARE NOT AS THEY APPEAR: BRADDON SNAPE
This exhibition continues Braddon Snape's exploitation of the often-described miraculous, cold inflated steel method. Snape's Allusive Objects of inter-reflective, mirror-polished, inflated stainless steel are objects of paradox – formed, yet elusively formless.
Reflected/refracted light casts object into image, concealing any material essence. In Snape's recent practice, the forming and realisation of these objects is often a live performed act. To see Snape breathe life into these works, and to see it in action, is to witness creation. Braddon Snape is a nationally recognised Newcastle based artist who specialises in three-dimensional practice including largescale public artworks.
Over the past 25 years Snape has developed a practice that now encompasses sculpture, installation, video and performance in a diverse range of media, earning a reputation for conceptually rich works revealed through a minimal aesthetic and an astute understanding and sensitivity to materials and media. His current practice interrogates a dangerously exciting and new method of inflating steel. This performative process developed whilst researching for his PhD gives his work a renewed freedom, where it reveals a delicate dialogue between control and chance that has been aptly described as Action Sculpture.
DRAWN TOGETHER: DAVID FAIRBAIRN
This exhibition could imply two people who are drawn together by circumstance, two unrelated people in the same drawing, two friends or a couple in a long-term relationship.
Drawn Together explores the relationship between one or two sitters and the artist. Some of the earlier subjects were of men and women from David's local community who were invited to pose. However, with the advent of the COVID-19 pandemic David was unable to work with his regular sitters. Therefore, his partner the artist Suzanne Archer offered to sit for him, which resulted in a new and extensive body of work. The series began with individual portraits of Suzanne (Intimacy) and evolved into Double Lives which included both Suzanne and David.
It is this body of work that has become the focus of this exhibition. The resulting series reflects a long and sustained personal and artistic relationship extending back more than three decades.
David Fairbairn is an Australian contemporary Artist (painter and printmaker) who was the winner of the Dobell Prize for Drawing in 1999 . He also won the Doug Moran National Portrait Prize in 2002 and the Mosman Art Prize in 2012. Fairbairn is a former part-time lecturer at the National Art School Sydney (1997-2016).
We can't wait to celebrate these exhibitions and 2021 with our Friends of Grafton Gallery Members & supporters.
To find out more about the FoGG; follow us online
www.instagram.com/grgalleryfriends
Image Credits:
1. Braddon Snape, Small Allusive Object, 2020, welded and inflated 304 stainless steel. Courtesy of the artist and Nanda\Hobbs Gallery, Sydney
2. David Fairbairn, Double Lives: D.F.& S.A.No.1. Acrylic gouache pastel & charcoal on paper on board. Courtesy of the artist