New World, New Food: 'What agri-food problem do you (a researcher) seek to solve, and in doing so, how will agri-food futures be different?'
About this event
A Message from Australasian Agri-Food Research Network: STARTS TODAY
The AFRN is delighted to welcome you tomorrow (Tuesday 9 February) and Wednesday (10 February) to the 'New World, New Food?' Early Careers Researcher Symposium.
The Symposium will commence at 9am (AEST: UTC +10) on Tuesday (09 February) until 12:30, then recommence at 12:30pm (AEST: UTC +10) on Wednesday (10 February) until 4:00pm.
Following an Acknowledgement of Country and official Symposium Welcome, the organisers will outline some administrative aspects regarding the online format and expectations of presenters, moderators and participants in each session.
PLEASE CHECK YOUR EMAIL FOR ZOOM MEETING ID AND PASSWORDS
We look forward to virtually seeing you at the Symposium!
Regards,
Kiah and Rob
The global coronavirus pandemic has prompted the inevitable deepening of interdisciplinary questions about the future trajectory of agri-food system transformations. Amidst the uncertainty, a central requirement for creating new possibilities remains – to nurture the work of Early Career Researchers (ERC's) studying agri-food issues, the researchers and practitioners who will be driving this new food future. This online symposium reflects the longstanding goal of the AFRN to provide opportunities to deepen critical dialogue on a broad scope of agri-food issues across Australia and New Zealand, keeping us connected and (re)connected.
The Symposium will be conducted via the Zoom platform. On the 8th of February all registered participants will recieve a Zoom Meeting ID and password via email for the day of 9th and 10th of February.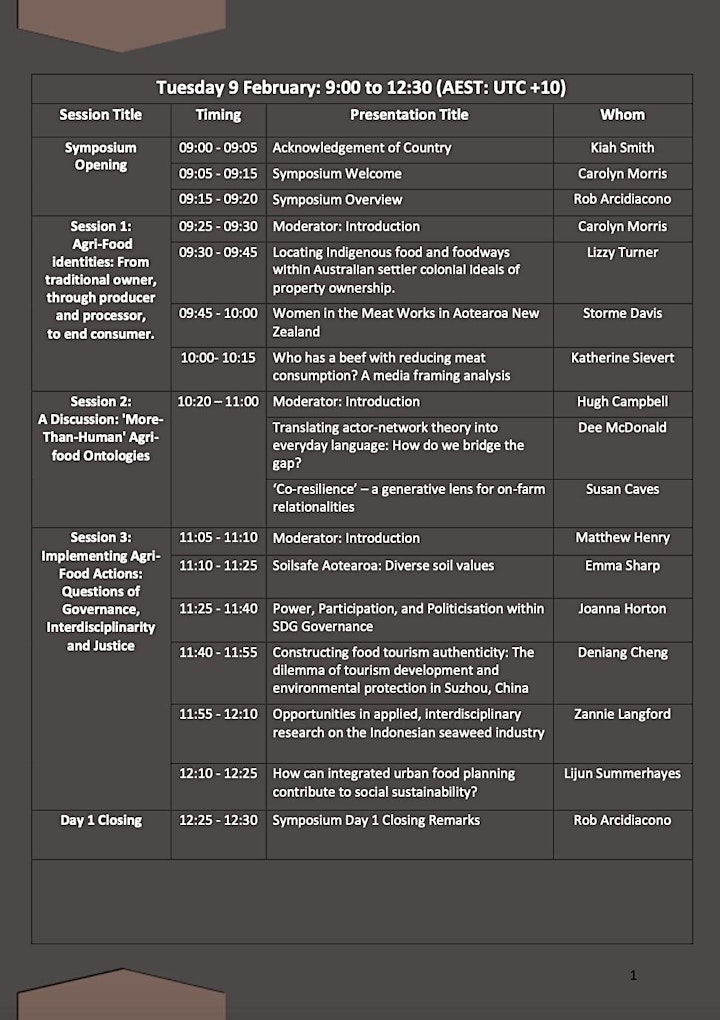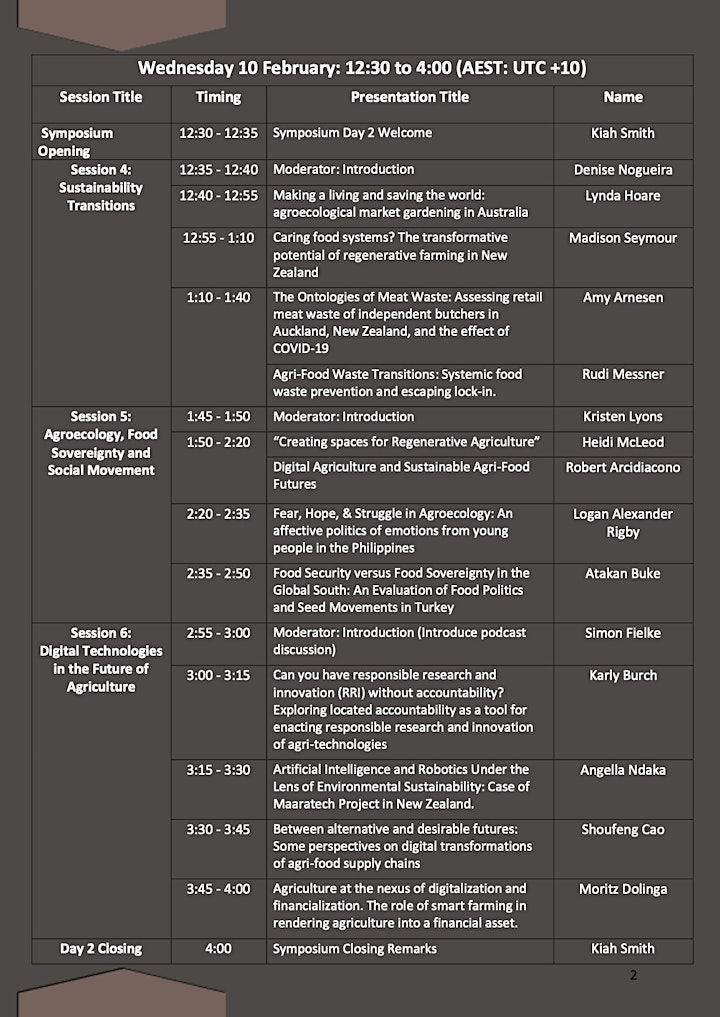 Organiser of 2021 Agri Food Research Network (AFRN) Symposium