About this Event
It's a fact. Business changes FAST. And that's why every year, from now on, hundreds of Australia's smartest leaders and managers will descend upon Sydney, Australia to learn what's new, what's hot, and what's actually working RIGHT NOW in organisational development and growth.
If you're a business professional, leader, manager, business owner, consultant, or entrepreneur, the 2020 Vision Business Summit is YOUR event. Welcome home.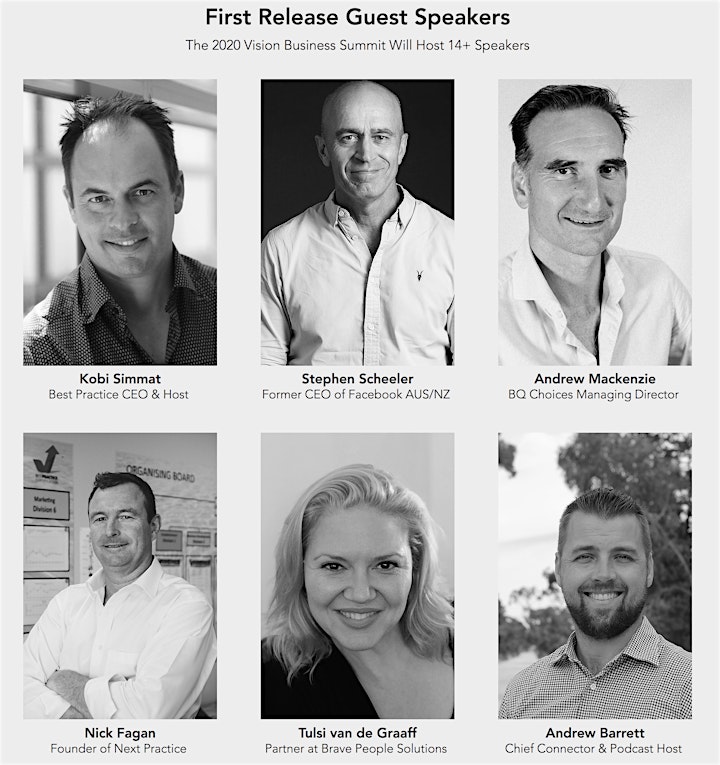 WHAT TO EXPECT AT THE 2020 VISION BUSINESS SUMMIT
Best Practice has gathered some of the top Business Improvement and Leadership Coaches in Australia to teach, inspire, and motivate our future leaders of tomorrow. Come to learn strategies and tools that you can implement in your life to transform your organisation!
Actionable Content On Your 2020 Vision
The 2020 Vision Business Summit is two full days of actionable, proven, strategic content from experts that have been in your shoes.
Networking & Fun With Like-Minded People
You'll meet people who have faced the same problems you have, and who have overcome the same obstacles.
You'll be among your people with marketers, business owners, and entrepreneurs from every industry and corner of Australia. Plus, we'll help you break the ice at our Launch party and Gala Awards Dinner.
Inspiration For Your 2020 Vision
​Strip your organisation right back to the essentials. What are the non-negotiables that are essential to implement for your organisation to be successful in the future?
You'll leave the 2020 Vision Business Summit with a PLAN—a plan to grow your company, grow your brand, and most importantly grow your SALES.
Check out the official 2020 Vision Business Summit website here!