Event Information
Refund Policy
Contact the organiser to request a refund.
Eventbrite's fee is nonrefundable.
About this Event
Jon Faine: Why the World Will Never Be The Same Again But Nothing Changes
The events of 2020 have forced seismic shifts across the world. What will society look like when we emerge on the other side?
Join us for this year's Renate Kamener Oration, where distinguished broadcaster Jon Faine will give his reflections on the impact of the coronavirus and other recent events on the world as we know it. The Renate Kamener Oration is our annual fundraiser for the Renate Kamener Indigenous Scholarship, with all proceeds going directly towards ensuring more Indigenous students can achieve their tertiary education ambitions and call Ormond College home while studying at the University of Melbourne.
This year's event will be held virtually, with a Q&A session to follow the Oration.
While the event is free, a donation of $30 for general admission or $20 for students, which is the usual event charge, is encouraged to support Indigenous Scholarships. If you would like to donate more that would be welcomed.
Donations made via credit card will incur a merchant fee of 1.5%. If you wish to make your donation via bank transfer, visit the Ormond College event listing for details.
For more information visit the Renate Kamener website.
About the speaker
Jon Faine is a former Australian radio presenter, hosting the morning program on ABC Radio Melbourne from 23 years. He is known for vigorous debate and was at the forefront of public affairs in Australia throughout his career at the ABC. A person of many talents, Jon has also published a best-selling travel book, several oral history publications, multiple opinion and commentary pieces for major newspapers, makes regular guest TV and radio appearances and has been a script advisor for several films in what has been a diverse career.
About the scholarship
Inspired by Renate Kamener's committment to peace and social justice, the Kamener Family and the Australian Jewish Democratic Society set up a scholarship with Melbourne University's Ormond College, to help and encourage Indigenous students to achieve their tertiary education ambitions.
The Scholarship is possible through the partnership between the Kamener family, the Australian Jewish Democratic Society, and Ormond College.
The annual Oration is the main fund raising event, and the scholarship's continuity is a result of the efforts of the three groups above and the generosity and good will of their friends, families and associates.
The scholarship is fully maintained by volunteers, and so 100% of funds gets to the scholarship bursary.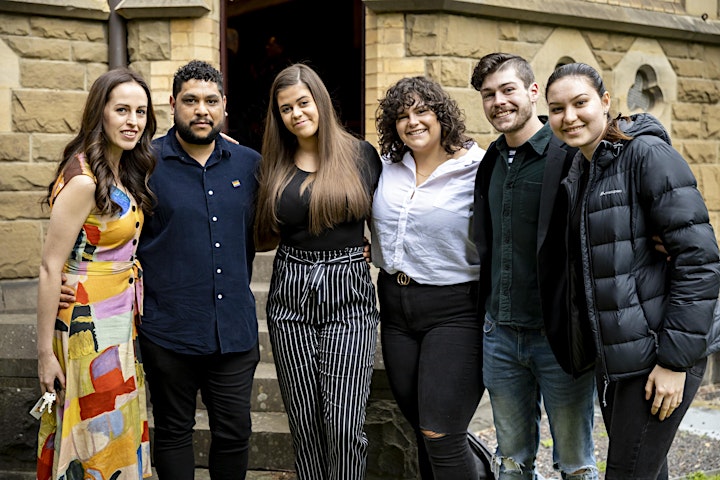 Past and present Renate Kamener Indigenous Scholarship recipients at the 2019 Oration at Ormond College, the University of Melbourne.
Date and Time
Location
Refund Policy
Contact the organiser to request a refund.
Eventbrite's fee is nonrefundable.