Multiple Dates
2020 Dobell Regional Teachers' Workshop
About this Event
The National Art School would like to announce the 2020 Dobell Regional Teachers' Workshop: a Visual Arts project for teachers in regional NSW funded by the Sir William Dobell Art Foundation.
The 2020 Dobell Regional Teachers' Workshop offers up to 20 places for Visual Arts teachers to engage in an intensive drawing workshop. The workshops will function on a yearly rotating regional system whereby a different NSW area is targeted each year with classes held at a central location.
This is a unique opportunity to work with a practising artist from the National Art School, Sydney. To accommodate COVID-19 restrictions, we will be offering 2 x one-day workshops across the weekend of 14-15 November 2020.
Participating Visual Art teachers will engage in five hours of intensive professional development in the area of Drawing within the studio-based tradition of the National Art School. Through the Drawing Workshop participants will be encouraged to share ideas and debate issues with peers while exploring the technical and conceptual directions of their work.
ABOUT THE WORKSHOP
Title: DRAWN to Move: practical techniques for expressive and animated drawings in the classroom
Guest artist/tutor: Todd Fuller
Saturday 14 November 9am-3pm DST
OR
Sunday 15 November 9am-3pm DST
Cost: FREE I Workshop fees generously covered by the Sir William Dobell Art Foundation. Participants to cover own travel and accommodation costs.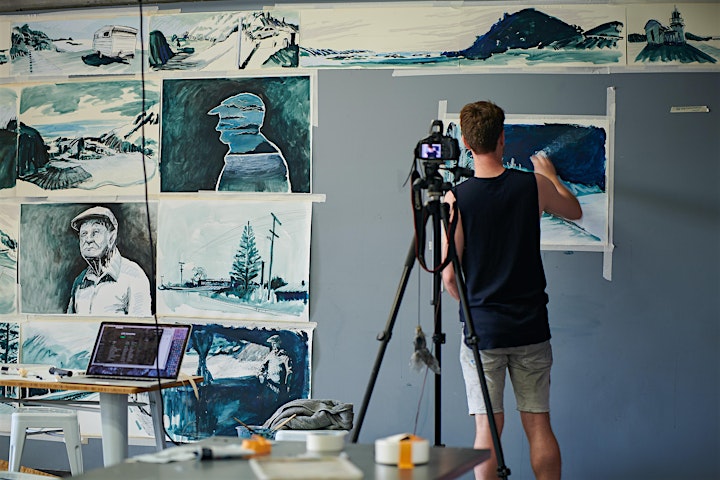 Todd Fuller Biography
With a practice that integrates sculpture, moving image, performance and painting, Sydney based artist Todd Fuller is, at his core, a draughtsman. Underpinning all aspects of his practice is a love of drawing and a belief in its power as a democratic medium to connect, engage and delight audiences.
For ten years, Fuller has been crafting hand-drawn animations that grapple with love and loss, as well as ideas of place, identity and community. Often narrative in form, these award winning works are derived from Fuller's experiences with different communities, sites and histories. He has been awarded a number of residencies that have informed and developed his practice, including time spent at Bundanon Trust, Hill End, Grafton Regional Art Gallery, as well as international stints at the Cite Internationale des Arts in Paris, the British School of Rome, and recently the NG Creative Residency in Provence.
A graduate of Sydney's National Art School, Fuller has exhibited widely across Australia over the last ten years. He was a finalist in the 2019 Sulman Prize, won the prestigious Jacaranda Acquisitive Drawing Award in 2018, and his work is present in various public and private Australian collections, including the Parliament House Art Collection, Artbank, Sydney Harbour Trust, and numerous regional art galleries. Alongside his national success, Fuller has gained international attention, with his works in exhibitions in the United States, Italy, France, South Korea, Bangladesh, England, Singapore and Malta.
Fuller's practice extends into curatorship and arts production, having held roles with Waverley Council, Biennale of Sydney, Sculpture in the Vineyards and d/Lux Media Arts. The areas under investigation within his curatorial practice overlap with his artistic output. Just Draw, the 2016 exhibition Fuller curated with Lisa Woolfe, which toured regional galleries, showcased artworks that exemplified the varied nature of contemporary drawing practices, a subject close to Fuller's heart. He is one half of interdisciplinary performance collective Flatline, and one third of the Hardenvale - our home in Absurdia touring initiative.