Enjoy a decadent high tea menu on your own, beautifully styled table under The Arbour at The Grounds of Alexandria!
About this event
Soak up the sunshine as you indulge in a lavish high tea menu of sweet treats and savoury snacks under The Arbour! Nestled amongst the abundant greenery, the beautifully styled table features a mix of soft fabrics, romantic florals and dreamy candles to give the experience a true bohemian feel.
---
MENU
Each of your guests will enjoy a decadent high tea menu including:
a poached chicken, sun-dried tomato and basil finger sandwich;
a mini cucumber, dill, mint, spring onion and cream cheese triangle;
a mini prosciutto, caramelised onion and thyme tartlet;
a mini crumpet with salmon rillettes;
a mini strawberry shortbread;
a mini almond macaroon;
a mini lemon meringue tartlet;
a mini chocolate, red velvet and coconut bounty bar;
a scone with jam and cream; and
a glass of bubbles, tea, fresh coffee or juice.
Upon request, our High Tea menu can be altered to accommodate vegetarian dietary requirements.
---
BOOKINGS
Tickets are available for $89 each (+ booking fees). Please note that a minimum of 6 tickets must be purchased for each session.
---
PLEASE NOTE
Please ensure that you purchase a ticket for each person in your group in one transaction. Unfortunately, additional seats cannot be added on the day.
Please select the date and time of your Bohemian High Tea carefully as transfers are not available.
All bookings must be made at least 24-hours in advance.
Once booked, your group will have exclusive use of tables under The Grounds of Alexandria Arbour for 2-hours.
Although located outside, this table is under cover and as such, the event will go ahead in all weather.
Bohemian High Tea sessions are only available on Fridays, Saturdays and Sundays and will be sold on a first-come-first served basis.
All dishes will be plated to share.
Additional drinks can be purchased from the menu on the day.
Please plan to arrive 10-15 minutes prior to your session start time and visit The Grounds of Alexandria Café Host Desk to be seated.
Styling is subject to change without notice.
No flowers, candles or tableware is to be taken after your experience has ended. Charges may apply for missing items.
Any dietary requirements must be noted during the checkout process. Your menu will be prepared according to your exact specifications and as such, unfortunately we cannot accommodate any additional dietary requests on the day.
---
FREQUENTLY ASKED QUESTIONS
Q. What it I want to book a Bohemian High Tea experience for fewer than 6 guests?
A. That's fine - you'll still need to purchase a minimum of 6 tickets, but you'll get to take home any food that you don't eat!
Q. Can I book a Bohemian High Tea experience for more than 10 guests?
A. No, at this stage we can only comfortable seat a max. of 10 guests on one table under The Arbour.
Q. Can the menu be adjusted to accommodate specific dietary requirements?
A. Our Bohemian High Tea menu can be altered to accommodate vegetarian diets, but cannot be adjusted for any other dietary requests.
---
PROTECTING OUR COMMUNITY
While we've always had strict hygiene practices and cleaning standards in place at The Grounds, we've taken additional steps to reduce the risks and protect our staff, guests and the wider community during the COVID-19 pandemic. Learn more.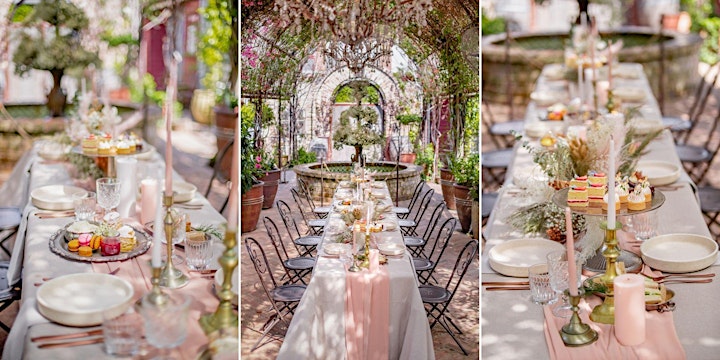 Organiser of 2020 Bohemian High Tea at The Grounds of Alexandria