Event Information
Location
University Avenue
North Road end
Canberra, ACT 2601
Australia
Description
INFORMATION FOR STAFF AND RETURNING STUDENTS
Staff, returning students and ANU alumni are encouraged to come along to welcome new students. After Commencement we will be holding refreshments in Kambri which you are welcome to attend. When you register select the 'I'm a spectator' option. There is no dress code for this event but if you have an ANU shirt feel free to wear it on the day.
WHAT IS COMMENCEMENT?
Commencement is the formal induction for all new students at ANU. It's an opportunity to hear from the Vice-Chancellor, notable graduates and other great speakers about what makes ANU such an exciting place to study.Expect a fun event full of colour and excitement and the opportunity to get to meet some fantastic people.
The event will also feature a traditional Welcome to Country, remarks from the Vice-Chancellor, and other great speakers.
WHAT ARE THE COLLEGE INDUCTION SESSIONS FOR?
Each of the ANU Colleges is offering a number of induction and information sessions for commencing students. These are important to attend, as they offer specific information about your degree program. The sessions are all held in the vicinity of the College offices, and near many of the classrooms that you will need to find. College inductions give you a chance to meet your degree convenor/s, many of your lecturers and discipline specialists, as well as College Student Support staff. These are the people who can help you throughout your degree journey. We reccomended you attend as many of these sessions as you can.
WHAT DO I HAVE TO DO?
1. Register for the event.
2. On the day, show up in your College colours (see What are the College colours below).
3. Take your seat and enjoy the event.

After the event there will be a BBQ which you're all welcome to attend.
WHAT IF I DON'T KNOW WHAT COLLEGE I'M IN?
Visit https://programsandcourses.anu.edu.au/ and type in the name of your degree program. You will be able to see what College offers the program at the top of the information page:
For example: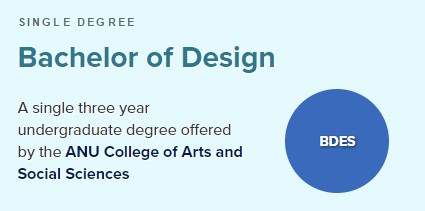 WHAT IF I'M STUYDING A FLEXIBLE DOUBLE DEGREE?
Maybe you prefer a particular colour or you know people from a particular College. There's no set rule, so pick whichever College you like.
WHAT ARE THE COLLEGE COLOURS?
ANU College of Arts & Social Sciences - Union Jack blue (dark blue)
ANU College of Asia & the Pacific - Terracotta (Orange)
ANU College of Business & Economics - Gold (yellow)
ANU College of Engineering & Computer Science - Claret (Dark Red)
ANU College of Law - Purple
ANU College of Science* - Green
ANU College of Health and Medicine* - Turquoise
Date and Time
Location
University Avenue
North Road end
Canberra, ACT 2601
Australia