Sales Have Ended
Registrations are closed
Thank you for registering for the 2020 AAMRI Medical Research Strategy Network's virtual workshop. Details including the Zoom participation link will be forward to you via email. Should this not occur, or you have any further queries about this event, please contact events@aamri.org.au
Sales Have Ended
Registrations are closed
Thank you for registering for the 2020 AAMRI Medical Research Strategy Network's virtual workshop. Details including the Zoom participation link will be forward to you via email. Should this not occur, or you have any further queries about this event, please contact events@aamri.org.au
Please join us for the AAMRI Medical Research Strategy Network's first ever 'virtual' workshop on Wednesday, 2 September 2020.
About this event
We are not going to let this COVID-19 pandemic stop us from getting together! We have put together an exciting agenda for this year's workshop, including presentations from industry experts, strategy discussions, cross network collaboration and virtual 'break out room' discussions on key issues and topics for our sector.
Program: 11:00am – 2:00pm
11:00am: Welcome, introductions and updates from AAMRI
Session 1 - Delegates will be divided into break out rooms to discuss one of the four topics below:
Topic 1 - Philanthropy: trends in time of COVID-19 and after the pandemic (session co-hosted with Fundraising and Philanthropy Network representatives)
Topic 2 - NHMRC new schemes
Topic 3 - Data management and data sharing best practice
11:50pm: Session 2 - Research Quality presentation by Professor Paul Glasziou. Discussion to follow will explore mechanisms that MRIs are implementing to help support research culture and quality.
Professor Glasziou is Professor of Evidence-Based Practice and Director of the Institute for Evidence-Based Healthcare, Bond University, a Research Lead on the NHMRC Partnership Centre for Health System Sustainability, a member of the Australian Alliance for Artificial Intelligence in Healthcare (AAAiH) and a past NHMRC Australia Fellow.
12:20-12:45pm: Lunch (the Zoom meeting will be paused to allow delegates time to refresh, rehydrate, sustain and stretch. The meeting will resume via Zoom at 12.45pm sharp).
12:50pm: Session 3 - AAMRI Research Impact Working Group update. Hear more about how the Working Group is progressing towards developing a consensus research impact framework for the MRI sector
1:15pm: Session 4 - Managing teams through change - theory and practical solutions presented by Professor Sharon Parker.
Professor Parker is an ARC Laureate Fellow, Director of the Centre for Transformative Work Design (Curtin University), a Fellow of the Australian Academy of Social Science and in 2019, she was named among the world's most influential scientists and social scientists in the Web of Science 2019 Highly Cited Researchers list.
Workshop wrap up - How can we utilise and maximise the potential of Slack or other networking platforms?
Call out for new committee members! An exciting opportunity exists for members to join the Research Strategy committee. Any current members of the network are eligible and welcome to nominate.
2:00pm: Finish
Cost: Free to AAMRI members. Not sure if your institute is a member? Find out by checking our members page.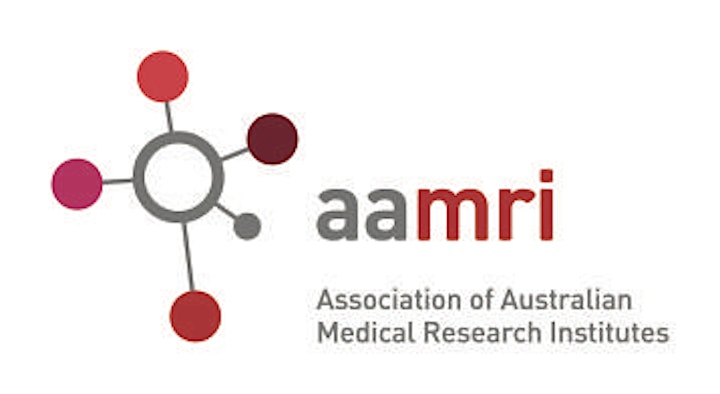 Organiser of 2020 AAMRI MEDICAL RESEARCH STRATEGY NETWORK - VIRTUAL WORKSHOP
The Association of Australian Medical Research Institutes (AAMRI) is the peak body for medical research institutes (MRIs) across Australia. Our 56 member organisations work on a broad spectrum of human health issues such as preventive health, chronic disease, mental health, immunology and Indigenous health. Their research ranges from fundamental biomedical discovery through to clinical research and the translation of research findings from bench to bedside.