2019.06.11 - 'The Three Partnerships' Public Lecture - Presented by Mark Pe...
Description
Join us for a thought-provoking lecture with leading futurist, author, entrepreneur and innovator, Mark Pesce. Mark has been at the forefront of the digital revolution for thirty-five years, bringing clarity, understanding and insight.

Abstract
The middle years of the 21st century will be framed by 'three partnerships' - machine-to-machine, human-to-machine, and human-to-human. Each increases capability, opening new possibilities - and new areas of law. We're getting smarter, hand-in-hand with our machines, and all of our institutions - cultural, economic, and legal - will need to race to keep up.

'The Three Partnerships' is the first public lecture in a series of events at QUT that will explore the impact of technology on law and justice.

In addition to Mark's presentation we will launch our new research initiative, The QUT Law Lab: Technology, Regulation, and Justice.
Speaker: Mark Pesce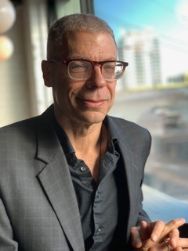 Mark Pesce is a futurist, inventor, writer, entrepreneur, educator and podcaster. In 1994 Pesce co-invented VRML, a 3D interface to the Web. Pesce was a judge on the ABC's hit series The New Inventors, celebrating Australia's newest inventions, and writes an award-winning column for the global tech publication The Register.
Pesce brings his skills as a futurist to diverse sectors of the economy, including financial institutions ranging from Westpac, World Bank, HSBC and SWIFT, and regularly facilitates and mentors hackathons on topics as diverse as fintech, blockchain, virtual reality, and education.
Pesce hosts two podcasts: This Week in Startups Australia - exploring tech startups; and The Next Billion Seconds - winner of the Best Technical and Scientific Podcast of 2018 - connecting the work of today's brightest thinkers with the world of tomorrow.
Pesce has written six books, including The Playful World, which used toys such as Furby and LEGO Mindstorms to illuminate the interactive world of the 21st century.
Pesce founded graduate programs at both the University of Southern California and the Australian Film, Radio and Television School, holding appointments as Honorary Associate at the University of Sydney, and Honorary Adjunct at UTS.
(Mr Mark Pesce appears by arrangement with Claxton Speakers International).



The QUT Law Lab showcases the breadth of our research in areas of technological change. Through this platform we hope to inspire social, legal and policy debates around technological disruption, encourage innovative thinking about the role of law in responding to new technologies and engage government and the professions in the implications of a technology facilitated future.