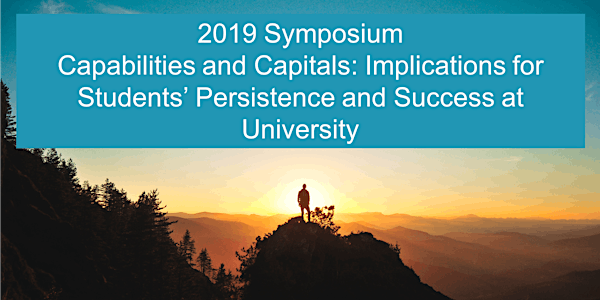 2019 Symposium - Capabilites and Capitals: Student Persistence and Success...
Location
Communications Centre
Building 20
University of Wollongong
Keiraville, NSW 2500
Australia
Sales Have Ended
Registrations are closed
Thank you for registering for this symposium and we look forward to meeting you in November
Description
OVERVIEW
This 2 day symposium will bring together key thinkers and scholars who have applied the capability theory (Sen 1992, 1993) and capital theory (Bourdieu, 1986, 1993) across disciplines to consider how this framing may assist us to reconceptualize student persistence.
We know little about how learners draw on 'internal capabilities' (Nussbaum, 2011) when persisting in university; these capabilities are not innate but instead develop in interaction with the individual's environment (social, cultural, familial and political). Exploring how internal capabilities assist HE persistence and the functionings that support these capabilities will contribute alternative perspectives to the issue of student participation and retention. Rather than continuing to focus on what people lack (i.e wealth, ability, language) why not focus on strengths in order to develop understandings that challenge traditional notions of access and participation? With the growth in diverse student populations, the need to understand the internal capabilities that support academic persistence and success is urgently required. This symposium deliberately shifts attention away from deficit views of student cohorts and instead utilises the Capability Approach and Capital Theories to understand the ways in which students successfully navigate higher education and reach graduation.
WHO SHOULD COME?
We have invited a range of speakers from across disciplines to contribute innovative perspectives to this broad field and the symposium would be of interest to the following:
Researchers / scholars of HE (particularly those researching equity fields)
Equity / Widening Participation Stakeholders
Academic staff
Policy Makers
Representatives from not-for-profit / community organisations



DETAILS
21st-22nd November (2 days*) at University of Wollongong, NSW
*The symposium commences at 1.00pm on Thursday 21st November (Day 1) and reconvenes on Friday 22nd November (Day 2) from 8.30am to 3.30pm. Ticket registration is for both days

ONE LAST THING...
We have chosen not to charge any registration fees for this conference to enable as many people to attend as possible – as a result of the restricted budget, food options (lunch /morning tea) will be limited (meat and vegetarian options only).
If you have specific dietary requirements (i.e. gluten free / vegan / halal etc) there are a number of food outlets on campus where these alternatives can be purchased.


SPEAKER DETAILS AND BIOS

Dr Dina Bowman is Principal Fellow, Work and Economic Security in BSL's Research and Policy Centre and Honorary Principal Fellow in the School of Social and Political Sciences, at the University of Melbourne. Dina's research focuses on work, employment, economic security and inequality. As an economic sociologist, she is interested in how gender, class, age, 'race' and disability intersect with paid and unpaid work to shape economic advantage or disadvantage across the life course. She is particularly interested in the lived experience of economic insecurity, low paid work and income support, how social policy impacts on people's lives and policy responses to economic insecurity. She leads research on work and economic security at the Research and Policy Centre at the Brotherhood of St Laurence. She leads the longitudinal study Life Chances, which is now in its 29th year.
Professor Penny Jane Burke is Global Innovation Chair of Equity and Director of the Centre of Excellence for Equity in Higher Education (CEEHE). Since completing her ESRC-funded PhD in 2001, she has been actively involved in shaping the field of equity in higher education (HE) through research, institutional leadership and the development of research networks and programs. Pushing the boundaries of the field, she developed praxis-based approaches that work towards transforming educational spaces and imaginaries and bringing research, theory and practice together. Her personal experience of returning to study via an Access to Higher Education program has fuelled her ongoing commitment to generating research with impact; firmly located in social justice methodologies. Penny Jane has published extensively in the field, including the authored books, Changing Pedagogical Spaces in HE (Burke, Crozier and Misiaszek, 2018, Routledge), Reconceptualising Lifelong Learning (Burke and Jackson, 2007, Routledge), The Right to HE (Burke, 2012) and Accessing Education effectively widening participation (Burke, 2002). Since relocating full-time to Australia in 2016, Professor Burke has engaged and informed the Australian HE sector in both research, policy and practice including through her role as an inaugural member of the Federal Department of Education and Training's Equity Research and Innovation Expert Panel.
Dr Tamsin Hinton-Smith is a Senior Lecturer in Higher Education at the University of Sussex in the UK. Her background is as a sociologist of gender and education, and she is a former Co-Director of the Sussex Centre for Gender Studies and current Deputy Director of the Centre for Teaching and Learning Research. Tamsin's central research interests include around higher education participation by 'non-traditional' students, and experiences of (un)belonging and marginalisations. Tamsin's work has included around university students who are lone and teenage parents; care leavers; from Gypsy, Roma or Traveller (GRT) backgrounds; and young people living in areas where higher education participation is low. Tamsin commenced university as a single teenage parent herself. Recent sole and co-authored articles include Higher education outreach: examining key challenges for academics. (2019), Roma women's higher education participation: whose responsibility? (2018), The 'success' of looked after children in Higher Education in England: near peer coaching, 'small steps' and future thinking. (2018), and Negotiating the risk of debt-financed higher education: the experience of lone parent students. (2016).

Dr Tebeje Molla is an Australian Research Council (ARC) Discovery Early Career Researcher Award (DECRA) Fellow in Deakin University's Strategic Research Centre in Education, Research for Educational Impact (REDI). His research focuses on educational inequality and policy responses, transnational educational policy processes, graduate research training policy, and teacher professional learning. Theoretically, his work is informed by critical sociology and a capability approach to social justice and human development.
Dr Lien Pham is a lecturer in higher degree research education at the Graduate Research School, University of Technology Sydney. Her research and publications are in international education and development, sociology of education, civil society, social justice, and diaspora combining critical theory and political philosophy. She has consulted for NSW government agencies in policy-focused research and evaluations, and for UNESCO on educational policy reforms in South East Asia. Her PhD research is recently published as a monograph entitled "International Graduates Returning to Vietnam: Experiences of the Local Economies, Universities and Communities". She is currently writing a book on social activism and democratic capability under conditions of (democratic) duress.