Description
---
2019 Port Stephens Art Prize
The biennial Port Stephens Art Prize is a widely anticipated competitive event that features hundreds of original paintings by local and Australia wide artists. Our 400 member strong, volunteer run, not-for-profit, Port Stephens Community Arts Centre (PSCAC) is a vibrant and passionate contributor to the art community. The PSCAC has been holding the Port Stephens Art Prize competition in Nelson Bay, NSW since 2003.
ONLINE CALL FOR ARTIST ENTRIES - NOV 5, 2018 to FEB 15, 2019
Once you have completed your entry you are able to edit the name of your painting up until 14th February 2019.

All artists across Australia are encouraged to register their paintings online using the green register button at the top of the page on a Computer or the Orange Tickets Button on a mobile device.
Art Prize 2019 has five (5) Sections A to E for artists to enter up to 4 entries in total.
---
Section

A
Travel – Colour and Wonder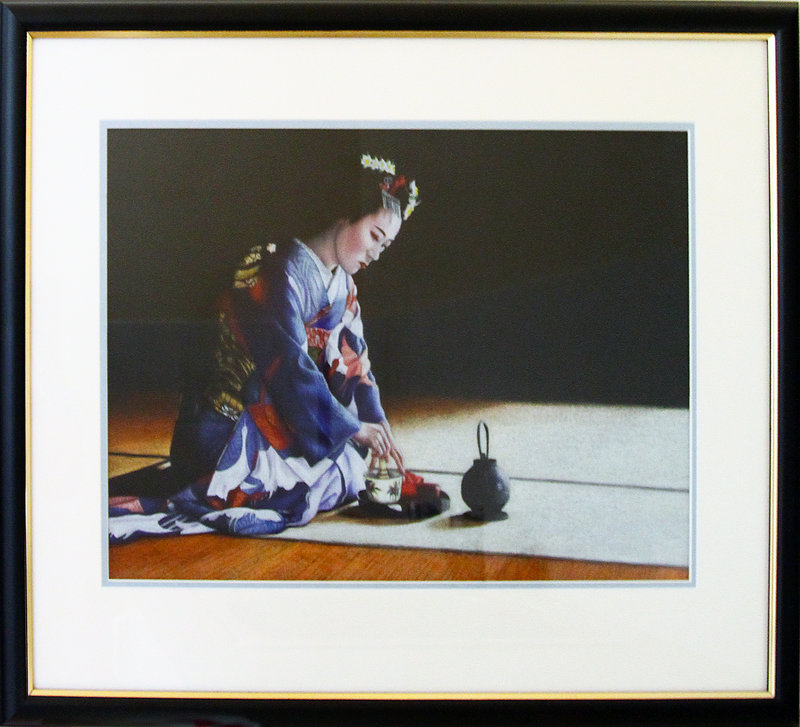 Judy Nobilo - Japanese Tea Ceremony - Pastel
Travel is a passion for many Australians and this section encourages artists to explore your expressions of colour and wonder in regard to all things travel related. Open to all painting mediums of work and to all registrants, this section is sure to be popular with both artists and the public. All prizes non-acquisitive.
First Prize: $1,500.00 Love Oil Collection
Second Prize: Voucher - THE LEVEE Art Gallery and Studios
Highly Commended: Certificate
Commended: Certificate

---
Section B Australiana - Over Land and Sea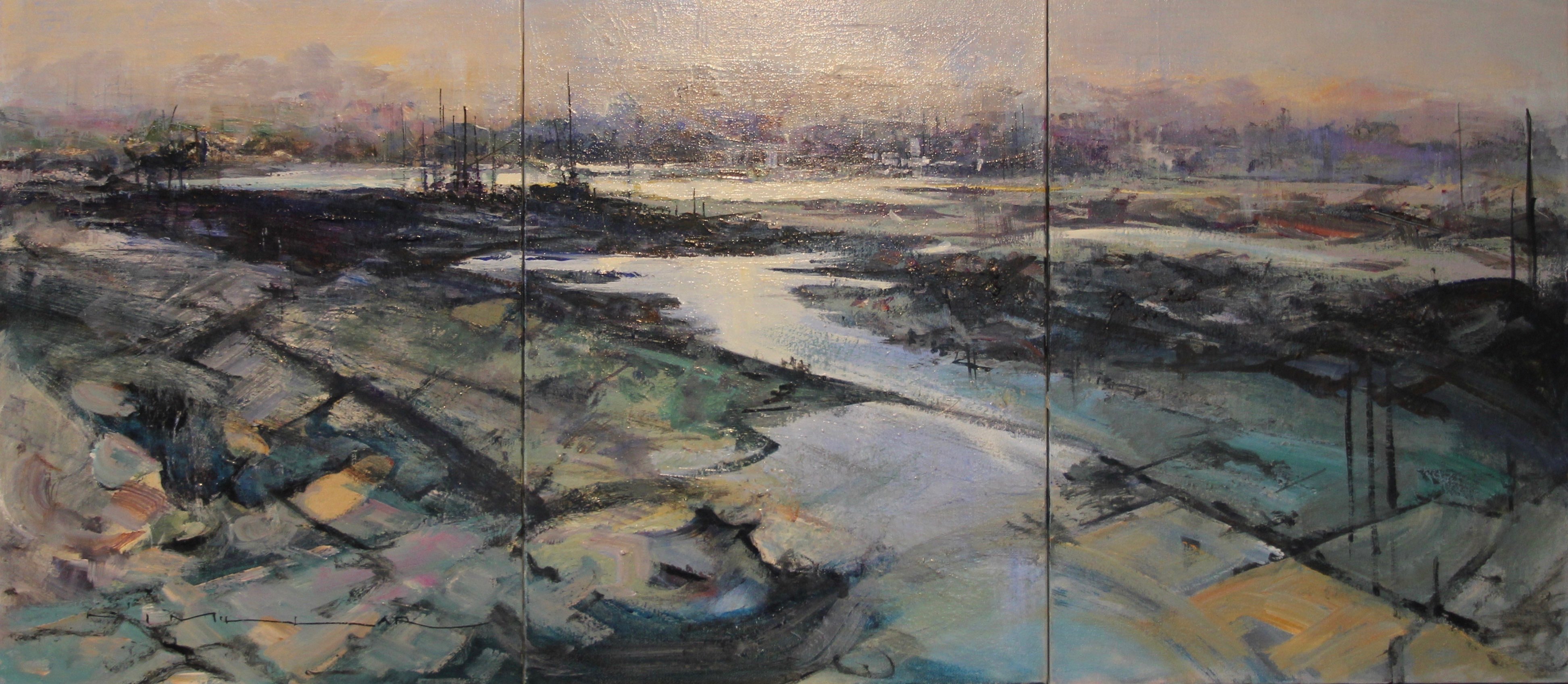 Noeline Millar - A Hive of Industry - Acrylic
Open to all registrants, this popular section explores all of what is Australia in both landscapes and seascapes. It is open to all painting mediums and all registrants. All prizes non-acquisitive.
First Prize: $1,000.00 Port Stephens Community Arts Centre & Village Grind
Second Prize: Voucher - Blue Water Sailing
Highly Commended: Certificate
Commended: Certificate
---
Section C Portraits - The One Who Touched My Heart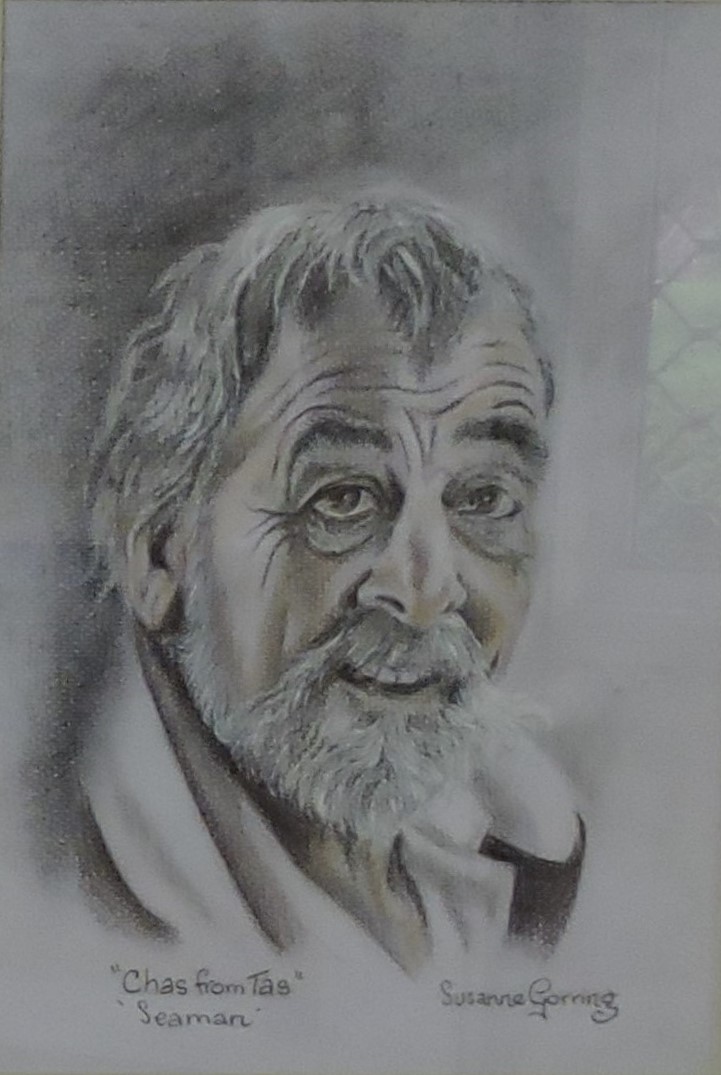 Susanne Gorring - "Chas From Tas." Seaman - Gouche Charcoal
The Portraiture section theme points to a narrative and you are asked to write a short statement about the subject of your portrait on registration. All registrants and painting mediums are accepted.
First Prize: $1000.00 Nelson Bay Bowling Club
Second Prize: Voucher - Moonshadow TQC Cruises & The Anchorage Hotel & Spa
Highly Commended: Certificate
Commended: Certificate
---
Section D - The Port Stephens Art Prize - Our Natural Environment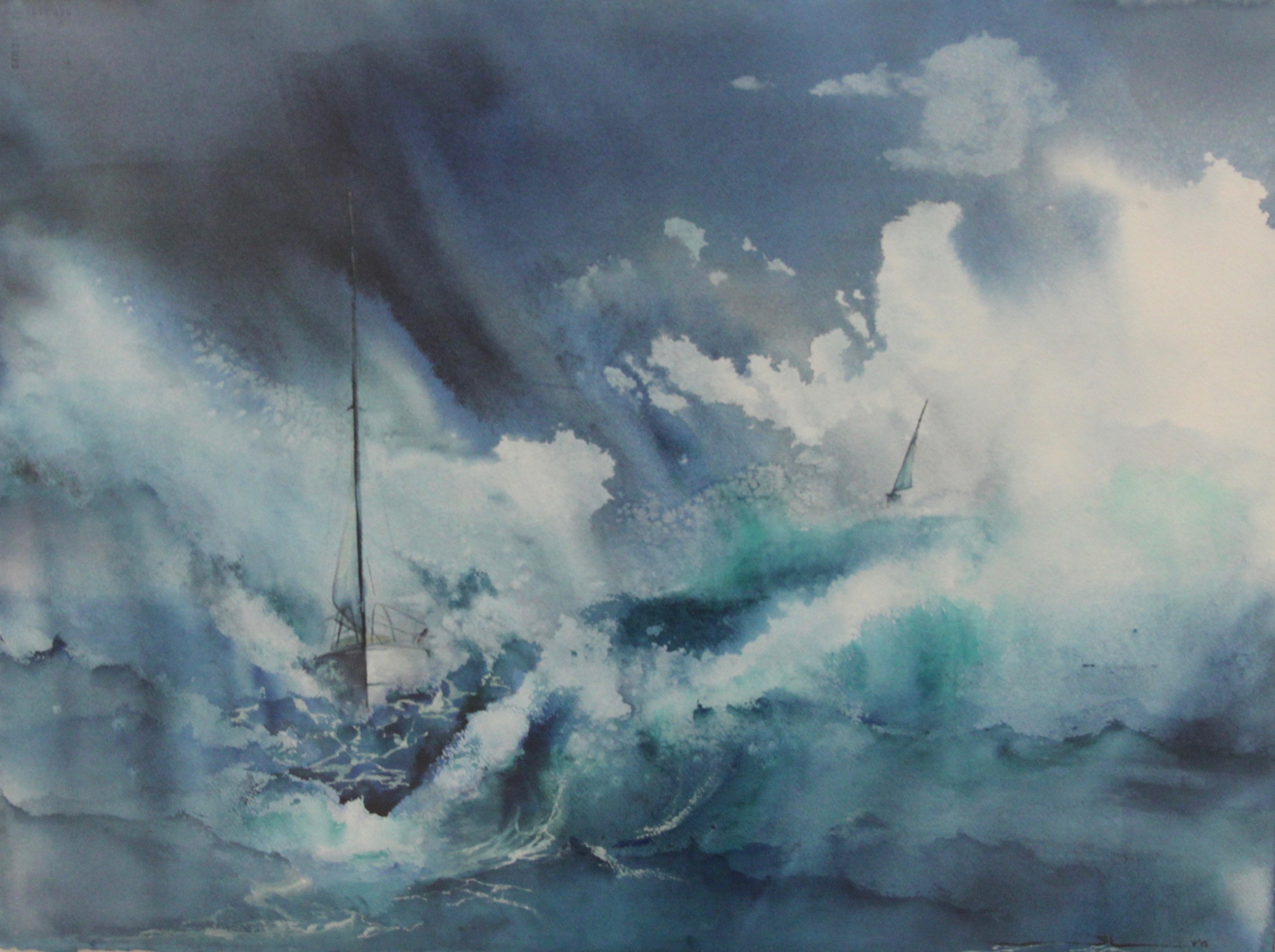 Sandi Lear - Any Port - Water Colour
Open to artists in the Port Stephens Council area only, local artists are encouraged to explore themes important to our sensitive community environment. Open to work in all painting mediums. All prizes non-acquisitive.
First Prize: $1,500.00 Port Stephens Council
Second Prize: Voucher - Lion Studios picture framing and gift ware
Highly Commended: Certificate
Commended: Certificate
---
Section E - Miniatures - Taste and Sound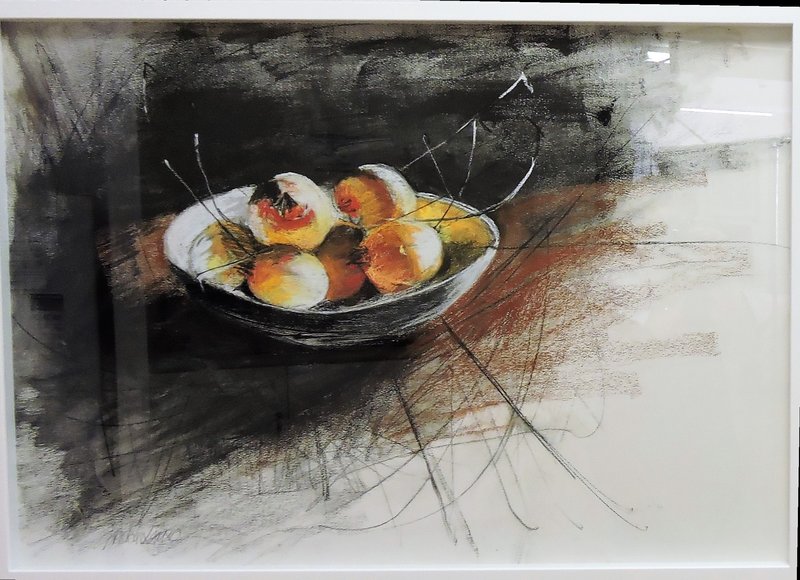 Gwendolin Lewis - The Fruit Bowl - Pastel Charcoal
This popular section explores the subjects of taste and sound on a very small scale. Paintings are limited to an image size of 10 cm x 10 cm and under. The section is open to all registrants and all painting mediums.
First Prize: $500.00 Nelson Bay Golf Club & PSCAC Monday Painters
Second Prize: Voucher - Sienna's Pizzeria Bar & Restaurant & Pigment Lab
Highly Commended: Certificate
Commended: Certificate
---
Encouragement Award
All entries registered by current members of the PSCAC are automatically entered into the Encouragement Award provided they have not previously won a monetary art prize. The Encouragement Award will be selected and announced by the PSCAC Gallery Director on the Opening Night and is non-acquisitive.
Prize: $500.00 Love Oil Collection
---
People's Choice Award
All painting entries are open for selection in the People's Choice award that will be determined during the exhibition by the Public. The exhibition is open FREE to the public daily from 16 March 2019 until the 24 March 2019, 10:00 am until 4:00 pm.
Prize: Voucher - Cunningham's Custom Picture Frames
---
Judges

---
CONDITIONS FOR ENTRY
There is a limit of 4 painting entries over all sections with a maximum of 2 per section. The same painting cannot be entered in more than 1 section.

Cost per painting entered is $12 each. A PSCAC commission of 25% will apply for any artworks sold.

All entries are to be for sale and must be the original work of the artist and completed within the last two years.

Each entry must be suitably strung with cord or wire attached with D-ring and ready to hang. Wet Paintings or improperly strung paintings will not be accepted.

Entry details will be provided to you in an email following registration. A label printed from the email is to be stuck firmly to the back, top right hand side of each painting. Details must be exactly as registered in order to match the details in the Art Prize Catalogue. You can update your details online up until close of entries. Ensure you attach the correct entry details provided to you in the most recent email.

For all sections, except Section E Miniatures, the size limit for each painting is 1 meter maximum for any one side and no more than 1 entry to be of maximum size. For Section E Miniatures, the image size limit is 10 cm x 10 cm as a maximum.

Triptych and diptych configurations must fit within the above specifications i.e. combined size of panels to be no greater than 1meter. On any one side. Other types of Art that are ceramic, pottery, sculpture, photographs, 3D works (or attachments to work of any type) or copies of original works will not be accepted in any Section.

Transport and packaging are the responsibility of the artist. Return prepaid labelled packaging must be provided suitable to allow the safe return of unsold works. All care will be taken but no liability for loss or damage will be accepted. It is recommended that exhibitors provide their own insurance.

The decisions of the judge(s) are FINAL. No correspondence or discussion will occur in regard to these decisions.

The PSCAC and Art Prize Committee reserve the right to reproduce work entered into the show for publicity purposes only. This includes newspaper, TV, magazines and other media. By registering and entering the Art Prize you agree to this.

The PSCAC Art Prize Committee reserves the right to declare ineligible any works that do not conform to the Conditions of Entry.

Entry fees are not refundable. The Art Prize terms and conditions differ to Eventbrite regarding refund policy.

---
2019 Port Stephens Art Prize - FREE Public Exhibition
Join us March 16 to March 24, 2019 inclusive for the Public Exhibition and Sale
PSCAC is a community gallery and as such gallery entry to view the exhibition is FREE to the Public as it is for all of our amazing exhibitions. The Port Stephens Community Arts Centre is open daily 10:00 am until 4:00 pm. The 2019 Port Stephens Art Prize Exhibition runs a full 10 days from March 16 to March 24th, 2019 during those same gallery open times except for the last day of the public exhibition when the Centre closes at 2:00 pm for closing and wrap up of the exhibition.
---
FAQs
What are my delivery and collection options for getting paintings to and from the Art Prize?
Delivery and collection of paintings are to be made to the Port Stephens
Community Arts Centre, Cultural Close off Shoal Bay Rd, Nelson Bay, NSW, 2315.
All exhibitors are encouraged to provide their own insurance. All transport, freight
and appropriate packaging of works are the responsibility of the artist.
DELIVERY
Hand delivery of exhibits must be made on Friday March 15, 2019 between 9:00 am
and 11:00 am. All other exhibits must be received no later than Tuesday 12th
March, 2019.
COLLECTION
Any entries not collected at the end of the Art Prize are subject to a handling fee.
Collection of all unsold exhibits are on Sunday 24 March, 2019 between 3:30 pm
and 4:30 pm.
How can I contact the organiser with any questions?
Contact us via email at PSCommunityArtsCentre@gmail.com with any questions or
concerns or phone: Meryl 0409 455 529 or Cory 0416 410 689
What's the refund policy?
PSCAC reserves the right not to refund fees.