2019 Graeme Clark Oration - Women in STEMM Lunch
Event Information
Refund Policy
Refunds up to 7 days before event
Description
Women in STEMM Lunch - Prominent women in STEMM panel
The number of women who step in as technology founders is so low, little is done to change the status quo and to inspire women who have the background and potential to do this, especially in the fields of engineering and IT.
All too often, announcements of new start-up ventures invariably highlight men as the founders and leaders. These images only serve to create a barrier for women who are qualified but do not see themselves as entrepreneurs and leaders.
The 2019 Graeme Clark Oration Women in STEMM Lunch seeks to address this inaccurate portrayal of women by showcasing three outstanding Women in STEMM entrepreneurs. This event will serve to demonstrate and share the stories of women who have led companies in the biomedical and health space, and to help expand the breadth and depth of the network of women who are in STEMM entrepreneurship or who aspire to join this space.
Each woman will share her experience in stages of the start-up business journey, convene for a panel discussion and take audience questions.
The panel comprises four outstanding women in STEMM, each in leadership positions in the tech industry. The panel members are:
Dr Michelle Perugini, Co-founder and CEO of Presagen

Professor Mimi Tang, co-founder, Chief Scientific Officer/Chief Medical Officer, Prota Therapeutics

Dr Tracey Brown, Chief Development Officer, Anatara Life Sciences.

Ms Anette Hicks, Senior Health Advisor, Watson Health, IBM Australia (Moderator)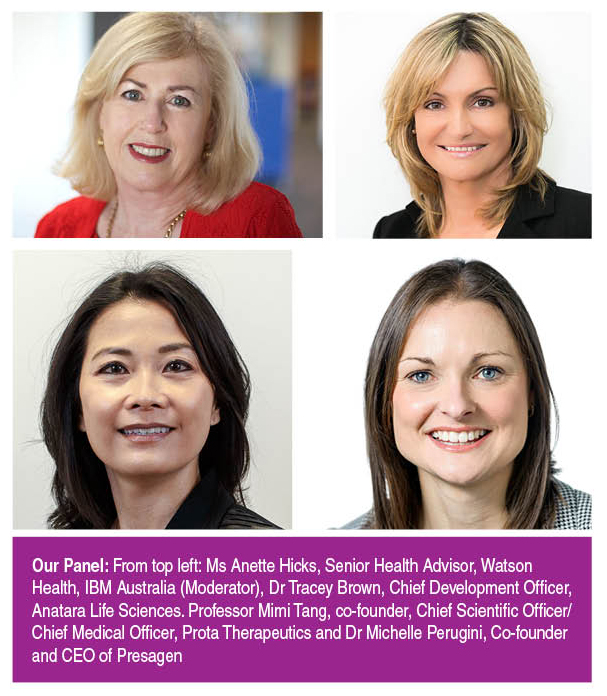 Who will benefit by attending this event?
women who are presently in academia or research

women who may be considering a career in the technology and healthcare industries

women looking to be inspired by Women in STEMM role models and leaders

women looking to build networks of Women in STEMM entrepreneurship

male champions of Women in STEMM.
Early Bird Registration:
Take advantage of the Early Bird registrations, $125 (incl. GST) per person, until Midnight, 23 June. Regular ticket cost from 24 June will be $150 (incl. GST) per person.

When
Monday, 22 July 2019
12.00 pm – 2.30 pm

Where
Melbourne Convention and Exhibition Centre
Meeting Room 210 and 211, Level 2
Melbourne Convention and Exhibition Centre
South Wharf 3004
$150 - after 24 June
$125 - Early Bird