About this Event
Let's leap into the new year with a fresh perspective, place our focus in the right direction, and get ready to flourish as performing artists at the first dance and goals workshop of 2019.
What to expect:
Lets begin by laying the right foundations to kick-start your dance journey in 2019.
The Goals workshop is your opportunity to meet with other dancers and intentionally plan your goals in dance for the year ahead.
What are your INDIVIDUAL GOALS?
Is it to excel in your comp team? Pursue dance as a professional career? or do you simply enjoy learning, challenging yourself, and growing as a performing artist?
The 2019 goals workshop will consist of ...
1. What is your Why? Why do you dance? What are your gifts? What do you have to offer in 2019?
2. Let's talk about how to create good habits, be kind to ourselves, practice & consistency, health
3. How to work through those challenging moments in the classroom and on stage, turn a breakdown into a breakthrough! How to take corrections as feedback from your teachers and celebrate each others success #YES! And that word…personal responsibility and resilience.
4. How can you use a dance journal in 2019 to track your progress, celebrate your wins and identify what needs work?
5. Let's set some goals in 2019 together, define them, and help each other to achieve them.
And then of course there is time to
... DANCE!
For the 8 - 12 year olds we will start the day with a lyrical class and finish with a Jazz class. We are going to learn some new skills, dance a little combo, and most importantly have some fun!
For the teens its 1.5hrs of #Jazzlife!
The need to Know's:
A break and healthy snacks will be provided.
Date: Thursday January 24th
9am - 12pm: 10 - 12 Yrs Dance + Goals $45.00
5:30pm - 8:30pm: 13+yrs Dance + Goals $45.00
*Save $10 as an Early Bird if you register by 09/01
Where: Dance on Pointe 16/29 Attunga Rd Blaxland
What to bring:
Water Bottle
Bring an existing dance journal or a new journal for 2019, any book with blank or lined pages, and a pen!
Attire:
Any attire suitible for dance class and easy to move in. Bring your Jazz shoes or sneakers and foot undies if you would like to wear them for lyrical
Do you have questions? Email me at hannahcrussell@outlook.com
I am excited to Dance, learn, plan and see what 2019 has in store for you !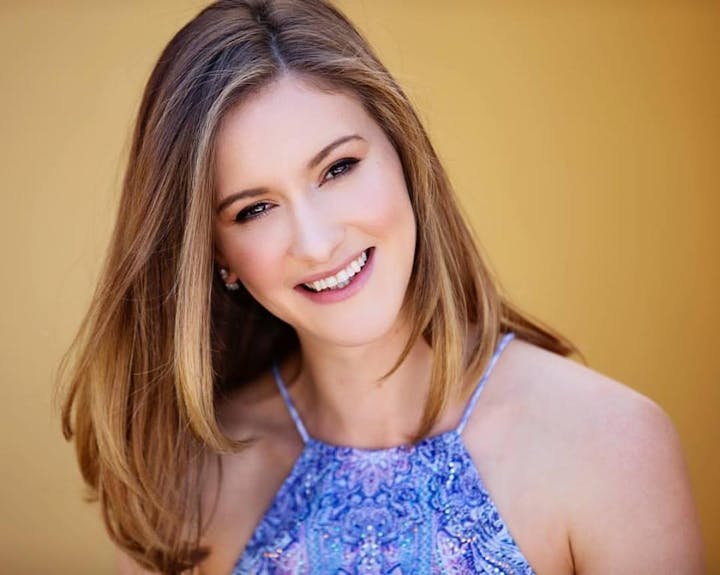 Hannah Russell
Hannah is a versatile singer, actress and dancer from Sydney, Australia. She is a Graduate of Ev and Bow's classical/contemporary course, The International Student Program at Broadway Dance Center and holds a Bachelor of Music - Arts Management from the Australian Institute
Hannah has spent the last 18 months training and performing in New York City where she had the opportunity to dance with ALMA NYC company, the Julia Kane dance Collective and train with Ginger Cox at Broadway Dance Center. Her favorite professional dance credits include Jacquline Buglisi's 'Table of Silence Project' with Buglisi Dance Theater and works for international choreographers Josh Assor, Zanza Steinberg and Dawn Hillen. Her Dance credits have given her the opportunity to perform at The Sydney Opera House, The Lincoln Center NYC, Symphony Space, Manhattan Movement Arts Center, ANZ Stadium and Dixon Place.
In addition to dance Hannah enjoys entertaining audiences as a show host and emcee for Nickelodeon Live, Dreamworks, ABC Kids and Warner Brothers, where she has appeared Dora Explorer's Dance Party, The Teenage Mutant Ninja Turtle Show, Despicable Me 3, Trolls and more.
Training
Hannah has had the opportunity to train in Australia and New York in a broad range of dance styles including Contemporary, Jazz, Tap, Ballet, Pointe. She has completed her Cechetti and Advanced RAD Ballet Examinations. In New York she trained extensively in Contemporary and Jazz with Master Teacher and Choreographer Ginger Cox. As well as assisting her with placement classes and student auditions at Broadway Dance Center. In Australia she has trained with Sarah Boulter, Christine Keith, and vocally with Natalie Gamsu and Laura Bunting. In 2017 Hannah was the recipient of Broadway Dance Center's Outstanding Student Award.