2019 Bowness Photography Prize - Award announcement | Dreaming Mum again...
Description
On behalf of MGA Foundation, Chair Kallie Blauhorn, and MGA Director Anouska Phizacklea warmly invite you to
2019 Bowness Photography Prize - Award announcement
and
Dreaming Mum again Leah King-Smith - Exhibition launch
6.30–8.00pm Thursday 10 October
Winner announced from 7pm
Come celebrate Australian photography with us and the artists. Join us from 6.30pm as we announce the winner of the 2019 Bowness Photography Prize – who will receive $30 000 and their work will become part of MGA's significant collection of Australian photographs – and the three Colour Factory Honourable Mentions.
In 2018 Sotheby's Australia became the proud sponsor of the Sotheby's Australia People's Choice Award. Sotheby's Australia is the premier auctioneer of art, decorative arts and jewels within Australia, and extols creativity and scholarship. The MGA Foundation is pleased to announce that the prize awarded to the recipient has increased to $5000 which will provide significant encouragement and support to the selected artist. Sotheby's Australia's support of the Bowness Photography Prize is a reflection of the national and historic importance of this prize and the MGA Foundation is profoundly grateful to partner with Sotheby's Australia for this award.
All voters of the Sotheby's Australia People's Choice Award will go into a draw to win a prize pack.


Finalists:
Rochelle Marie Adam, Riste Andrievski, Jonathan Armstrong, Zia Atahi, Simon Aubor, Sarah Barker, Sofi Basseghi, Greg Bilton, Polly Borland, Anna Carey, Céleste Cebra, Danica Chappell, Peta Clancy, David Collins, Ross Coulter, Emilio Cresciani, Chloe Dann, Gerwyn Davies, Shoufay Derz, Jo Duck, Stephen Dupont, Cherine Fahd, James Farley, George Fetting, Robert Fielding, J Forsyth, Andrea Francolini, Jon Frank, Lee Grant, Mark Harper, Fiona Kemp, Ingvar Kenne, Katrin Koenning, Benjamin Liew, Louis Lim, Ruth Maddison, Koji Makino, Danie Mellor, Anne Moffat, Bill Moseley, Tajette O'Halloran, Sean Paris, Sonia Payes, Clare Rae, Asanka Brendon Ratnayake, Justin Ridler, Simone Rosenbauer, David Rosetzky, Jo Scicluna, Vivian Cooper Smith, Jacqui Stockdale, Nathan Stolz, Angela Tiatia, Lisa Tomasetti, James Tylor, Justine Varga, Lydia Wegner and Adele Wilkes.
> View the work of all Finalists on our website
Come celebrate Australian photography with us and the artists.
RSVP requested by 8 October for catering purposes.
---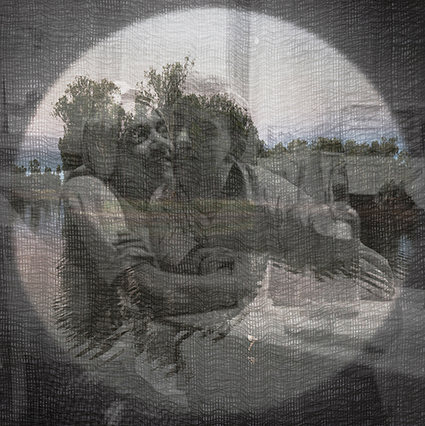 Dreaming Mum again
Leah King-Smith
5 October – 17 November 2019
In 2018 to accompany the Bowness Photography Prize exhibition, MGA launched an annual exhibition series to showcase and explore the practice of a past-winner or finalist. This initiative provides MGA with the opportunity to support, profile and champion past Bowness Photography Prize finalists and invites audiences to delve into their practice in more detail.

Leah King-Smith is both a previous Bowness Photography Prize finalist and an MGA collection artist. King-Smith is a Queensland-based artist with a photographic practice extending across three decades.This exhibition presents the series Dreaming Mum again which includes King-Smith's Bowness Photography Prize work from 2018. This series depicts the artist's mother placed back into the context of her ancestral lands through her signature process of layering photographs.
image:
Leah KING-SMITH
Couple
2018
from the series
Dreaming Mum again
chromogenic print, printed 2019 93.0 x 93.0 cm
courtesy of the artist
---
Visit us
Free entry

860 Ferntree Gully Road
Wheelers Hill Victoria 3150 Australia
Phone +61 3 8544 0500
mga@monash.vic.gov.au

Monash Gallery of Art is the premier cultural facility of the City of Monash
---
Please note: you may be photographed at this event. Images of you may be used to promote the gallery both online and in print. Please advise a staff member at the event if you do not wish to have your photograph taken
FAQs
What are my transport/parking options for getting to and from the event?
We respectfully ask that you avoid the Ferntree Gully Road carpark at large events unless you require access to the spaces reserved for cars with disabled parking permits or have mobility concerns. Thank you for your cooperation!