2019 AAHMS NSW Life as a Clinician Scientist Symposium
Description
The Australian Academy of Health and Medical Sciences (AAHMS) Life as a Clinician Scientist (LACS) Symposium aims to encourage and inspire clinicians, including medical students, JMOs, registrars, fellow, and even consultants, to entwine research throughout their career. At this event, Fellows of the Academy and other senior clinician-scientists share their stories about how the unique combination of clinical medicine and science allows them to work with patients and take their insights from the bedside to answer fundamental scientific questions, and then translate them back to improve patient care.
Specialty training positions and consultant posts are competitive.
Help yourself stand out by performing high quality and impactful research.
Get to know leaders in your field, with speakers from: Cardiology, Gastroenterology, Neurology, Endocrinology, Nephrology, Dermatology, Ophthalmology, Paediatrics, Immunology, General Practice & Surgery.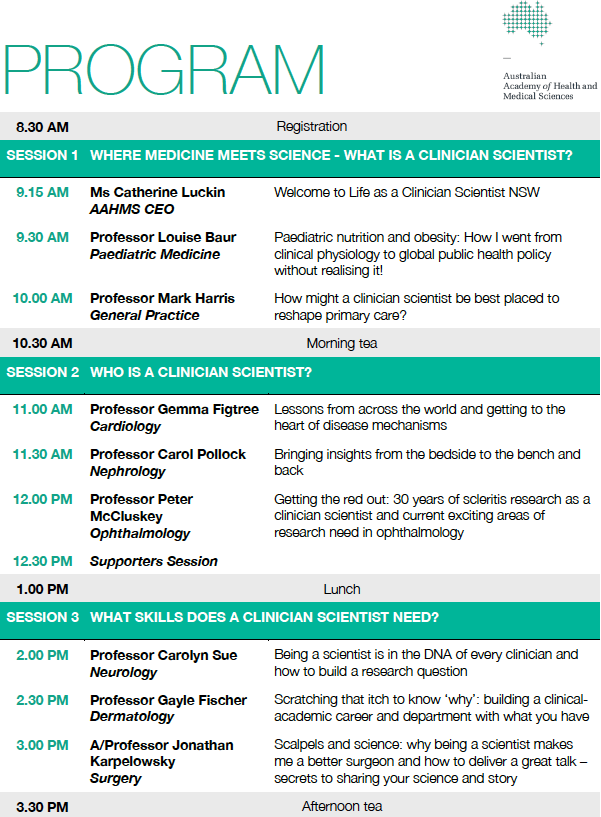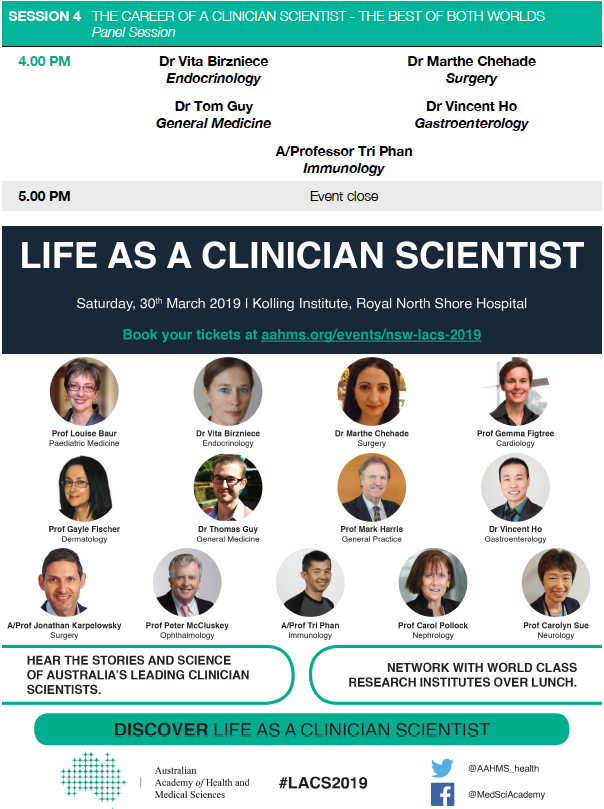 Please note you are booking for our NEW SOUTH WALES event on the 30th March 2019. For the QUEENSLAND event on the 16th March 2019, please head to that event page here: https://www.eventbrite.com.au/e/2019-queensland-clinical-science-symposium-tickets-54317407829.
Organiser of 2019 AAHMS NSW Life as a Clinician Scientist Symposium
The Australian Academy of Health and Medical Sciences is the impartial, authoritative, cross-sector voice of health and medical science in Australia. We are an independent, interdisciplinary body of Fellows – elected by their peers for their distinguished achievements and exceptional contributions to health and medical science in Australia. Collectively, they are a representative and independent voice, through which we engage with the community, industry and governments.
The Academy is uniquely positioned to convene cross-sector stakeholders from across Australia to address the most pressing health challenges facing society.
OUR PURPOSE
To advance health and medical research in Australia and its translation into benefits for all, by fostering leadership within our sector, providing expert advice to decision makers, and engaging patients and the public.
OUR VISION
A future in which health and medical science, with the Academy as its champion, drives sustained improvement in the health of the Australian and global community.