Description

2018 CVGT Leadership Lunch with Dylan Alcott OAM
How far would you push yourself outside of your comfort zone in order to achieve your goals?
Be inspired by a combination of heart, bravery, passion, tenacity and adventure all wrapped up into one real life personal journey.
Not many people can lay claim to being a gold medallist and world champion. Then again, there aren't many people like Dylan Alcott OAM.
Join CVGT Australia and Be.Bendigo for lunch on Thursday 29 March 2018 and let Dylan take you behind the scenes of his journey and what it takes to achieve success through sheer determination, focus and clear direction. We will listen to how he made the most of every opportunity and mastered the art of overcoming challenges and risks in order to achieve extraordinary goals.
This event is open to any business or individual to attend. Each ticket purchased includes a two course lunch with tea and coffee provided. Drinks at bar prices.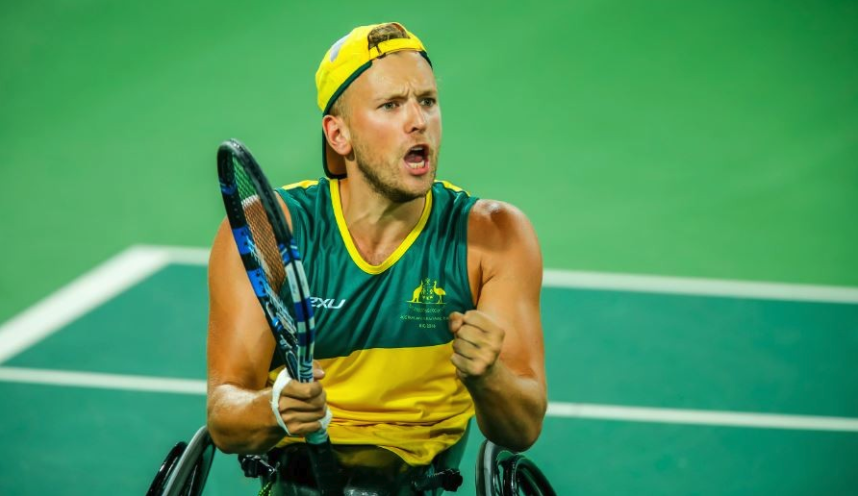 Dylan was born with a tumour around his spinal cord and without the use of his legs. He was able to beat the odds and achieve more than the doctors ever thought he would, thriving into one of Australia's most recognisable and successful Paralympians.
Straight from the tennis court winning his fifth Grand Slam title and fourth Australian Open quad singles title, currently ranked No. 3 in the World, Dylan is a firm believer in the idea that you have to buy a ticket to win the raffle and tells stories of the importance of pushing yourself outside of your comfort zone in order to achieve your dreams.
About Dylan Alcott OAM
Dylan, a dual sport athlete, has represented Australia on the international stage in both wheelchair basketball and wheelchair tennis since the age of 13
At the age of 17, Dylan became the youngest ever wheelchair basketball gold medallist in history at the 2008 Paralympic games in Beijing. After winning silver at the London Paralympics, he decided to switch sports to wheelchair tennis where he went on to win gold in both the singles and doubles at the 2016 Rio Paralympics, making him one of an elite few to have won Olympic gold in two different sports, at two separate Olympics.
Off the back of his success in Rio, Dylan became the first athlete with a disability to be awarded Tennis Australia's distinguished Newcombe Medal and also to be named GQ's Sportsman of the Year.
One of Dylan's greatest achievements was being inducted as a member of the Order of Australia in 2009 at the age of 18. However, his achievements are not only restricted to the sporting field. He is studying commerce at Melbourne University, fulfilling his role as the ambassador for Variety, The Starlight Foundation and OCS Group Australia.
Now with a fourth Australian Open title under his belt and ranked number three in the world, the 2016 Australian Paralympian of the Year's career continues to skyrocket. A current feature and host on Triple J, in 10 years' time Dylan hopes to be recognised as a trailblazer for people with a disability in the media, as much as for his career in sport.
This event hosted by Be.Bendigo Platinum Partner CVGT Australia.