Event Information
Location
Byron Bay
Byron Bay, NSW 2481
Australia
Description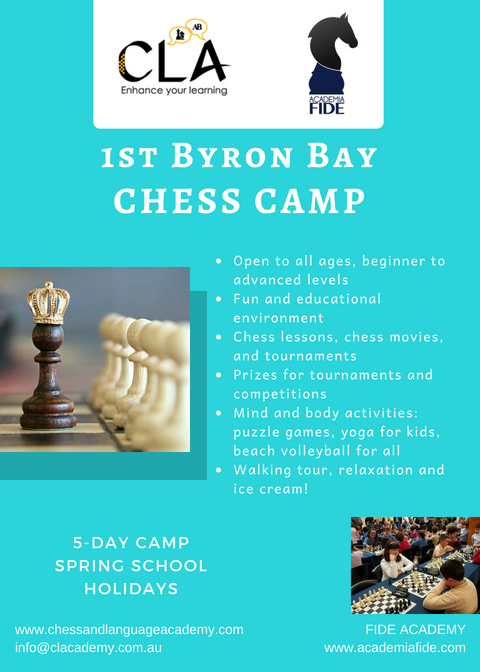 **ATTENTION** This event is postponed to January 2019. Please contact us if you'd like to be invited.
1st Byron Bay CHESS CAMP
5-DAY CAMP SPRING SCHOOL HOLIDAYS
Open to all ages, adults & kids, beginner to advanced levels
Fun and educational environment
Chess lessons, chess movies, and tournaments
Prizes for tournaments and competitions
Mind and body activities:
puzzle games, yoga for kids, beach volleyball for all
Walking tour, relaxation and ice cream!
www.chessandlanguageacademy.com
in collaboration with FIDE ACADEMY
www.academiafide.com
Byron Bay, NSW - AUSTRAL IA
October 1st - 5th
CHESS CAMP
Schedule:
Monday, October 1st
10.00 – 11.30 Arrival, registration (finger food, snacks and drinks provided)
11.30 - 11.45 Opening Ceremony
Lunch break
13.15 - 15.45 Chess lecture
15.45 - 17.15 Chess movie
Every day – from Tuesday, 2nd to Thursday, 4th of October
09.15 – 11.45 Chess lecture
11.45 - 13.15 Lunch break
13.15 - 15.15 Chess practical work
15.15 - 17.15 Sports, walking tour (organised)
Friday, October 5th
09.15 – 11.45 Chess lecture
11.45 Prize giving, ending ceremony
WHO?
Open to all. After the registration deadline, groups will be created according to levels.
LECTURER
Adrián Randazzo - Academia FIDE (FIDE Master, FIDE Trainer, Spanish Federation Chess Coach). Adrián trains internationally other coaches and teaches Chess in schools and clubs, apart from being the director of Academia FIDE.
CAMP DIRECTOR
Paola A. Randazzo - Chess and Language Academy. WWC1737644E.
LANGUAGES
English. Spanish, Italian and Russian available
FEE
5 days = AUD 190 (or AUD 80 for any single day) Fee includes: all chess, fun and sports program, finger food and drinks during the breaks, prizes.
ACCOMMODATION
To be arranged by yourself. Please ask for help if needed.
INFO
www.chessandlanguageacademy.com
REGISTRATION
Spaces limited. Register now!
info AT clacademy DOT com DOT au
Date and Time
Location
Byron Bay
Byron Bay, NSW 2481
Australia