Description
Higher Degree by Research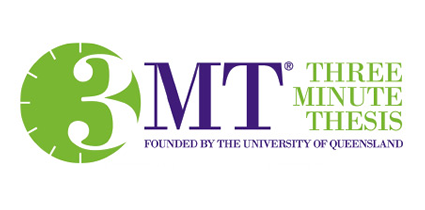 Bond University invites you to participate in the Three Minute Thesis (3MT®) Competition.
The 3MT is an academic competition that challenges PhD students to describe their research within three minutes to a general audience. 3MT celebrates the discoveries made by research students and encourages you to communicate the importance of your research to the broader community.
Don't miss this opportunity to practise your presentation skills, meet other HDR candidates, and have a chance to win up to $2000 in research travel grants!
The 3MT Final will be held at 11.45am - 3.00pm, Tuesday, 1 August, 2017 in the Princeton Room and we would like to encourage all Higher Degree by Research students to participate.
The winning student will go on to compete in the 2017 Asia-Pacific 3MT Competition.
To learn more about the competition history, rules, and gain valuable preparation tips, visit the 3MT website.
Registration is required for catering purposes. A light lunch will be provided.