2017年台灣國慶/ 中秋節/ TACA年度會員大會 2017 Taiwan National Day Celebration / Mid Autumn Festival / TACA Annual General Meeting

Sunday, 8 October 2017 from 10:00 am to 2:00 pm (AEDT)
Event Details
2017年台灣國慶/ 中秋節/ TACA年度會員大會
又到了一年一度慶祝台灣國慶的時候,今年正值中秋節也相距不遠,我們將一次慶祝兩個節慶並同時舉辦年度會員大會。
請大家將這一天空出來,讓我們在美麗的Lake Burley Griffin一起迎接2017年春天的到來。
今年例如往常我們將在活動後提供午餐便當,本次將由Davis大廚精心準備。
時間:10月8日(星期日)上午10時
集會地點:國家鐘樓,Aspen Island,Lake Burley Griffin
費用:免費
停車地點:請參考以下地圖停車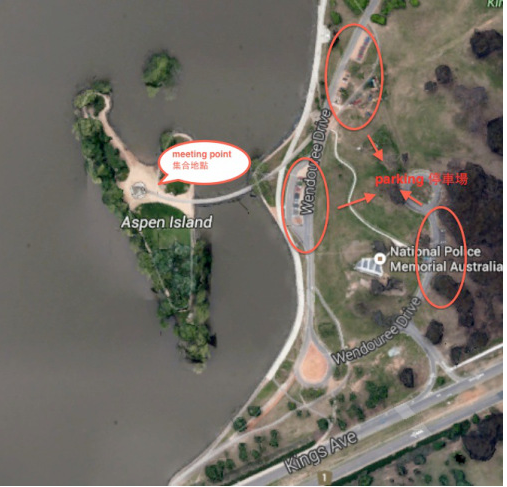 同時請不要忘記帶上野餐墊及做好防曬措施。
由於餐廳需要事前準備,僅事先報名(孩童六歲以上)並參加遊湖健行者,才可以當天領取便當 (當天報到處會提供餐券以供兌換),不便之處儘請見諒。
報名方式: 請於2017年9月30日前至Eventbrite註冊 (本次活動我們只能提供200個餐盒)
本活動由駐澳大利亞台北經濟文化辦事處贊助.午餐便當選項有:
爌肉飯

三杯雞飯

日式雞排飯

日式豬排飯

日式魚排飯

素食餐盒
以上便當均包含飲用水,水果,甜點以及月餅。

2017 Taiwan National Day Celebration / Mid Autumn Festival / TACA Annual General Meeting

It's time to celebrate Taiwan's democracy and it also happens that Mid Autumn Festival is also around the corner. This year we are triple celebrating the events together.
 Reserve that weekend. Let's say hello to the 2017 spring together at the beautiful Lake Burley Griffin
 This year, we will again prepare lunch boxes after the exercise, proudly prepared by Chef Davis.
 Time: 8 October (Sunday) 10:00 am
Meeting point: National Carillon, Aspen Island, Lake Burley Griffin
Fee: Free
Parking : Please refer to the map for parking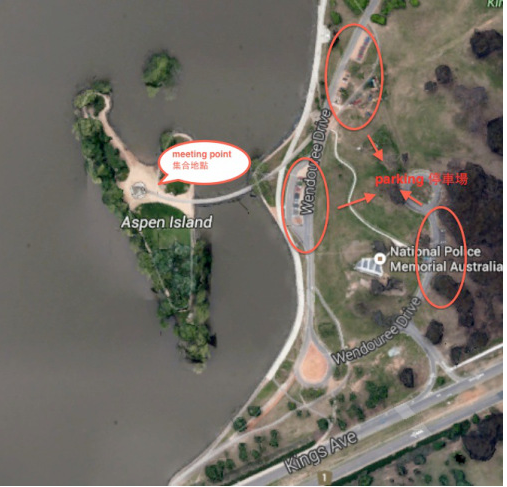 Don't forget to bring your picnic mats and sun protection measures
For catering purpose, only registered participants over 6 years of age and participate at the walk are eligible to receive a free lunch box (food vouchers will be issued at the check point) We apologise for the inconvenience caused
 RSVP:  Please RSVP before 30 September 2017 (We are only able to cater for 200 lunch boxes)
This event is proudly sponsored by Taipei Economic and Cultural Office in Australia.
 Lunch Boxes Options
(1)  Braised Pork with Rice
(2)  Three Cup Chicken with Rice
(3)  Chicken Katsu with Rice
(4)  Pork Katsu with Rice
(5)  Fish Katsu with Rice
(6)  Vegetarian
All lunch boxes include water, fruit, dessert and moon cake.
Have questions about 2017年台灣國慶/ 中秋節/ TACA年度會員大會 2017 Taiwan National Day Celebration / Mid Autumn Festival / TACA Annual General Meeting?
Contact 澳洲坎培拉台灣同鄉會
When & Where
National Carillon, Aspen Island, Lake Burley Griffin



Sunday, 8 October 2017 from 10:00 am to 2:00 pm (AEDT)
Add to my calendar
Organiser
Mission Statement of Taiwanese Association of Canberra, Australia
坎培拉台灣同鄉會組織宗旨
• To promote Taiwanese culture, arts and cuisine to the Australian Community and to contribute Taiwanese culture to the multicultural society in Australia
於澳洲社群推廣台灣文化、藝術、美食以豐富澳洲社會之多元文化

• To strengthen the community relationship between Australia and Taiwan and further integrate into the mainstream Australian community.
維繫台澳民間友好關係、積極融入澳洲主流社群脈絡
• To provide social support for Taiwanese Australian, Taiwanese diplomats and their families and all who are interested in Taiwanese culture
提供社交活動平台給在地台裔澳洲公民、台灣外交人員及其眷屬,和任何對台灣文化感興趣的朋友
• To provide information to Taiwanese Youths on Working Holiday Visa to Australia
為來澳打工度假的青年朋友們提供生活相關資訊