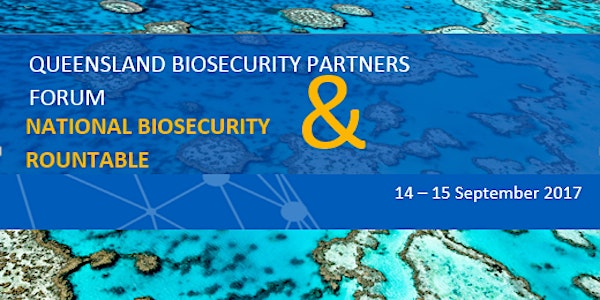 2017 Queensland Biosecurity Partners Forum and National Biosecurity Committ...
Location
Rooms 2 & 3
Level 17
53 Albert Street
Brisbane, QLD 4000
Australia
Description
Join us in sunny Brisbane for a 2 day Queensland Biosecurity industry event ( you are free to come either or both days) hosted jointly by Biosecurity Queensland and the Commonwealth Department of Agriculture and Water Resources.
An electronic copy of the agenda and list of speakers for the event is available here:
https://www.daf.qld.gov.au/__data/assets/pdf_file/0003/1259805/bosecurity-roundtable-agenda-2017.pdf
Biosecurity Queensland is presenting this joint event with the Federal Department of Agriculture and Water Resources.
Day 1 is the Biosecurity Partner Forum. The focus of this year's biosecurity partner forum is: (a) intelligence systems; (b) behaviour change in biosecurity; and (c) evaluating the partnership approach.
Come and hear from leading experts on topics such as how Twitter and bespoke biosecurity tools are driving decision making in biosecurity. Hear from Elders and the Livestock Biosecurity Network about how market based incentives have rapidly accelerated the update of biosecurity management plans. Find out what drives behavioural change. Lastly, we ask you how you would like to create a baseline for, and measure, the success of our partnership approach going forward. Speakers for the day include:
Professor Martyn Jeggo (Deakin University); Dr Peter Caley (CSIRO) ; Dr Andrew Robinson (Centre for Excellence in Biosecurity Risk Analysis); Dr Grant Hamilton (Queensland University of Technology)
Heleen Kruger (ABARES) ; Rachel OBrien (Livestock Biosecurity Network); Paul Holm (Elders); Harley

McNamara

(Animal Health Australia)
Members of the Queensland Climate Adaptation Strategy Partnership such as QFF; Growcom; AgForce and others who talk about their experience of a similar partnership model in a different context
At 5.00pm - join us for social networking at The Buffalo Bar. Starts at 5.00pm (tables booked from 4.00pm for early birds)
Day 2 is the National Biosecurity Roundtable. This is an opportunity for you to talk about biosecurity issues directly with Australian and state representatives. The day will consist of updates, a panel discussion and workshops that go to the heart of biosecurity issues as well as challenges for the future both in Queensland and nationally.
---
This is an 'invite only' event. If you would like someone else from your organsiation to attend, please email Biosecurity.Capability@daf.qld.gov.au and nominate your alternative attendee's email address. We will then send them an invite to this event.

Tip: Remember to automatically add the events you are registering for via the i-cal button opposite.