Actions and Detail Panel
2017 NETFA Forum: Foundations for Change
Fri. 24 March 2017, 9:00 am – 5:00 pm AEDT
Description
Do you want to do something to build and support women's capacity to enact change?
Please join us for the 3rd NETFA Forum: Foundations for Change.
Building on the insights and discussions of the inaugural Sharing Our Strengths Forum in 2014 and last year's Foundations for Change, this forum will involve critical discussions on the approaches and actions required to eliminate female genital mutilation/cutting (FGM/C) and Australia's role in achieving this change.
If we are serious about ending this harmful practice, we need to recognise that FGM/C isn't simply and only a practice about a woman's genitalia, it is a gendered practice that requires broader conversations about gender inequality and how it intersects with other forms of disadvantage and discrimination.
The forum gathers key practitioners, across a range of disciplines, to encourage cross-sectoral understanding and action.
Whether or not your work relates directly to FGM/C prevention and education, this forum is worthwhile attending if you think educating yourself about gender, race and culture is the essential first step in ending a practice that affects 200 million women and girls in the world today.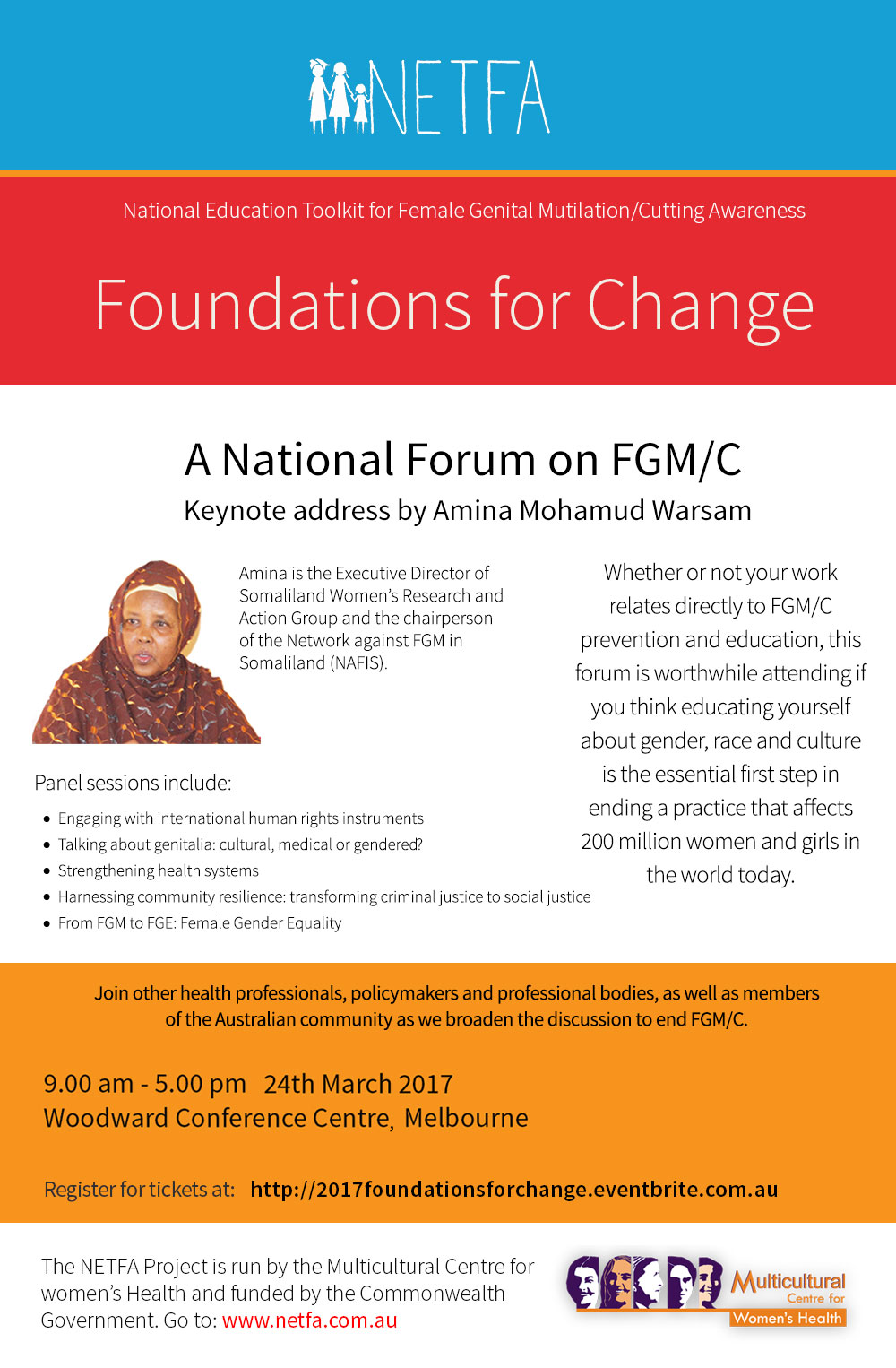 Keynote speaker: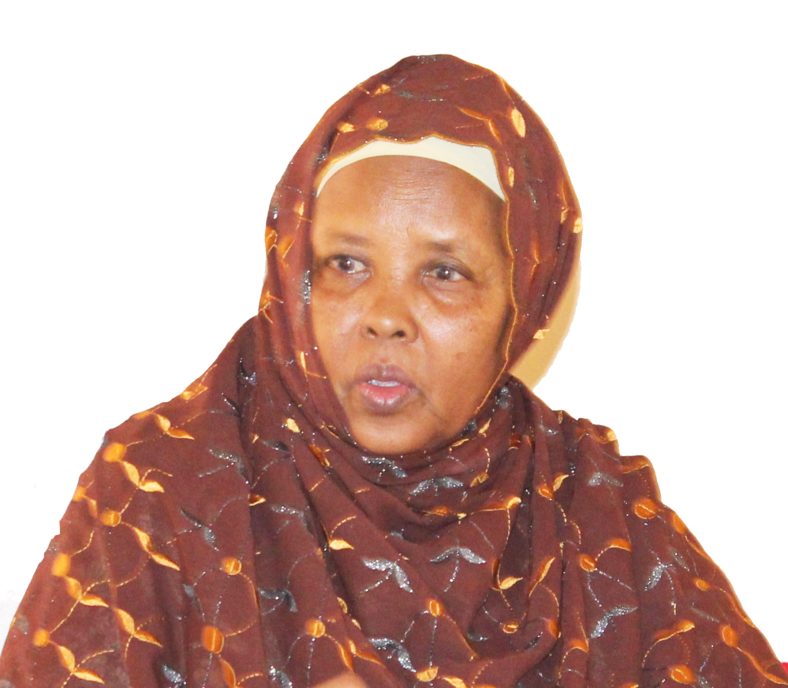 Amina Mohamud Warsame is a women's rights activist and a researcher. Amina is a strong advocate for important causes such as women's human rights and specifically the eradication of all forms of FGM/C and the environment. Among her published and unpublished work are: 'Queens without Crowns: Somaliland's Women's Changing Roles and Peace Building'; 'The Impact of the Civil War on Pastoralists, especially Women'; 'Women and the Justice Systems in Somaliland'; 'Women's Political Participation in Somaliland' and 'Female Genital Cutting in Somaliland: From Infibulation to Sunna'.
Amina received her M.A in gender and development at the Institute of Social Studies in The Hague, Netherlands. Ms Warsame was also among the founders of Nagaad National Women's Network where she served as its executive director from February 2005-July 2010. Amina was among the first seven women to run for Somaliland's Lower House of parliament in 2005 and is an active member of the women's movement in Somaliland. Currently Amina is the Executive Director of Somaliland Women's Research and Action Group, the focal person of Golis Organization for Saving the Environment and the chairperson of the Network against FGM in Somaliland (NAFIS).
Other speakers include: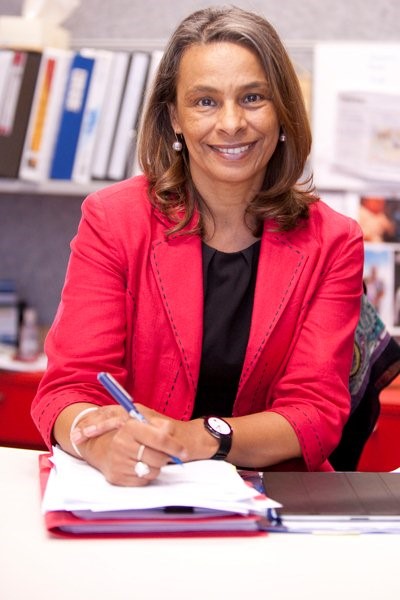 Maria Osman (M.ED GAICD) is a leader with over 30 years experience in gender equity, diversity and inter-cultural communication as a senior government policy adviser, speaker, trainer and community activist. As the former Executive Director of WA's Office of Multicultural Interests and Office for Women's Policy she has lead the development and implementation of cutting edge strategies, policies and programs. Maria has always combined her senior roles with grass roots advocacy with migrant and refugee women. In 2015 the Australian Government appointed Maria as the official delegate to the 59th Session of the United Nations Commission on the Status of Women in New York. In 2007 she was awarded the Government of Western Australia's Multicultural Community Service Award and in 2012 the National Living Legends Award, awarded to the 100 most influential African-Australian's. She has served on numerous national, state and community boards providing advice on multicultural issues and is currently a member of the Puutu Kunti Kurrama and Pinikura People Trust Decision Making Committee, the National Education Toolkit for Female Genital Mutilation/Cutting Awareness Advisory Committee, the Humanitarian Group and the Somaliland Women and Children's organisation.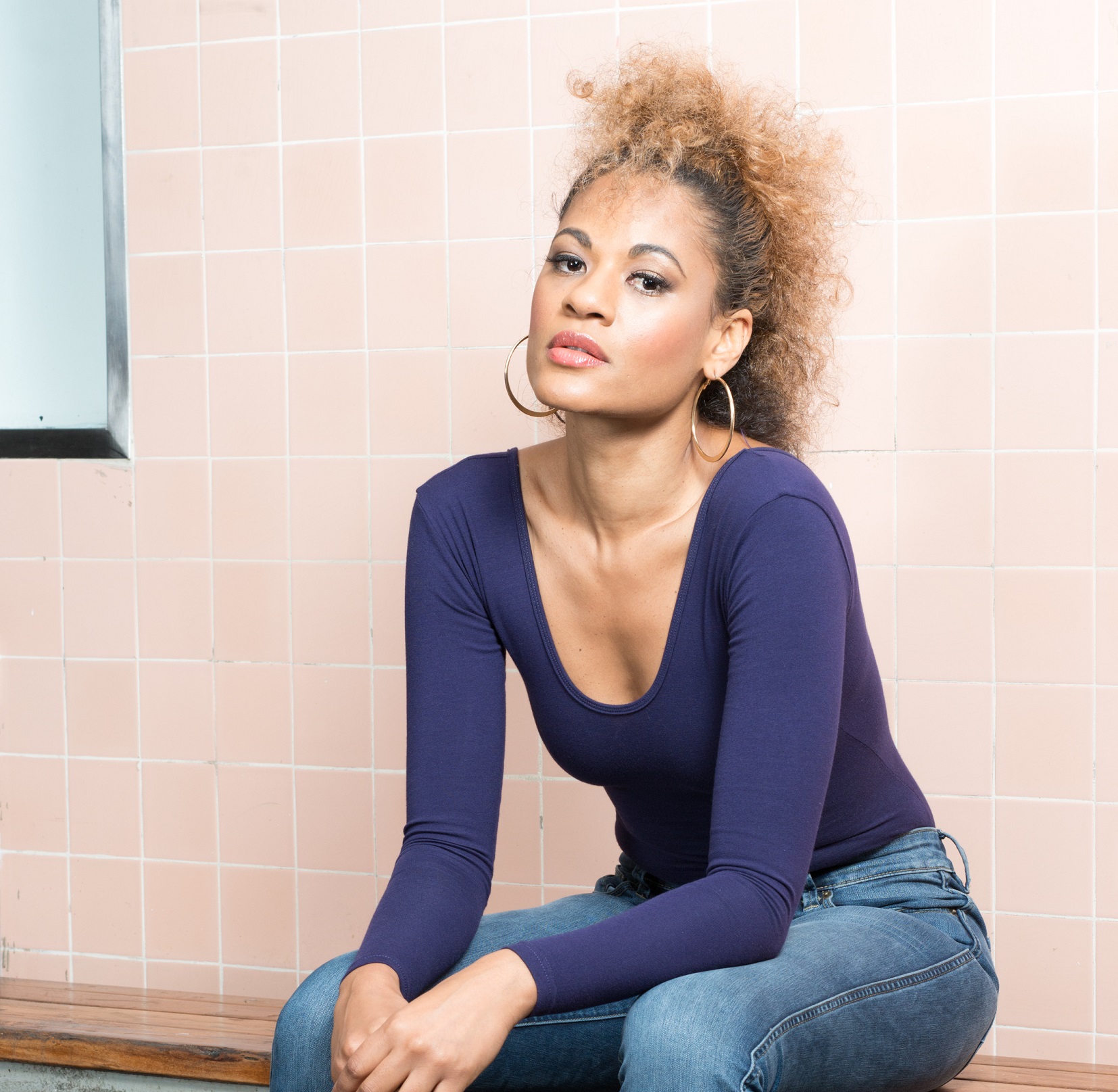 Sasha Sarago is a proud Aboriginal woman of the Wadjanbarra Yidinji and Jirrbal clans 'Rainforest People' of Cairns, Far North Queensland. Sasha is also of African-American, Malay, Mauritian and Spanish descent.
A former model, Sasha grew frustrated by the invisibility of women of colour in fashion and media. Tired of importing oversees publications to see reflections of herself Sasha had an epiphany. In 2011, Sasha founded Ascension Australia's first Indigenous and ethnic women's lifestyle magazine.
Ascension is a new dialogue of cultural identity and self-representation - a haven for women of colour to see, hear and know thyself. A lover of new beginnings, Sasha is trying her hand as a writer, director, and producer for a series of digital projects designed to capture the diversity of who she is and her imaginations of how it could be.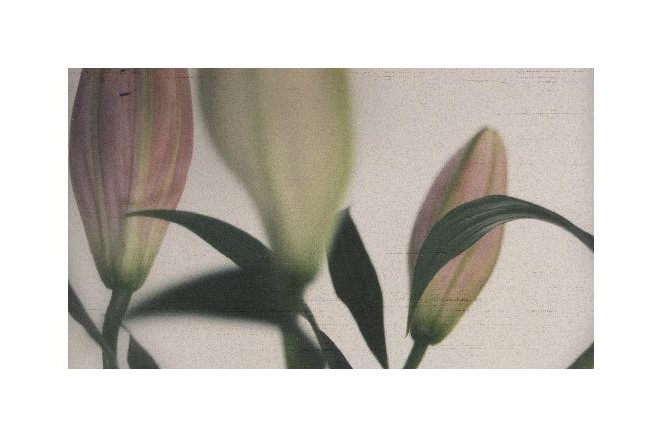 Melissa Powell has been partnering with refugee and migrant communities for over 13 years. She has a background in sexual health, public health, programme evaluation and human rights advocacy. She established the African Health Promotion and HIV Prevention Programme in the New Zealand AIDS Foundation and has been the National Coordinator of the New Zealand Female Genital Mutilation Programme for over 10 years. She has worked alongside and journeyed with many communities and families resettling in New Zealand. Her favourite thing is when women and young people achieve dreams they didn't believe were attainable.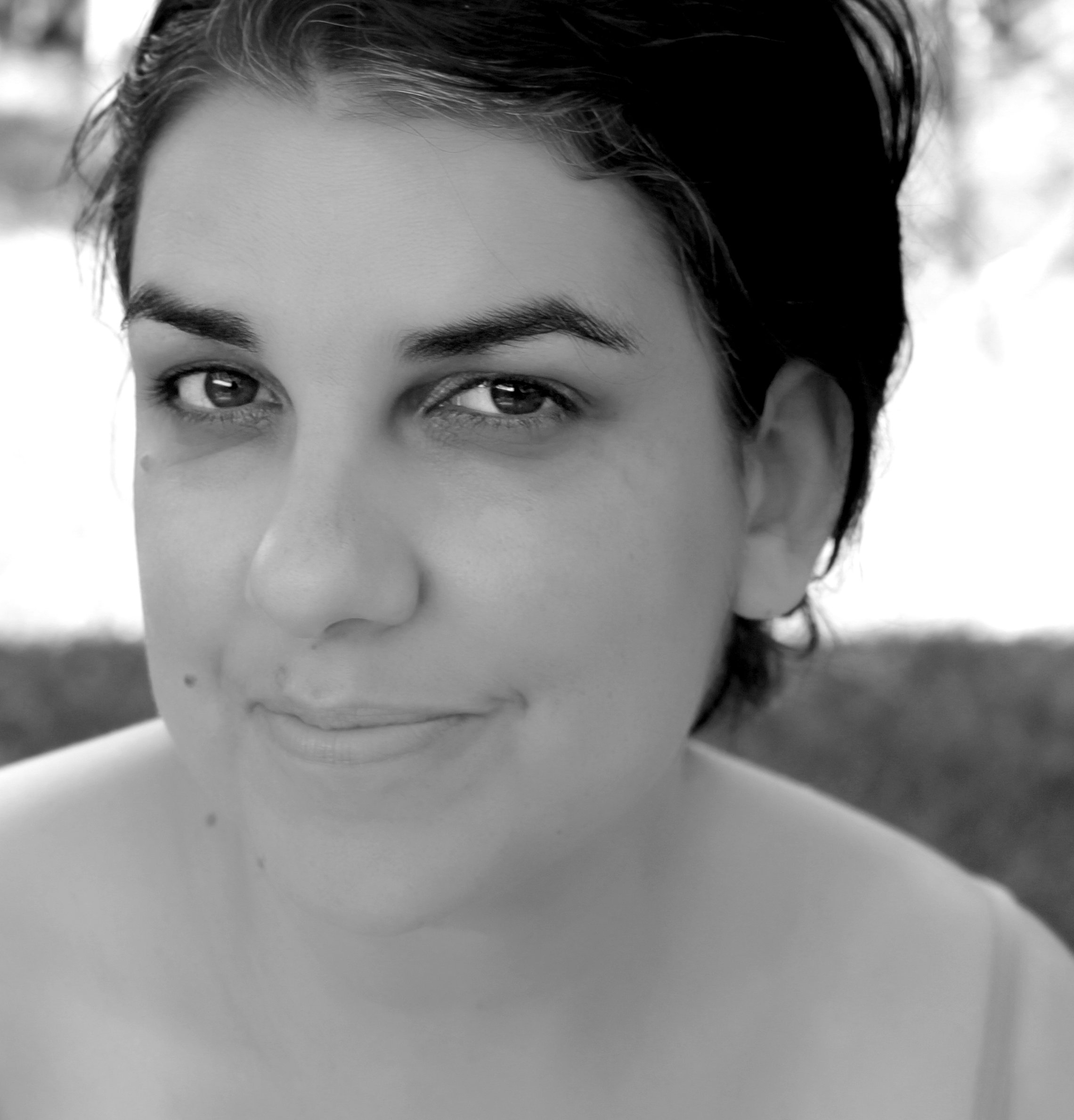 Dr Odette Kelada is a lecturer in the School of Culture and Communication at the University of Melbourne. She researches and publishes on gender and race in Australian writing and the arts. Her PhD focused on the voices of women in Australia and her writing has appeared in numerous publications including the Australian Cultural History Journal, Hecate, Outkirts: Feminisms on the Edge, Australian Critical Race and Whiteness Studies and Journal of Intercultural Studies.
See Forum Program below: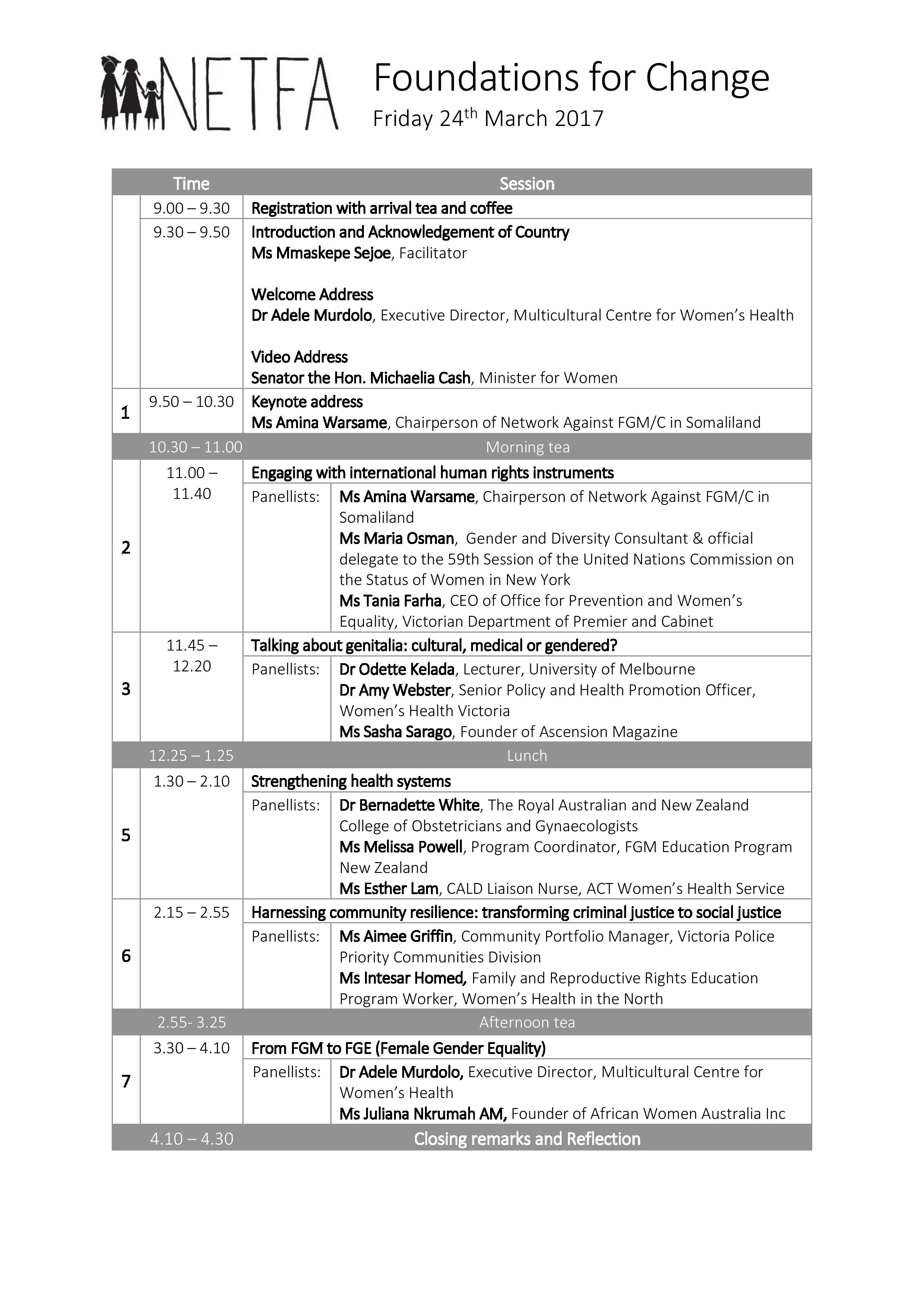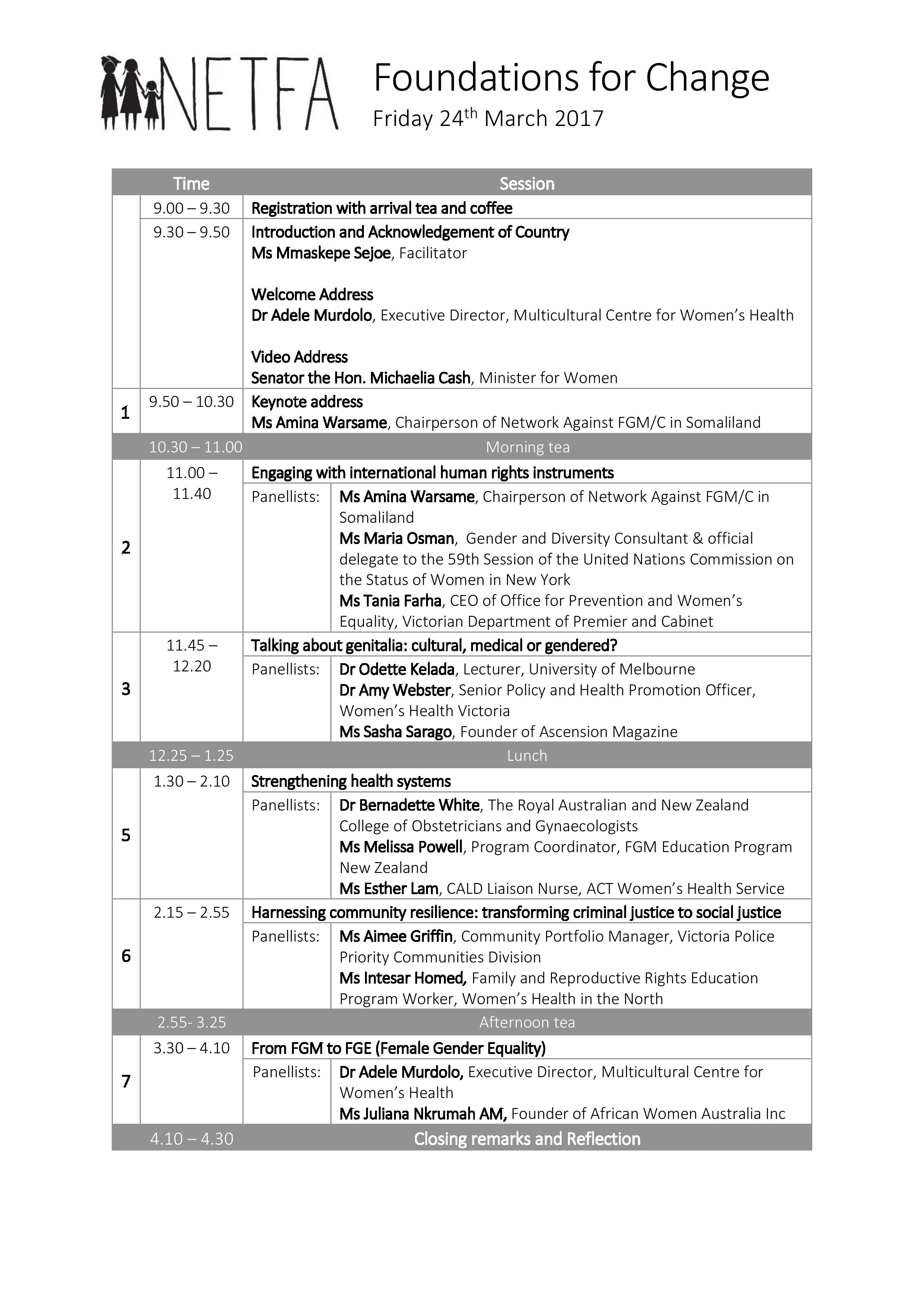 There are a limited number of places at reduced cost (eligibility applies). Contact the NETFA Project Officer, Zubaidah Shaburdin zubaidah@mcwh.com.au for further details.
To find out more about the NETFA Project, visit www.netfa.com.au.