Description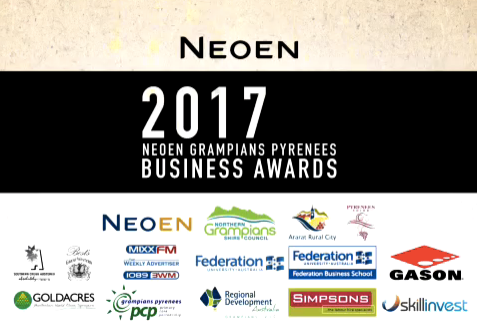 The 2017 Neoen Grampians Pyrenees Business Awards are a joint initiative between Northern Grampians Shire Council, Ararat Rural City Council and Pyrenees Shire Council. The awards recognise outstanding businesses and events in the Grampians Pyrenees Region. The Gala Dinner is a chance for businesses and event organisers to network, as well as to celebrate the finalists and winners.
Dress code: Formal
---
Gala Dinner Program
Pre-dinner drinks and canapes will be served from 6 pm, with special guests, Matty Chaps Band, providing light musical entertainment. The Gala Dinner and presentation will commence at 7 pm.
A three course meal catered by Seppelt Great Western, featuring local produce from Northern Grampians Shire, Ararat Rural City and Pyrenees Shire will be served, accompanied by a wine list provided exclusively by Best's Great Western. A selection of beer and non-alcoholic beverages will also be available.
Guest speaker Kerry Anderson is looking forward to addressing attendees about modern job creation, while Matty Chaps Band will play into the night after the awards to help continue the celebrations.
Guest speaker - Kerry Anderson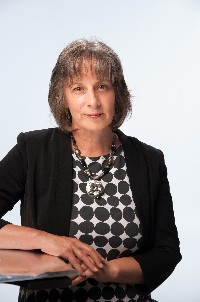 At some point in time every regional city or rural town faces major change. In a world that is rapidly changing, now has never been a better time for rural and regional communities to start thinking of entrepreneurship and self-employment as a mainstream option. Sharing examples from the successful Operation Next Gen Program and other initiatives from the recent E*Ship 2017 Summit held in the United States; Kerry Anderson, author of 'Entrepreneurship: It's Everybody's Business', will explain how communities can capitalise on the era of the entrepreneur and create new opportunities in rural and regional Australia.
Awards categories
Federation Business School 'Best New Business'
The Weekly Advertiser 'Excellence in Agriculture/Viticulture'
Pyrenees Shire Council 'Best Retail Business'
Ararat Rural City Council 'Excellence in Manufacturing'
Best's Wines 'Excellence in Hospitality/Food & Beverage'
Gason 'Excellence in Trades & Construction'
Federation University Australia ' Excellence in Professional Services'
Northern Grampians Shire Council 'Best Community/Social Enterprise'
MixxFF/3WM 'Best Tourism Attraction or Service'
Regional Development Australia (Grampians) 'Best Major Tourism Event'
Goldacres 'Best Community Event'
Skillinvest 'Apprentice/Trainee of the Year'
Simpsons... the Labour Hire Specialists 'Employee of the Year'
Grampians Pyrenees Primary Care Partnerships 'Healthy Workplace Award'
Southern Cross Austereo 'People's Choice Award'
Neoen 'Business of the Year'
We look forward to seeing you at the 2017 Neoen Grampians Pyrenees Business Awards Gala Dinner on Friday 27 October.
Enquiries
Please direct any questions to:
Jessie Newton
Northern Grampians Shire Council
Email: jessie.newton@ngshire.vic.gov.au
Phone: (03) 5358 0504
Proudly brought to you by:
Platinum Sponsor
Neoen. Renewing Energy.