2017 Hargrave Lecture: John Corby, Starlets and Australian Aerospace
Description
John Corby, the designer of the 'Starlet' light aircraft, is the 2017 winner of the prestigious biennial Lawrence Hargrave Award of the Royal Aeronautical Society Australian Division for an Australian who has made a significant contribution to Australian aviation. The award was presented by the RAeS Australian Division President John Vincent FRAeS at the 17th Australian International Aerospace Congress Dinner on the evening of February 27 in Melbourne.
John will outline the development of the Starlet and its place in the worldwide homebuilt aircraft movement.
John has previously presented two significant papers to the RAeS:
"Aircraft Design in Australia" presented to the Sydney Branch on 11 October 1995
"Aircraft Production in Australia - Past and Present" presented as the Lawrence Wackett Memorial Lecture to the Melbourne Branch on 27 October 1997
It is fitting that John now update his views on the state of the Australian industry with some recommendations for the future.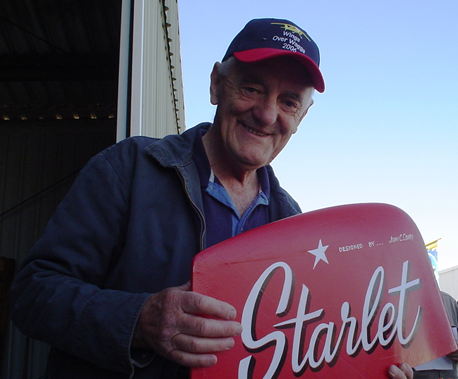 John Corby
John joined Qantas immediately after leaving high school December 1949, as an apprentice aircraft maintenance engineer. Over the next five years completed Qantas training school apprenticeship course and an Aeronautical Engineering Diploma course at Sydney Technical College.
During next twenty he was privileged to work with some top performance and structures engineers, primarily in structures, airframe and engine areas covering modifications, equipment repairs and a range of non-destructive testing, materials and processes.
During the mid-1950s there was increasing interest and pressure to allow amateur building in Australia. The Ultralight Aircraft Association of Australia -ULAA, was formed in October 1955 and subsequently John outlined a suitable project resulting in a small aircraft, single seat, minimum size and number of parts, 40-45hp culminating in a Certificate of Type Approval 74-1, dated 30 June,1972.
In September 1972 commenced work as a consultant in the GA industry undertaking a wide range of modification and repair work ranging from two seat conversion of a Mustang, to fatigue evaluation of a Lockheed 10 restoration, to finalising Lycoming installation in a Fawcett 120 prototype by Luigi Pellarini. Another non-aero project was involvement in the Southern Cross America's Cup challenger in 1974.
In 1978 he was approached to join Transfield to manage their aviation division Transavia at Seven Hills, and to oversee design and development of the Transavia Airtruk including FAA type certification.
During John's time with Transavia, there was an initiative to bring together the various Aviation production companies in Australia, to form a consolidated group and more effectively represent the Australian Industry to international markets. The organisation, Association of Australian Aerospace Industries - AAAI, was founded, head quarters in Canberra, and John was made the inaugural Chairman
In 1988 he resigned from Transavia and recommenced activities as an authorised design signatory primarily in the GA industry. Projects were varied, but included Certification of the Airborne Windsports Edge - the first Australian Design powered weight shift aircraft approved under CAO95.32 and project Co-ordinator for certification program of Seabird Seeker.
He became aware of CASA interest in a position for a specialist in the certification area at Head Office in Canberra resulting in a career transfer from Industry to Government administration in August 1995. The next five years in Canberra were enjoyed by my wife and I and proved to be quite productive. A long backlog in applications for acceptance of new amateur build projects was steadily reduced, and CASA provisional type approval of the GA8- Gippsland Aeronautics eight seat Airvan was completed on 10 March 1999.
On December17, 1999 he retired from CASA , 50 years to the day from his first day with Qantas, and very thankful for a long, exciting and satisfying professional career
After retirement and return to Sydney, he is still actively involved in aviation and amateur-build activities - outstanding! John maintains his long membership and support of the RAeS and was particularly pleased to have been awarded a Fellow of the Society.