Description
Guest Speaker
Air Commodore Terry Saunder AM
Director General JSF Acquisition and Sustainment
AIRCDRE Saunder assumed his current duties as Director General Joint Strike Fighter (JSF) Acquisition and Sustainment in January 2015.
He joined the RAAF in 1980 as an Air Force engineering cadet and has served in numerous engineering unit and staff positions including Senior Engineering Officer at Number 77 Squadron in 1996-1997. After leading Aircraft structural Integrity in Directorate General of Technical Airworthiness (DGTA-ADF), he was appointed Chief Engineer at Aircraft Research and Development Unit in 2002. On promotion to Group Captain (2006) he was appointed as Officer Commanding of the Airborne Early Warning and Control Systems Program Office. During 2008-10 he served various positions in DGTA-ADF before in 2011 he was promoted to Air Commodore and appointed as Director-General of Technical Airworthiness.
Terry has a Bachelor of Engineering (Aeronautical), Masters in Business Administration, and Masters in Astronautics and Aeronautics.
In 2014 he became a Member in the Order of Australia.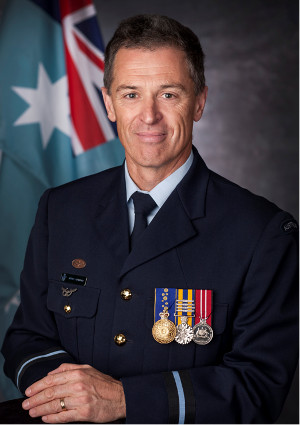 Event

The Queensland Branch of the Royal Aeronautical Society Australian Division and Aircraft Airworthiness and Sustainment Conference invites members of the Society and Corporate Partner employees to the Sir Hudson Fysh Dinner in celebration of the 150th Anniversary of the Royal Aeronautical Society.
Joint Strike Fighter: An exciting time, delivery is nigh!
Air Commodore Terry Saunder is leading the acquisition and sustainment of the Australian F-35 Joint Strike Fighter (JSF) Program which is approved to deliver 72 F-35A aircraft and support systems to the Australian Defence Force (ADF).
The F-35 is the largest global Defence acquisition program in ADF history providing unique challenges due to its size, scope and complexity. An advanced, affordable fighter enabled by global partnerships, the F-35A offers unprecedented capability and supportability across the spectrum of military operations.
With his extensive experience in engineering and aerospace projects, Air Commodore Saunder will provide attendees an insight into the highlights and challenges of being a Partner in a large, global and technically complex enterprise.
Right now the Australian program to acquire and sustain the JSF is at full pace. Air Commodore Saunder will focus on Australia's acquisition program and planning for sustaining Australian F-35A aircraft as part of a F-35 global support solution. What makes the F-35 capability "fifth generation" will also be explained.
Hear how Defence is treading exciting new pathways as it prepares to introduce this cutting edge capability, with the first two F-35As arriving in Australia in late 2018.
Dress: Business Casual
Time: 6:30pm for a 7:00pm start
Location: "Sky Room", Brisbane Convention and Exhibition Centre
RSVP: COB Monday 11 July
Continuing Professional Development (CPD)
The Royal Aeronautical Society Australian Division is a Technical Society of Engineers Australia. Attendance at this event can contribute towards your personal CPD. Please check the website for more details.