Description
Join all the fun of the annual Eastern Suburbs Sustainable Schools Network (ESSSN) Sustainable School Awards, where schools and early learning centres are rewarded for their outstanding sustainability achievements.
Also joining us is Matt Leary, Bushland Supervisor at Randwick Council. Matt will explore the importance of creating habitat for frogs and lizards and will show us how to create frog ponds and lizard lounges in our schools and centres.
WHEN: 29 November 2016
TIME: 3:45pm - 5:15pm
WHERE: Look for the timber Classroom on the commons at Randwick Community Centre, 27 Munda Street Randwick
Bookings essential
RSVP by 5:00pm, Friday 25 November to help with catering.

Download poster
Download pdf poster for the Term 4 meeting to put up in your staff room.
For more information:

Woollahra: Flavia Evans, 9391 7095, flavia.evans@woollahra.nsw.gov.au
Waverley: Vicky Bachelard, 9369 8049, vickyb@waverley.nsw.gov.au
Randwick: Fiona Campbell, 9315 7244, fiona.campbell@randwick.nsw.gov.au
---


Need accreditation?
NSW Department of Education (DoE) teachers who attended our ESSSN meetings can now log in through their DoE portal and register for one hour of accredited professional learning.
As long as you register before the course, turn up and sign in, you will be accredited.
DoE teachers can apply through MyPL on Course Code: NR09055 under DoE course 'Sustainabiliy Networks'.

Children welcome
If you are bringing children, we suggest you bring some activities for them, childcare is not available.
---
About ESSSN
The Eastern Suburbs Sustainable Schools Network (ESSSN) welcomes local parents and teachers wanting to network and share ideas about school sustainability. The Network is coordinated between Waverley, Woollahra and Randwick councils that plan meetings, organise guest speakers and workshop activities. The councils support early childhood centres through to high schools to implement real-life sustainability learning.
---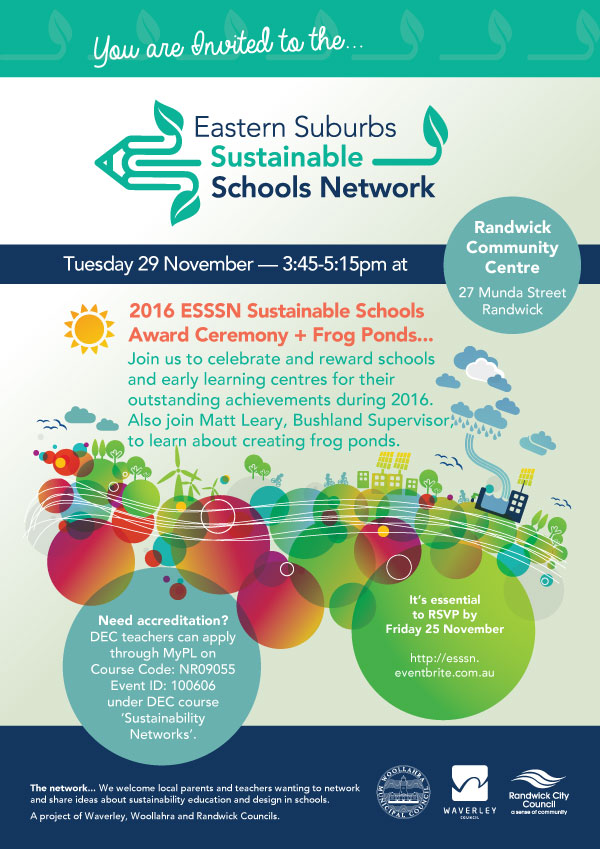 Details...