Sales Have Ended
Registrations are closed
Thank you for registering for the 2016 CLAIR Forum. We look forward to seeing you there!
Sales Have Ended
Registrations are closed
Thank you for registering for the 2016 CLAIR Forum. We look forward to seeing you there!
Description
2016 CLAIR Forum
CLAIR (Japan Local Government Centre) and UTSCLG (University of Technology Sydney Centre for Local Government) codially invite you to this year's CLAIR Forum.
The theme for this year is: Local Government Environment and Sustainability
Date: Wednesday 24 February
Time: 2:00 pm to 5:00 pm
Venue: Aerial UTS Function Centre (UTS Building 10, Level 7, 235 Jones St Ultimo NSW 2007)
The theme of this year's Forum is 'Local Government and Sustainability', and will feature presentations from senior staff and researchers from both Australian and Japanese local governments, UTS and CLAIR, on how local governments can implement policies and initiatives that effectively address both local and global environmental issues.
This is an issue that is of utmost importance for both Japan and Australia – the steps we take now to prevent global warming will ensure a clean and safe future for our generation and future generations. Local governments will need to engage their communities and work in collaboration with all stakeholders to achieve real and sustainable results.
The Forum will be divided into two sessions: 'Waste management and recycling', and 'Global environment and local government'.
Speakers include Dr Alice Howe (Sustainability Manager at Lake Macquarie City Council) who will talk about how local governments can make an equitable contribution to reducing global emissions and Prof Damien Giurco (Professor of Research Futures at the Institute for Sustainable Futures, UTS) with a talk on waste and sustainability in Australia. The Director of CLAIR, Mr Katsunori Kamibo, will outline the keys for local governments to tackle global warming, the Deputy Director, Mr Masahisa Yoshimi, will talk about waste management in Nagoya city, Assistant Director, Mr Tomohiro Koike, will do a presentation on Japan's response to the Paris Agreement at COP21, and Researcher, Mr Jason Khoh, will highlight the differences between waste management in Japan and Australia from a resident's perspective.
UTSCLG Director, Associate Professor Roberta Ryan will facilitate discussion.
Program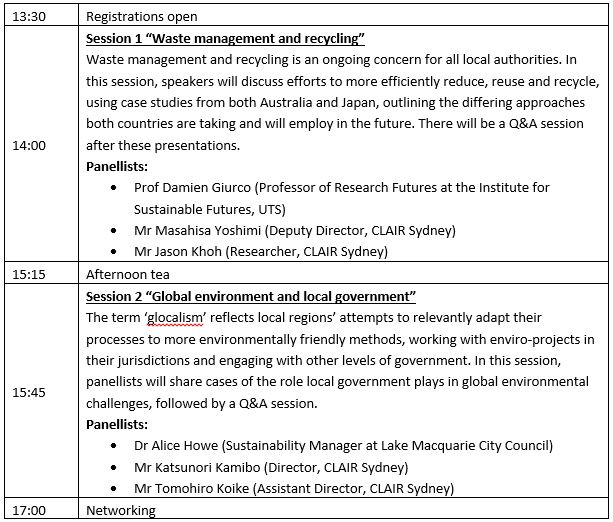 Light refreshments will be provided and entry is free of charge.